Heady Times
Settling into her new home during an Ohio winter, Rita Case went to the mall seeking cold-weather outfits. She was sticking with her business suits, but this California girl needed heavier material for the harsh Ohio winters.
She noticed a rack of hats, tried some on, and a fashion statement was born.
"It was so classy looking," Rita says, "and I thought, 'This is going to be my brand.' I wanted to stand out, show that I had confidence and was my own person. I wanted people to recognize me as Rita Case instead of Rick Case's wife."
Since then, she hasn't looked back without a distinctive lid perched atop her head.
"I wear them to black-tie events. I have cocktail party hats. I'm always switching up," she says. "Pill box for meeting with bankers. Hats with parrots for fun. Formal hats. Hats with bows, ribbons, brims."
Her most flamboyant and expensive hat? A $380 creation featuring aqua peacock feathers worn for a party to celebrate the late Wayne Huizenga's first game as owner of the Miami Dolphins.
Rita will sometimes invoke her hat game in her ongoing mission to empower women, throwing down a chapeau gauntlet to make a point.
"I'll say, 'You don't think a hat looks good on you? I say you won't wear a hat because you don't want to stand out. Once you decide that you want to be the one who everyone is looking at in the room, you'll start to wear hats.' A very tailored business suit with a classy look always stands out in a room. But a hat just finishes it.
"You can't be the best if you don't have the most confidence and the best work ethic."
Rita won over her husband's Ohio team of men with more than her hats. She told them that she'd run the ''back end" of their businesses, dealer slang for parts and services, and allow them to focus on the sexier side—the "front end," or showroom sales.
"I took over parts and services," she says. "Me and my hat, business suit and my pumps walking through the service department. That's how I earned respect from his group of people."
In 1985, Hyundai was looking to launch in the United States and Honda was adding Acura to its lineup. Considering growth and demographic diversity, the Cases saw opportunity for both brands in South Florida and Atlanta and moved south to open dealerships, setting up headquarters in Fort Lauderdale. Rick Case Automotive Group continues to make its mark in the auto industry with highest sales volume performances and, perhaps more important, operations honors covering service, facilities and employee training.
Charitable work is a longtime passion for the Case family and company, leading with the Boys & Girls Clubs of Broward County and the American Heart Association. The Rick Case Habitat Community is the largest affordable housing project in Broward County.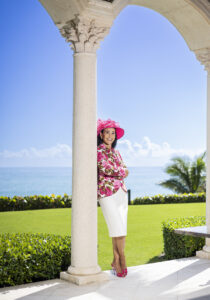 The Show Must Go On
In December of 2019, husband Rick, who never smoked, rarely drank and generally was in good health, suddenly was struggling to breathe. Scans and X-rays revealed spots on his lungs and doctors quickly determined that a rare cancer already had advanced to his brain and diaphragm.
The diagnosis was grim; treatments would only hold off the inevitable. Rick told Rita he wanted no one to know about his condition, including their son, Ryan, and daughter, Raquel.
"He was unbelievably brave," Rita says. "Rick was always so positive. He did not want anyone worrying about him. He didn't think that would be productive. He thought it would be draining. He thought it would be negative.
"The man was a machine."
In April 2020, Rita and Rick decided to retreat to their vacation home in northern Idaho.
"OK," Rick said, "this is my last chapter. I'm putting my book on the shelf. Let's talk about how this is going to go down."
Rita says his only wish for her was that she be happy.
"I told him, 'You don't have to worry about the business. Your name will not be sold. We are going to continue the quest. He said, 'That's great. You can do it.'
"He always knew I could do it."
Rita and Rick worked remotely from Idaho until he got sicker later that summer. They called Ryan to tell him about the cancer. Worried that Raquel wouldn't take the news well over the phone, they asked her to fly out for a visit and told her in person.
Rick died a few weeks later at the Hillsboro Beach home where they lived since 1985. He was 77.
"His legacy will always live on," Rita says. "No matter how much time it takes for me, Rick Case, the car dealer, will be the No. 1 car dealer in the United States as long as I'm able to keep us there."
Still, she knew that Rick's marketing genius was a void and a talent not in her tool kit. She would need others to create the strategies necessary to consistently draw customers. Less than two months after Rick's death, Rita gathered general managers in the corporate office conference room and did exactly what she had done at the 20 Group meeting decades earlier—ask for help.
"When Rick was alive, it was the Rick and Rita show. Period," she says. "We did everything, and we delegated down and we dictated. When he passed away I knew I was going to make a big change. I was going to rely on our associates to have more responsibility, more decisionmaking, more independence as far as the daily operations."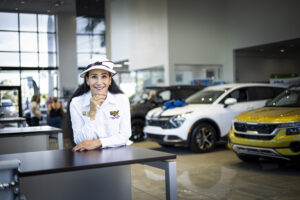 At the GM meeting, she began by sliding a blank piece of paper to the center of the table.
"I said, 'We're going to sit here together and figure out our marketing plan. It's not going to be Rita's plan. It's not going to be what Rick told Rita for the last 40 years. It's going to be your plan. Because guys, without Rick, I'm going to count on you to sell the cars.'"
Two years later, Rita Case isn't exactly on cruise control, but she is happy and having fun. She's up early to watch the sunrise over the ocean. Her days are meticulously planned to maximize every hour and ounce of her boundless energy. Her charity work is in maximum overdrive. She pilots employees to dealer meetings and conferences several times a month in her personal jet. And she carves out "Mimi" time with her three grandchildren.
Last April, she was one of 16 recipients of the 2022 Horatio Alger Award saluting perseverance, integrity and commitment to excellence.
Rita recalls an afternoon during that emotional summer at their Idaho home, Rick was grinding away at his desk in his lake-view office. His days were winding down like a foreboding hourglass. Rita appeared, at a loss with how to provide comfort.
"What can I do?" she said. "What would make you the happiest?"
Rick smiled and looked up from his computer screen.
"Nothing in the world has ever made me happier than being with you."
Rita wipes away tears at the cherished memory.
Photography by Eduardo Schneider
Creative Direction by Melanie Geronemus Smit