The turmoil in our country has caused ripple effects throughout the community. In response, United Way of Broward County launched "It's OK to Not be OK," a mental health awareness initiative with 211 Broward.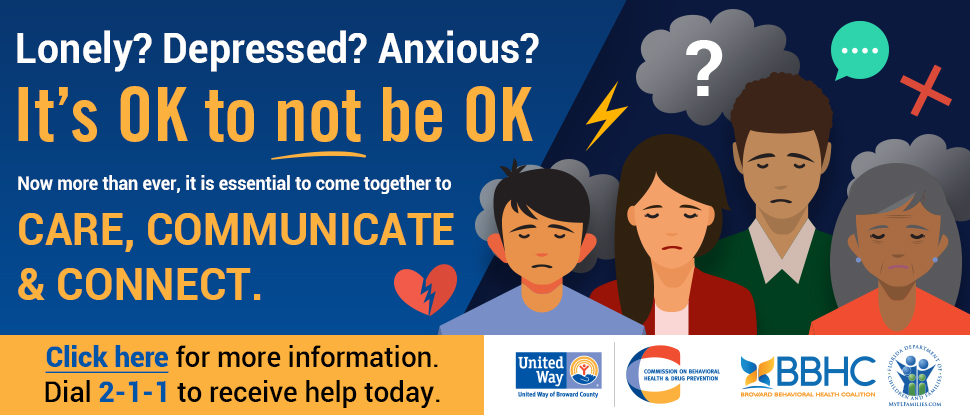 United Way's latest ALICE Report (United Way/Alice) showed that more than 250,000 people in Broward County living just one crisis away from financial disaster and at risk of becoming homeless. This situation has been aggravated by COVID-19 crisis, which has caused rising unemployment rates.
The initiative seeks to promote open dialogue about these issues and let residents know that it is OK to talk about feelings of stress, isolation, and anxiety. It also encourages those struggling with these to call 211 Broward, a 24/7 hotline, for support or free resources.
As part of this campaign, United Way of Broward has done the following:
Partnered with 211 and provided funding, directing the community to dial 2-1-1 on the phone to get connected to hundreds of resources available in the community.
Created an online resource center with tool kits, resources in the community, employment resources, food resources, and financial assistance resources for families and businesses.
Hosted virtual informative webinars, TEEN TALKS, to get youth involved in the conversation.
Placed strategic messaging around the community including TV commercials, billboards, online ads, and radio advertising.
Residents can also visit United Way's Behavioral Health & Drug Prevention's website, to find tools and information on mental and behavioral health issues.
For more COVID-19 related resources from United Way of Broward, click here.