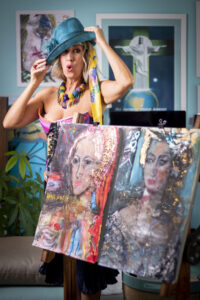 It's one thing to suffer for your art, but how many painters are willing to bleed for it? Especially to the extent that Rosana Friederichs does.
To be fair, the liquid is more accent than primary color. Still, the native of Brazil incorporates enough of her own blood into works she composes on Bristol paper to require covert arrangements with whatever medical lab is willing to draw a vial for her.
"In fact, I need more," she says, peering at the supply she keeps in the door-side shelf of the
refrigerator at her upper-floor condominium overlooking Hollywood Beach. "My stash is running low."
Ironically, it's that exact sentiment—running low—that, only a few years ago, pushed her in a direction that led Rosana to an improbable and unexpected chapter as a portrait artist. She's done so with an original style, beyond the blood, that continues to stop enthusiasts of her work in their tracks.
In the past year alone, she's participated in exhibitions that have exposed her pieces to art aficionados in Milan, Italy; the Spanish Canary Islands off the coast of Morocco; and at an art shopping expo in the shadow of the famed Louvre in Paris.
"This was never my dream," Rosana says. "You know how artists work their whole life, building toward something? That's not me. Painting never crossed my mind.
"People ask me how I got these shows and exhibitions. I didn't aggressively go after anything. They all find me."
Though she's poised for success with a storyline as the accidental artist, much about her life to this point has prepared Rosana for her moment in the spotlight.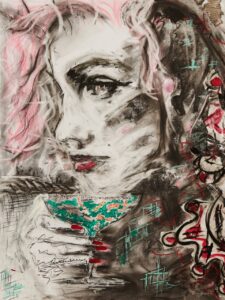 What's in a Name: In the world of prop styling, and to her friends and family, she's known as Rosana Arantes. In 1997, five years after moving to Miami from São Paulo, Brazil, she launched a business—House of Styling—that's been her bread and butter through the years. Her eye for design and sophisticated palate has enhanced print and video campaigns for clients including Mercedes-Benz, Bulgari and Silversea Cruises.
As momentum around her paintings began taking on a life of its own, she decided to use Friederichs as her artist's name. It's an ode, in part, to Caspar Friedrich, a 19th-century German Romantic painter whose ethereal landscapes—and images of people lost in thought against those natural backdrops—made him one of the country's most significant artists.
"I love his work," she says. "I thought maybe it would be good luck to take a similar name."
It's also a nod to her family's German Brazilian roots. Rosana grew up in Santos, a coastal city in São Paulo state, in the southeastern part of Brazil. Her father, an engineer, worked for a major petroleum company. But her mother's side of the family was filled with creatives, including her grandmother (a painter) and her aunt/godmother, who painted plates and other porcelain pieces on a large family room table. She often invited Rosana and her three siblings to join in the artistic fun.
Her early painting prowess, however, revealed itself on canvas. She would go to a woman's house, something she describes as similar to an afterschool program, and learn pastel techniques. Her mother still has one of those paintings, of a clown. But the other pieces from her childhood were lost (or perhaps stolen off a moving truck, she suspects) during one of her father's many job transfers for the oil company.
Back then, painting was just a hobby. Still, she can't remember picking up a paintbrush after age 17. That's the year her father died. He was only 44.
Fashion Forward: By the late 1980s, Rosana had gained renown in the city of São Paulo as a savvy and creative fashion stylist. In addition to contributing to the launch of a clothing line, she built her reputation through wardrobe styling for a fashion magazine in Brazil. Later, she did freelance styling for clients including Coca-Cola, Johnson & Johnson and Ford.
"At the time, I was very successful as a wardrobe stylist," she says. "I had my own production company. We were doing TV commercials. If you were watching TV in prime time in Brazil, you'd see our ads.
"But I wanted change. My thought was that if I stayed in Brazil, I was going to get married and have kids. I didn't want that. I wanted something more, something different, with my life. When I turned 30, I felt like it was now or never."
So, Rosana accepted the invitation of her Brazilian friend, who was living in England but making plans to move to Miami in December 1992. Though she barely spoke English, she quickly made friends in South Florida. To make ends meet, she worked at a vegan restaurant washing dishes.
"I was making so much money in Brazil; now, I'm scrubbing pots," she says with a laugh. "But I was happy. I was in America. I was learning English. And Miami Beach was beautiful."
Around the time she was picking up wardrobe styling jobs with Elite Model Management in the mid-1990s, Rosana started working for a Miami studio that specialized in prop styling. It proved to be the perfect creative transition. Rosana brought an artist's eye for detail—and infectious enthusiasm—to the role of adding the right accessories, color scheme or backdrop enhancements to everything from interior settings to still-life product shots.
By 2000, just three years after launching House of Styling, she had made a name for herself in the prop styling world. Before long, she was working with high-end commercial clients in retail, resorts, cruise lines, automobiles and countless other mega-businesses. It was a run of success that lasted the better part of two decades.
But even before the COVID-19 pandemic, her once steady stream of projects began to wane.
"In 2018, I was putting too many things on my credit card and running low on money," she says. "I needed to do something. I needed to reinvent myself."
Portrait images by Eduardo Schneider
Fashion styling courtesy of Jody McDonald