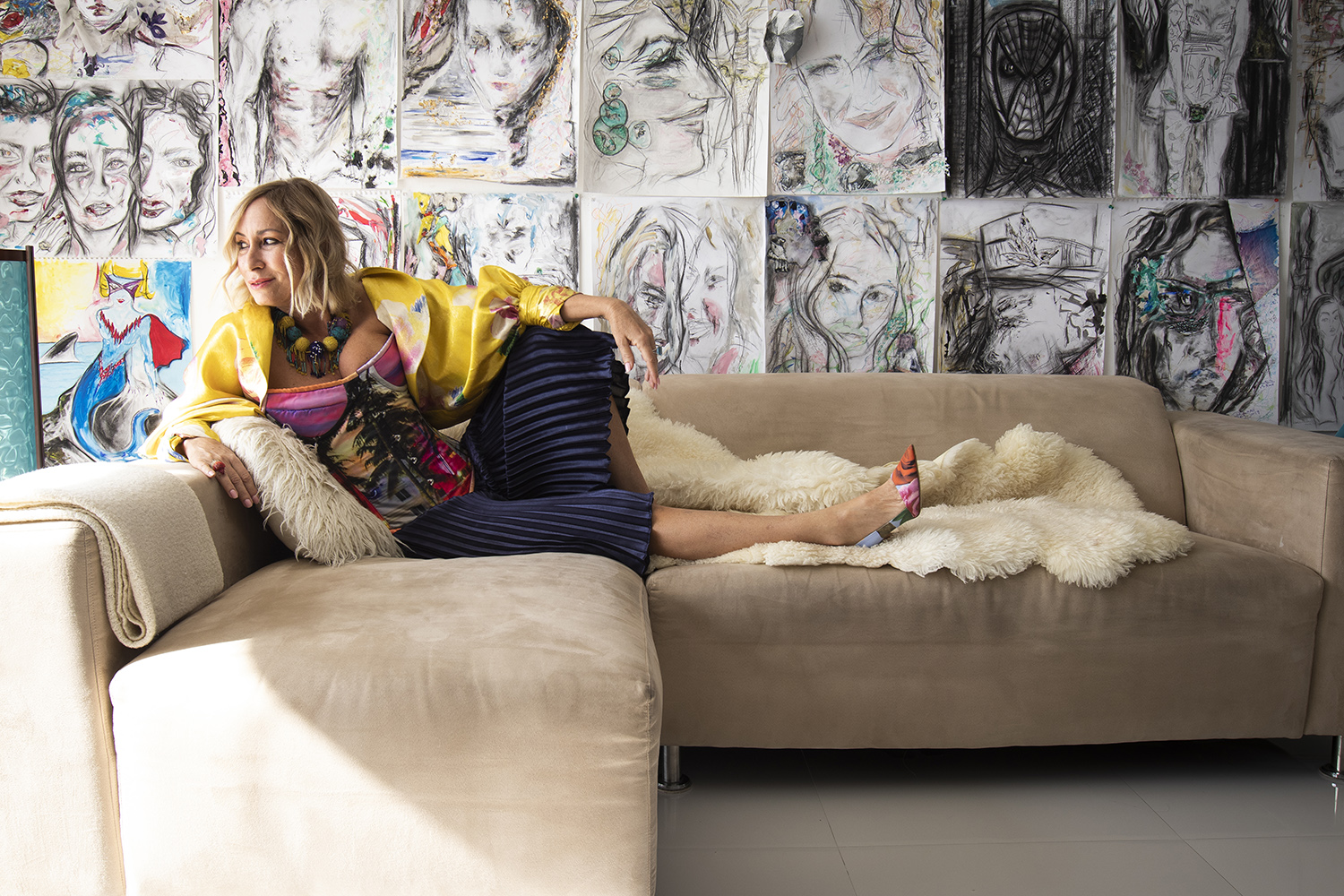 Visions of Rosana, Part 2
A decision to reinvent herself leads Rosana Friederichs down a path as a portrait artist that she never saw coming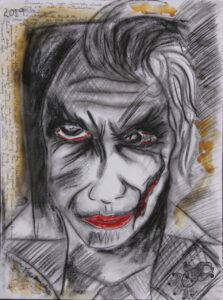 Twist of Fate: When Rosana Friederichs signed up for classes in 2019 to attend Miami International University of Art & Design, her intent was to pursue an interior design degree—which, similar to her move from fashion to prop styling, felt like a natural extension of the work she'd been doing.
But a Western art history course connected to prominent figures in Europe changed everything. For an assignment in which students were tasked with painting a portrait of a celebrity or friend based on artist from the period being studied, Rosana decided to paint the Joker (the movie starring Joaquin Phoenix came out in 2019). She chose, as her inspiration, the charcoal sketches of 16th-century Italian mannerist Jacopo da Pontormo, who was known more for his dramatic oil canvases.
Her version of the Joker captured the "crazy eyes" that drew her to Pontormo's sketches, as well as the writing that he included around the perimeter of his portraits.
But it was more than that. Rosana had tapped into the pain that she'd been carrying around for the past year. And it was emerging as a distinct, mesmerizing and, at times, haunting artistic style.
"I've always been an independent and generous spirit," she says. "But, suddenly, I didn't have money to pay my bills. One day, in the middle of summer, my air conditioner broke. I remember throwing a tantrum. I was like, 'What else, God? What else is going to happen to me?' So, I suffered in 2018. It ended up being a huge life lesson because it humbled me.
"But that darkness is still there. I can access it in my art when I need to. And I like that."
It didn't take long for others to notice that Rosana was onto something.
She produced a portrait, unprompted, for one of her classmates, a Russian student named Susanna Alan who remains her friend. Rosana wanted to present it as a gift. But her classmate, recognizing the talent, refused to accept it.
"Susanna told me, 'Don't you ever give away your paintings for free—promise me that,' " Rosana says. "I never forgot those words."
Alan paid Rosana $500. Soon, friends and acquaintances were paying her to do their portraits. "Even my manicurist asked me for one," she says.
By 2021, having launched an Instagram page that featured her work, Rosana was reaching an audience beyond the nail salon.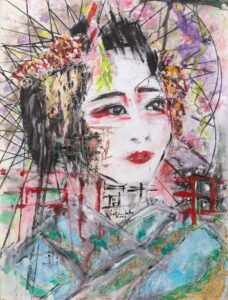 Tools of the Trade: Rosana struggles to describe her artistic style. On the one hand, she sees her sexuality in the work; indeed, before she begins a new project, she "makes love to the paper first" by caressing it, kissing it and hugging it. Her pieces also reflect who she is as a person, someone who challenges her boundaries and limits. Someone whose candor can shift the sand beneath your feet if you're not prepared for it.
Ultimately, she sees her work as a dance between two worlds. "There's good and evil. Yin and yang. Masculine and feminine energies."
There's also deep empathy, another one of her gifts. While producing a series of portraits of Marilyn Monroe, Rosana often broke down in tears. "I could feel her pain," she says. In her artist statement about the series, Friederichs added that Monroe was "a sensitive, lonely woman that struggled to live with stardom. I captured her in moments of dreams, sadness, drinking … questioning the meaning of life. I'm sure in all of that there's a piece of myself."
After sketching the outline with pencil, Rosana is apt to incorporate anything and everything into her portraits. For an Anne Boleyn piece she produced—one of two famous queens (Marie Antoinette was the other) that were featured this summer at the Hamptons Fine Art Fair—she managed to infuse the Bristol paper with charcoal, metal leaf, soft pastel, lipstick, nail polish, candle wax and glitter.
And, of course, her blood.
"I was chopping vegetables in the kitchen, and I cut my finger," she says, when asked about the origin story. "I was taking aspirin at the time, so my blood was thin. I remember looking at it and thinking how it seemed like paint. So, I walked across the room and added it to a painting I was working on. I've been using it ever since."
Though there's a fee for artists to appear at events like "Le Carrousel du Louvre" in Paris (where Rosana displayed one of the Monroe pieces and sold a work titled "Geisha Sakura"), such prestigious expos don't accept just anyone with an easel and paintbrush. She credits Artio Gallery for being a relentless advocate of her work. The gallery's chief curator, Bisa Bennett, discovered Rosana on Instagram; since then, Artio has secured spots for her at special exhibits and art fairs locally and abroad.
Along the way, the gallery has helped to raise more than her profile. At the Hamptons Fine Art Fair, Anne Boleyn and Marie Antoinette were priced at $24,500.
People consistently ask her about selling the Joker, but, as her first work, Rosana says, "There's no price for that piece."
In the meantime, there will be plenty of opportunities to sell other portraits, including at Red Dot Miami, a curated contemporary art fair later this year (Nov. 30 to Dec. 4) during Miami Art Week.
"The comment I hear over and over is that my art is unique. For me, that's the biggest compliment. And I think that's why this is all happening so fast," she says. "I know I'm going to be successful. I've known from the moment I sold the portrait to my Russian friend for $500.
"People go through their whole life and never find their passion. I found mine."
Portrait images by Eduardo Schneider
Fashion styling courtesy of Jody McDonald