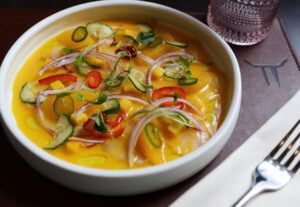 Ceviche, seviche or cebiche. No matter how you slice it—or, rather, say it—this celebrated South American dish boils down to three simple ingredients: seafood, vegetables, and flavor.
Rooted in tradition, the recipe was first discovered more than 2,000 years ago, and it's remained largely unchanged ever since. Originating among Peru's Moche civilization—which used fermented citrus juice to marinate seafood instead of heat—the dish later spread to other coastal communities in Mexico, Ecuador, Chile and Colombia.
The result? Though the fundamentals of the recipe are the same, there is something inherently unique in every ceviche recipe found across the world.
In this online version of our print feature in the July issue, esteemed local chefs Richard Sandoval and Javier Narvaez offer preparation tips—and ceviche recipes
Final cut: "The technique for making great ceviche has a lot to do with one's knife skills and textures—how finely is the onion minced, how nicely is the fish chopped," explains chef/restauranteur Richard Sandoval, who owns and operates 45 restaurants around the world, including Toro Latin Kitchen in Dania Beach. "You're effectively building a very simple but, complex, bite, and you don't want any of the individual flavors to overpower one another."
Finding the right cure: Just as important as the fish, ceviche revolves around the curing process. The acidity of fresh, hand-squeezed lime juice starts the denaturation process of curing the fish or seafood, Sandoval says. "Besides using the freshest ingredients possible, it's important to not overmarinate your protein," he says. "The acids can change the texture of the protein completely." Marinading times can vary depending on the type of fish and thickness of the slice; consult a recipe based on the protein you're using.
Feel the heat: "Chili peppers bring different levels of heat to build the flavor profile," Sandoval says, "and ají paste introduces a slightly sweet and smoky depth to the dish."
Walking the tightrope: "You always want to make sure that your flavor is well-balanced, because too much of any ingredient will throw off the dish," recommends Javier Narvaez, executive chef/partner at Pisco y Nazca (with locations in Doral and Kendall). "[I'd also say] a must-have is ají limo—the right amount will make your ceviche stand out above the rest. Also, onions. Always make sure you add them at the end to keep it crunchy." (Narvaez's favorite ceviche at Pisco y Nazca is the Ceviche Callejero. "It combines the flavor of two of our leche de tigres with rocoto peppers, aji limo and a variety of seafood—topped off with plantain chips and fried cancha.")
Ceviche Recipes
Sandoval and Narvaez provided ingredients only for their ceviche dishes; specific measurements are to taste, and amounts can be adjusted.
Aji Amarillo Tuna Ceviche (left insert photo)
Courtesy of Richard Sandoval
Raw, fresh tuna
Yellow bell peppers
Celery
Garlic
Cilantro
Lime juice
Habanero
Yellow ají paste
Fresno chili pepper
Orange juice
Mango purée
Red onions
Cucumber
Serrano chili, thinly sliced
Salt, to taste
Preparation: Create a yellow leche de tigre by blending celery, garlic, cilantro, lime juice, habanero, yellow bell pepper, yellow ají paste, Fresno chili pepper, orange juice and mango puree. Pour into bottom of dish, and place tuna on top of the leche de tigre. Top with thinly sliced serrano chili, cucumber, onion, cilantro and salt to taste.
Ceviche Callejero (top main photo)
Courtesy of Javier Narvaez
Poached Squid
Poached Shrimp
Ceviche fish
Octopus
Seasoned salt
Minced ají limo
Lime juice
Rocoto paste
Leche de tigre cremoso
Leche de tigre tradicional
Red onions
Cilantro
Cancha
Plantain chips
Preparation: In small mixing bowl, add portioned fish and seafood and all other ingredients, except for the cancha and plantain chips. Mix well for 5 seconds. Transfer mix into a desired goblet/bowl. Garnish with cancha and large pinch of plantain chips placed in the center of goblet/bowl.