Since transforming into a day to celebrate Irish culture with parades, unique foods, lively music, dancing, drinking and an endless sea of green, St. Patrick's Day provides numerous opportunities to participate in the cultural event. To help highlight South Florida bars and establishments offering special deals during the holiday, we've gathered some of our favorite spots in Miami-Dade, Broward and Palm Beach counties to experience:
Venue: Big Buns Damn Good Burgers
Location: 221 SW 1st Avenue, Fort Lauderdale
Info: Eatbigbuns.com
Deals: Big Buns Damn Good Burgers recently opened in February 2022. The menu serves a variety of burgers, bowls, sides and over-the-top shakes. In honor of St. Patrick's Day, Big Buns offers the Luck O' the Irish milkshake, made with vanilla ice cream, milk, green mint syrup, Andes mint crumbles and a mini ice cream sandwich. The regular shake is $9.99, but patrons can add a shot of 1.5 oz Irish Whiskey, Irish Cream (or a 50/50 mixture of both) for $14.99. 
Venue: No Man's Land
Location: 666 Federal Highway, Fort Lauderdale
Info: Nomanslandftl.com
Deals: No Man's Land celebrates St. Patricks Day with various specials and entertainment. Guests can enjoy specialty libations such as the Irish Sunburn – Jameson, fresh pineapple juice, Fernet Branca, Blue Curaçao and Tiki Bitters; Irish coffee – Jameson, demerara syrup, coffee, whipped heavy cream and grated nutmeg and $8 shots of Jameson. South Florida guitarist, singer and songwriter Renan Nerone will also perform.
Venue:  Legends Tavern and Grille
Location: Sunrise, Deerfield Beach, Lighthouse Point, Pompano Beach and Plantation locations
Info: Legendstavernandgrille.com
Deals: Throughout all of its locations in Broward, Legends Tavern and Grille is celebrating St. Patrick's Day with "Beat the Clock" drink specials from 12 p.m. to 4 p.m., followed by Happy Hour. Guests can also enjoy Irish food featuring a Corned Beef Rueben and traditional Corned Beef & Cabbage. 
Beat the Clock Drink Specials include:
12–1 p.m. – $2 green draught Bud Light pints
1–2 p.m. – $3 Guinness Draught Cans
2–3 p.m. – $4 Jameson shots
3–4 p.m. – $5 Irish Car Bombs
Venue: Dune Burgers on the Beach
Location: 455 Grand Bay Drive, Key Biscayne
Info: Ritzcarlton.com/en/hotels/miami/key-biscayne/dining/dune-burgers-on-the-beach
Deals: Dune Burgers on the Beach is located on the private beach at The Ritz-Carlton in Key Biscayne. Visitors can enjoy a lazy St. Patrick's Day relaxing on the beach with $5 green beers all day long.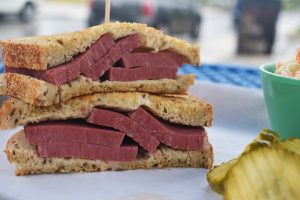 Venue: Tropical Smokehouse
Location: 3815 S Dixie Highway, West Palm Beach
Info: Eattropical.com
Deals: Tropical Smokehouse specializes in merging indigenous ingredients with BBQ and has partnered with local restaurant Aiol for its Corned Beef on Rye Sandwich with thousand island dressing and rye by Aioli ($13.50), available exclusively on St. Patrick's Day for dine-in, takeout and delivery. 
Venue: Corvina Seafood Grill
Location: 110 Plaza Real S, Boca Raton
Info: Corvinabocaraton.com
Deals: On St. Patrick's Day, Corvina Seafood Grill will feature $6 Tullamore Dew shots, $6 for a bottle of Guinness and green tea shots will be $6.
Venue: Duffy's Sports Grill
Location: All South Florida locations
Info: Duffysmvp.com
Deals: Duffy's Taste of Ireland Menu will feature a Loaded Potato Soup: Creamy potato soup, applewood smoked bacon, aged cheddar, and scallions (Cup: $5.99, Bowl $6.99); Irish Potato Skins: Crispy potato skins stuffed with thin-sliced Certified Angus Beef corned beef, swiss cheese, sauerkraut, and 1,000 Island dressing ($10.99); Reuben Burger: a ½ lb. Certified Angus Beef patty, shaved corned beef, sauerkraut, swiss cheese, Duffy's burger sauce on an artisan bun, served with French fries and a pickle spear ($14.99). On St. Patrick's Day itself, all-day specials will include Corned beef & Cabbage for $14.99, $3 Green Miller Lite Pints, $5 Guinness Pints and $5 Jameson Shots.