Claudio Sorrentino hasn't built a burgeoning empire entirely on other people's regret, but the continuing growth of Body Details certainly can be attributed, in part, to that emotion. That's because the state-of-the-art PicoWay laser used at the company's multiple South Florida locations provides more than just hair removal and skin rejuvenation.
The Class IV laser, the strongest approved by the Food & Drug Administration for the types of services offered at Body Details, is considered the safest, fastest and most efficient technology when it comes to removing tattoos.
And, in this day and age, that's something on which to build a business.
"As of 2018, there were 21,000-plus tattoo shops in the U.S.," says Sorrentino, who launched the first Body Details 12 years ago in Coral Gables. "In the age range we cater to, which is 18 to 44, more than 50 percent have at least one tattoo—and, of that population, 66 percent have more than one.
"While everyone loves their favorite T-shirt when they're 15, most people have a very different opinion of it when they're 40. It's no different with a tattoo. The regret factor changes extraordinarily rapidly. The longer you have a tattoo, the greater the chance that you'll regret it. It makes for a huge opportunity in this market."
It's an opportunity that Sorrentino didn't see coming. He already had entrepreneurial experience, having started Dragon Entertainment, a nightlife and special promotions outfit, with his business partner in the early 2000s while earning his bachelor's degree at Florida Atlantic University. While considering graduate school, he took a job at a laser hair removal company—in large part for the free services he received as a benefit of employment. A fitness enthusiast of Brazilian and Italian descent, Sorrentino says "body hair and muscle don't go well together."
Within weeks, the company promoted him to sales manager. That got Sorrentino to thinking, especially after his Dragon partner pitched him on the idea of starting a pest control business. Why deal with bugs when a laser hair removal concept—with a tattoo removal component—seemed far more viable?
Investors clearly liked what they heard, and the first Body Details opened in 2006, pulling in some $900,000 in its first nine months.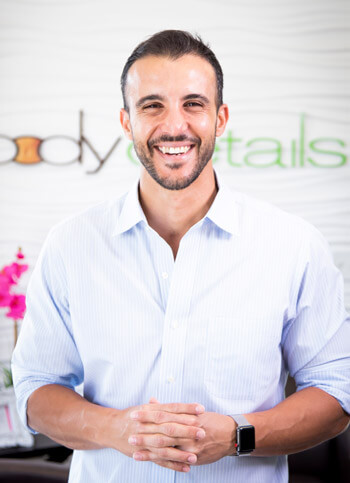 "The recession challenged everyone but, early on, the demand for our business, believe it or not, increased—in part, because people needed to remove tattoos given the tougher job market," Sorrentino says.
In 2014, Sorrentino and his partner bought out their original investors and raised additional capital for expansion. As part of that expansion, Body Details invested in the PicoWay technology, which pulses at a trillionth of a second—compared to the billionth of a second at which the prior generation of nanotechnology maxed out. The more forceful shock wave of energy breaks most ink (which, by the way, is not regulated by the FDA) into dust particles, allowing, after a few treatments, complete tattoo removal in half the time.
"Sometimes, you'll see med spas trying to do too much under the premise of offering everything," Sorrentino says. "They end up not being great at any one thing. In our opinion, it's better for us to be that specialty expert provider. This is all we do, all day long. We're wizards at this."
That said, with the snap of a high-level attachment, the PicoWay laser can double as a holistic way to treat 15 to 20 elements pertaining to aging (such as age discoloration, skin tone and blemishes)—including natural collagen production.
"The laser does a pass over your face; for about 24 hours, it looks like you were in the sun," Sorrentino says. "After that, your body will naturally produce collagen in those pockets created by the laser. It's so highly focused that we're able to stimulate your body's own collagen production, gradually eliminating fine lines and wrinkles."
Body Details is on track for nine locations by the end of 2018, including new businesses in Pembroke Pines and Boynton Beach to go with South Florida outposts from Boca Raton to Fort Lauderdale to Kendall. A potential 10th location in the works.
As long as people continue to change their minds about their body art, Sorrentino sees no end to the expansion.
"We have people who call us the day they get a tattoo who realize they made a mistake," he adds. "We have people who've had a tattoo for 40 years and are finally ready to get rid of it. We've treated full-back tattoos—that's a $20,000-plus procedure. You'd think someone that committed wouldn't change their mind. But they do.
"The popularity of tattoos is only climbing, so it's great job security for our business."