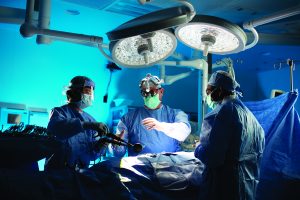 Though an African-American physician in Chicago, Daniel Hale Williams, is credited with performing an open-heart procedure in 1893 by closing a stab wound to the organ, it would be more than a half-century before a series of breakthroughs slowly shed light on all that was possible involving cardiac surgery.
Developments during the mid-20th century, including valve replacement, bypass techniques and the introduction of arteriography (so surgeons can see where blockages are located), allowed medical specialists to treat the heart like never before. Still, it wasn't that long ago that patients were wheeled out of the operating room following open-heart surgery with a zipper-like swath of stitches that spanned the length of their abdomen.
"Open-heart surgeons were swimming in some uncharted waters back in those early days," says Romualdo Segurola, chief of cardiac surgery for Jackson Health System. "Looking back, I guess you can say they really didn't know how much they didn't know.
"However, everything is totally different today, especially here at Jackson—from the sophistication of the procedures to the shorter length of stay to the much-shorter recovery time.
"And even to the size of the incision, which today can be as little as 2.5 inches."
Indeed, Miami Jackson Memorial Hospital and Jackson Heart Institute, centerpieces of the Jackson Health System, are in the vanguard of dramatic new developments in research, surgery, and minimally invasive treatments that have helped bring cardiac surgery into a whole new realm.
Leading the way is Segurola, who's recognized among his peers for his innovative surgical techniques and for making cardiac surgery available to more people who need it. In addition, he spearheads one of the most pioneering and comprehensive cardiac research programs in the world.
Best of all, he's recognized by his patients as the doctor who gives them a new lease on life when they've been told elsewhere that nothing can be done for their heart condition.
At the prestigious Jackson Heart Institute, where Segurola serves as medical director, doctors routinely take on complex procedures that aren't even considered at many other hospitals. Here, they practice every type of cardiac care, from surgery and heart failure evaluations to cardiac rehabilitation and even heart and lung transplantation. And they practice in a new, state-of-the-art facility.
"The record is there for people to see," Segurola says. "Patients at Jackson have less post-op complications and less pain, because we have the most—and the best—resources available. And because we're always involved in ground-breaking studies. In fact, that's one of the reasons I love working here."
Raised in South Florida, Segurola attended medical school at the University of Minnesota, and then did a research fellowship at Yale University. He went on to complete three fellowships—in trauma and critical care at Ryder Trauma Center (University of Miami) and in heart and lung transplantation, and cardiothoracic surgery at the University of Minnesota's Lillehei Heart Institute.
"The 'father' of open-heart surgery was Dr. C. Walton Lillehei," Segurola says, "who performed the first [successful] open-heart surgery [which incorporated hypothermia] on Sept. 2, 1952, at the University of Minnesota. He said something that's now famous—'What mankind can dream, research and technology can achieve.' And that statement still resonates with me."
Segurola became chief of cardiac surgery at Jackson Health System in April 2019, after working at the South Florida Heart and Lung Institute and Palmetto General Hospital. He remains heavily involved in research and leading-edge clinical trials, and his articles are published in top medical journals and books. He also lectures at renowned institutions around the world—among them, the American College of Surgeons, the American College of Chest Physicians, and the International Society for Heart and Lung Transplantation.
The renown beyond South Florida of Segurola and Jackson Health System for cardiac care also is reflected in its patient roster. Over the past year, Jackson helped to fly in and treat an American worker from Guantanamo Naval Base in Cuba, two patients from a cruise line in Mexico and a patient from the U.S. Virgin Islands. Many cruise lines contract with Jackson to care for people who experience heart problems on their ships.
Along the way, Jackson is seeing its share of patients from Latin America who can't find the expert help they need at home or abroad.
"There's a good reason for this," Segurola says. "We were working in cardiac care well before most other hospitals in the country. And we are still pushing the boundaries of cardiac research well beyond that of most other hospitals in the country."
Miami Jackson Memorial Hospital—which specializes in cardiac technology, equipment and now robotics—also is known for innovative approaches like the Heart Failure Program, which not only evaluates patients, but also ensures that their care encompasses all possible options.
"Here, we have a multidisciplinary focus," Segurola says. "And we just added the new Heart Failure Program to ensure that our patients receive care that leaves no stone unturned. Of course, our primary focus is to save lives. But we don't stop there. It's also important to help our patients get back to normal living afterwards."
In most hospitals, the average heart surgeon does perhaps 25 aortic valve surgeries a year. At Jackson, there's a much higher volume of major heart surgeries—which, in turn, exposes the medical center's specialists to new technologies and methods.
Conditions that would have killed patients not long ago are now treated regularly at Jackson. The evolution of stents and the development of heart-and-lung machines have had profound effects on the treatment of coronary disease. Doctors often don't even have to open a patient's chest to do valve surgery; they can just run a wire from the valve to the heart. And patients often can leave the hospital in, believe it or not, only 36 hours.
"We see it all the time," Segurola says. "When someone has no options elsewhere for artificial-heart technology or heart-and-lung transplants or heart-assist devices, they come to Jackson. And time after time after time, we do have those options."
Segurola says there's not a technique, equipment or a study that's not available to the doctors here. In fact, Jackson cardiologists and cardiac surgeons have treated more than 50,000 patients in the past 16 years. They offer more than 30 types of cardiac services, with procedures such as coronary bypass, heart valve surgery, surgical ablation (to correct irregular heartbeats), thoracic surgeries (lung, esophagus and chest), and vascular and endovascular procedures for veins and arteries.
Doctors here have pioneered minimally invasive methods even for open-heart surgery, and many procedures can be done with the minimal incision that Segurola referenced, something that would have been unimaginable in the early days of "zipper" scars.
"I believe that people want a doctor who will fight for them every minute," Segurola says.
"And, for me, seeing a patient smile after waking up from successful surgery is the best feeling in the world."
By Steve Winston
Photos courtesy of Jackson Health System