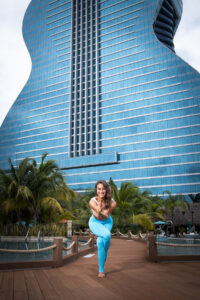 When Kim Colletti slipped into a single scull in the summer of 2006, it wasn't with life-altering intent. She was part of the sweep rowing team at Northeastern University in Boston, the discipline where each athlete on the four-person or eight-person squad handles one oar.
In the single skull that she used for an offseason session in the Charles River, she would work two oars. She'd never trained that way before. Still, how much of a difference could it make to an athlete like Kim? She always placed a premium on fitness; she played year-round high school sports in Connecticut—including volleyball and rowing. But sometimes, as Kim can attest, it only takes a tweak to set in motion profound changes in life.
"When I was rowing that day, I pulled my butt back too fast—and that pulled something in my back," she says. "It was literally a silly technique, a technical mistake, that led to a couple of bulging discs. I immediately felt the pain. And that started the decline with my back."
After graduating from Northeastern with a sociology degree, Kim moved to Fort Lauderdale in late 2010 to pursue her interest in the marine industry. She worked on motor yachts, spending as many as 10 to 14 hours a day maintaining the boats, a physically punishing job that wasn't doing her back any favors.
"There's a lot of bending over and standing up when you're cleaning a bow," Kim says. "It's vigorous on your body. I was in tears every day from the back pain. The doctor I was seeing was prescribing me muscle relaxers, and they weren't doing anything, so I stopped taking them. He finally told me I needed surgery."
Two things happened during this period that rendered surgery moot. The first one, incredibly, involved another injury—she tripped one day while working on a boat and cracked her head, suffering a severe concussion. The subsequent headaches were so debilitating at times that she wore sunglasses everywhere she went. It took some eight months for her to recover, effectively ending her marine career. The time off, however, had the benefit of giving her back much-needed rest.
It also helped that she developed a passion for yoga in 2011, practicing modern-day vinyasa five to seven times a week. "I noticed the difference when I wouldn't practice," Kim says. "My back [even before the concussion] was getting progressively better."
By 2016, Kim had gone all-in on the yoga life. She earned her teaching certification, leading classes and taking on private clients (she teaches upward of 16 classes a week, overall); later, she added international retreats to her offerings. Though she teaches mostly vinyasa sessions, Kim incorporates ashtanga sequencing (breath synchronization with a progressive series of postures) with her individual clients.
Ashtanga, for her specific body, was a next-level experience for her back thanks to the flexing and extension in the sequencing; a backbend, for example, created length in the spine that further enhanced the area. As a yoga teacher, it showed her that what the body needs will vary throughout a lifetime. And that mixing it up can be beneficial.
"I don't have the same class twice," says the 35-year-old, who did a year-long apprenticeship with her ashtanga instructor. "There may be similar movements, but you're going to get variety."
Her decade-long immersion in yoga has done more than just strengthen her back. She shares a story about taking out her frustrations on loved ones, early in her yoga education, because she was still in pain—and "because I wasn't at the point of my practice where I could separate those feelings."
"Everyone's path is different. We all have layers that we're peeling off at different [points in our lives]. But, ultimately, yoga has helped me to deal with a lot of things. It's grounded me. My mind is lighter. And when I practice, I notice that my entire demeanor is more calm."
Yoga with Kim Colletti
Private client classes, and private group sessions
Studio classes at Sol Yoga in Fort Lauderdale (solyogaflorida.com)
FLL Movement classes on the first and third Thursdays of the month at FLL CrossFit in Fort Lauderdale (fllcrossfit.com)
Visit collettiyoga.com (@collettiyoga on Instagram) for more information, including details on her Costa Rica retreat in late October.
Jewelry courtesy of Taylormade by Blake Taylor
Clothing courtesy of Naturall by NF