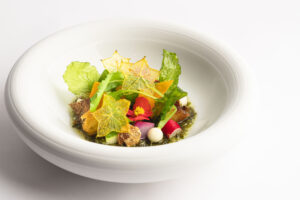 Ariete 
Address: 3540 Main Highway, Coconut Grove.
The Buzz: A staple at the Coconut Grove restaurant, the Farmer is a menu item that's been a local favorite since chef Michael Beltran introduced it at the opening in 2016. A fresh way to start any meal, ingredients change each season depending on which fruits and vegetables are available locally. One of the best recipes, and a chef favorite, has a sofrito (green onion is the main ingredient in the puree) base that lends further flavor to the array of seasonal vegetables (like radishes and edible flowers) in the bowl. Its sublime finish is created with perfection using Cuban guarapo (sugar cane juice) and a sour orange vinaigrette.
Contact: 786.615.3747; arietecoconutgrove.com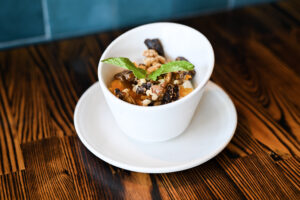 Estiatorio Ornos   
Address: 19565 Biscyane Blvd., Aventura.
The Buzz: Dessert doesn't have to be loaded with calories to taste good. A simple dessert, "Yiaourti me meli" (Greek yogurt with honey), is a typical and smooth finish to a hearty, traditional Greek meal. Creamy yogurt, created in-house, is drizzled with fresh honey and crispy walnuts. It's satisfying without the guilt. And did we mention it's yummy too?
Contact: 786.697.1681; michaelmina.net
La Fuga at the Shorebreak
Address: 2900 Riomar St., Fort Lauderdale.
The Buzz: Grouper, a delicate fish used often in Mediterranean cooking, pairs well with just about anything. Chef Michael Mayer's Cernia Al Forno (baked grouper) incorporates fragrant herbs to create a light crust on the baked fish, which is then surrounded on the plate with a smoked and savory ragout made with fresh Italian tomatoes. Tucked underneath the fish is a creamy homemade polenta. It's comfort food to be sure—but it's loaded with healthy ingredients.
Contact: 954.908.7301; shorebreakfortlauderdale.com
MaryGold's Florida Brasserie
Address: 2217 NW Miami Court, Miami.
The Buzz: There's a lot that goes into the restaurant's deeply layered Cabbage Terrine entrée. Think lasagna with just as much flavor but not all the carbs. It starts with savoy cabbage, the leaves brined with sea salt, and mushrooms marinated in broth. Each layer of vegetables is laid by hand atop slices of eggplant. Just before it's served, the broth, now full of flavor from the mushrooms, is brushed onto the whole stack and then it's grilled on one side a la plancha (on the griddle). While it's a favorite with vegetarians, the denseness of the dish will satisfy even the biggest appetite.
Contact: 782.522.6600; marygoldsbrasserie.com 
The Drexel
Address: 1436 Drexel Ave., Miami Beach.
The Buzz: Prawns are possibly the most underrated seafood and maybe not everyone's first choice. First, let's clear up the common misconception. Prawns are not just a big shrimp. They tend to be sweeter and meatier than their than smaller crustacean cousins. Chef Nano Crespo has a way with prawns, too, selecting wild, not farm-raised and from fresh water. The secret to this wild prawns dish is that the prawns are seasoned with only olive oil, salt and pepper; they're then grilled on a charcoal, open fire at high heat for only a few minutes. The dish is finished off with fresh lemon juice, chives, parsley and chervil (sometimes referred to as French parsley, with an earthier depth than the usual herb). The careful preparation gives the sweet meat a smoky flavor. A greens and fennel salad completes the dish.
Contact: 305.692.0992; drexelmiami.com