Amarii Scarlett didn't join the flag football team at Monarch High School in Coconut Creek last season intending to blaze a trail on another field of play. But, looking back, even Amarii's mom, Jennifer Jackson, can see how her 17-year-old daughter would find the flag game far too passive.
Before moving to Margate four years ago, Amarii spent her share of fall Saturdays in Tallahassee with Jennifer and James Coleman, cheering on Florida State University. Coleman, who's been a father figure in Amarii's life since she was 3, played fullback for then-Coach Bobby Bowden's Seminoles in the early 2000s.
"We were at every Florida State game, so, to play this little patty-cake sport? She just wasn't with it," says Jennifer, a former detective with the Monticello Police Department outside of Tallahassee who now teaches seventh-grade reading at North Broward Academy of Excellence. "Amarii complained from day one about how they weren't playing hard enough. I told her, 'What do you expect? It's flag football.' "
Still, even Jennifer wasn't prepared for what happened next. After being penalized in her first flag game for being "too aggressive," according to Monarch varsity football coach Dante Lombardi, Amarii quickly came to a realization.
"Football with no contact kind of defeats the purpose of playing football, right?" says Amarii, a senior at Monarch. "So, I thought, why not try out for tackle football?"
However, being the first female athlete to play varsity football at Monarch wasn't as easy as walking onto the practice field. There were meetings with the coaching staff and school athletic director that needed to happen, papers to be signed and logistics (like separate locker room accommodations) to determine.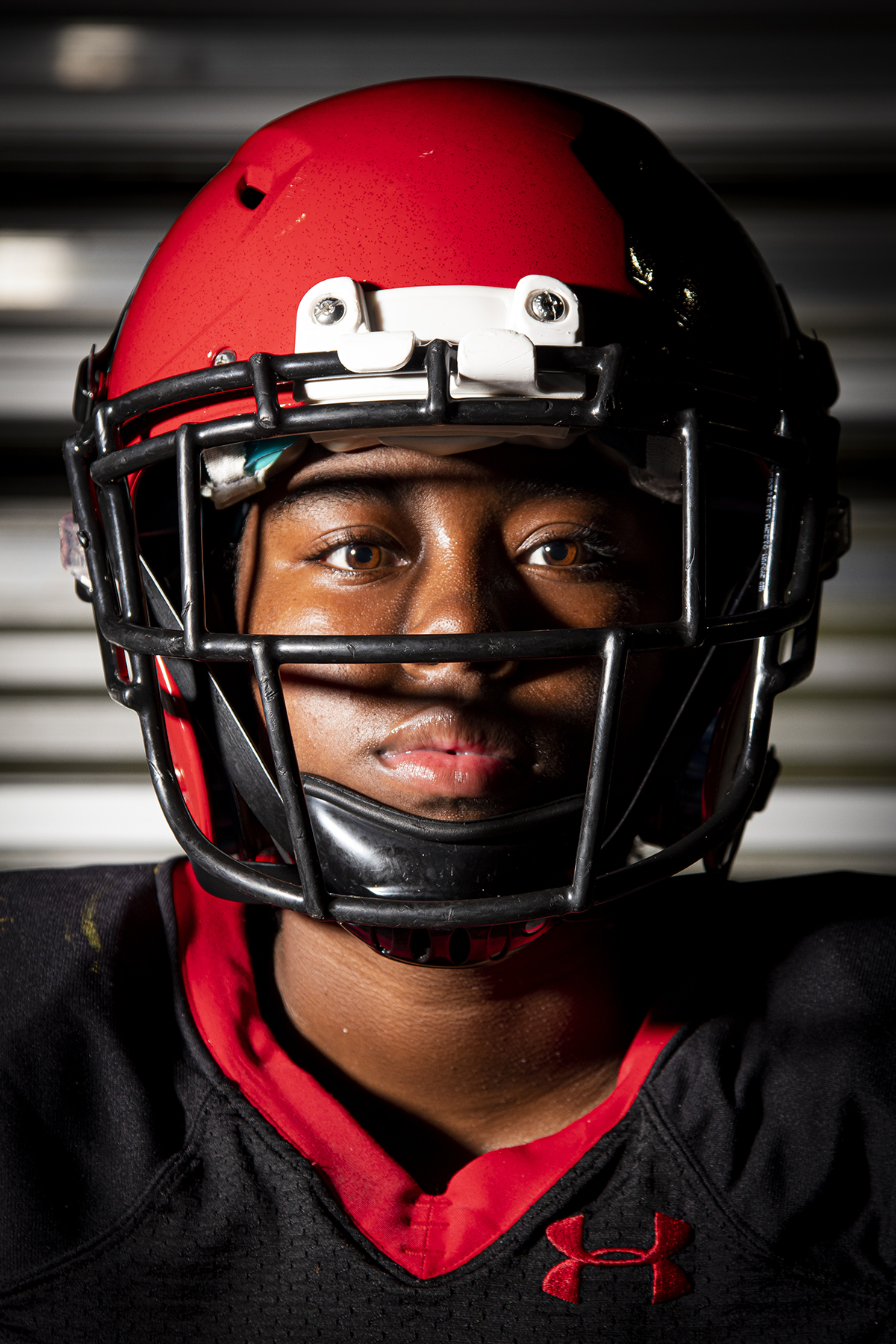 All of which would be moot without Jennifer's permission. And, initially, Mom wasn't having it.
"James suffered many injuries, had many surgeries and suffered concussions," says Jennifer, who is married to Theophilus Jackson yet includes Coleman in family discussions about Amarii. "So, I was definitely like, 'No!' "
"My mom is typically my biggest supporter, but not when I told her about playing tackle football," Amarii says. "She was like, 'You're smaller than these boys [Amarii is 5-foot-6 and roughly 140 pounds]. You're going to get hurt.'"
But it was more than just the threat of physical pain. Jennifer alludes to a sensitive family situation after moving to South Florida that had a significant impact on Amarii, enough to send her typically stellar grades spiraling for the better part of a year and a half.
"The [biggest challenge] for her playing football is that a lot of people believe that she shouldn't be there because she's a girl," Jennifer says. "I didn't want her to be beat down emotionally and mentally trying to play a game she loves."
Jennifer credits Amarii's success in Monarch's ROTC program—Amarii says she's a first lieutenant, one of eight officers in the battalion—as the springboard for her turnaround in the classroom. This fall, in addition to her classes at Monarch, Amarii is taking three classes at Broward College (and two more classes online) to earn as many credits as possible toward her associate degree. She's also considering a military path, either in the Army or Air Force, that would pay for college in exchange for her service.
"She's headstrong about going into the military," Jennifer says. "With everything going on [in the world], it makes me leery. But I have a child who's a fighter and a survivor. Like my mom told me, why should we expect the norm? She's never been the norm.
"To see her persevere the way she has, it would have been a disservice to her to say no [about football]."
On the field, Amarii is the first to admit that the physical side of tackle football is more than she expected. "The first time I got hit," she quips, "I thought, 'Maybe I should stick to flag.' "
Then, there are the equipment issues. Amarii's body doesn't conform to standard shoulder pads, so she says she had to find her own. "On top of that, it's just awkward. I have to wear spandex pants, a girdle, then the football pants. I wear two sports bras, a shirt, a rib protector vest, shoulder pads, a compression shirt and then my jersey—it's like five layers.
"It stinks that I can't wear my earrings, but one day, I forgot that I had them in—and they stabbed me."
After trying her on defense as a safety during spring football, the coaching staff agreed that receiver was the better position for Amarii. Though Amarii never had played organized football, Lombardi says she was putting in the work and showing improvement.
"All the plays, all the route running was new to me," Amarii says. "But when I do something, I want to make it look like I've been doing it for years. I have a standard to uphold."
Heading into the fall season, Amarii understood that there were no guarantees about playing time. Lombardi said in August that he would "try to rotate her in as best as possible," but the coach was more optimistic about the upcoming flag season.
"If we can keep Amarii from hitting people, she can be one of the best [flag players] out there," Lombardi deadpans.
Asked what she had learned about herself during the summer practices leading up to the season opener in August, Amarii pointed to being an only child.
"This sounds really bad, but I'm self-centered sometimes," she says. "I need it my way, how I want it and when I want it. Plus, I'm fourth or fifth in charge in ROTC, so I'm used to telling people what to do.
"But when you're on a team like this, you put your teammates first. Even if you're not getting what you want. I've had to learn how to not make everything about me. And I've had to learn that there's no gender on this field."
But don't think for a second that Amarii isn't looking for just one chance to prove to the boys that she belongs.
"People are watching me. And a lot of people are doubting me," she says. "My goal is just one touchdown. That's all I need. And then I'm good."
Photos by Eduardo Schneider