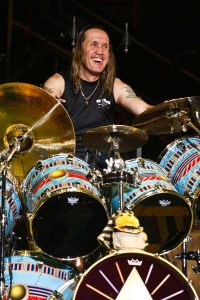 By the time Iron Maiden takes the stage later this May in Croatia for the continuation of its "Legacy of the Beast" world tour—which started in 2018 before being sidelined by the COVID-19 pandemic—it will have been nearly three years since the heavy metal band last played live. It's the longest stretch of inactivity for a group formed in 1975 by bassist/songwriter Steve Harris that's renowned for exhilarating and theatrical high-octane performances.
And that's what has drummer Nicko McBrain a bit trepidatious. On the one hand, he's "champing at the bit," to once again tour with his other five mates in the band—including guitarists Dave Murray, Adrian Smith and Janick Gers, and lead singer Bruce Dickinson. On the other, he's the acknowledged granddaddy of the famed group (though not by much) at age 69.
"I'm starting a program to get myself more physically fit, because I'm old now," deadpans the London native, who's kept the beat for Iron Maiden since the early 1980s. "Things start drooping at this age where they're not supposed to."
In the meantime, there's always plenty to keep one of the most influential metal drummers in history busy right here in South Florida. In December, the longtime Boca Raton resident celebrated the 12th anniversary of his popular Coral Springs barbecue restaurant, Rock N Roll Ribs, with an outdoor set of Maiden classics performed by his "tribute" band, Titanium Tart. (Although, McBrain jokes, "how can I be in a tribute band when I'm part of the real band?")
And, in March, McBrain reprises his hosting duties for the nonprofit organization HomeSafe at its popular fundraiser, the Classic Rock & Roll Party, at Seminole Hard Rock Hotel & Casino. McBrain, the third in a line of rock royalty with a hosting tie to the South Florida nonprofit, learned about HomeSafe some 16 years ago through drummer Tico Torres of Bon Jovi. Clarence Clemons, legendary sax player for Bruce Springsteen's E Street Band, served as the Party's host for five years; after "The Big Man" passed away in 2011, McBrain took over the emcee duties.
"Tragedy is always out there," says McBrain of the Palm Beach County-based nonprofit's mission to advocate for victims of child abuse and domestic violence with programs that include five residential foster group homes, plus independent living housing for young adults who've aged out of foster care. "It's been amplified over the past [two years] because of COVID and people being isolated. We see it with the rise in domestic violence cases.
"The problem, which we all know so well, is that children often catch the brunt of this. They're the ones that suffer. … When you see the work that the counselors are doing with the children—and you see the transformation from how withdrawn they are when they first arrive—it's so inspiring. There are so many lovely people at HomeSafe, and they care so much about the kids."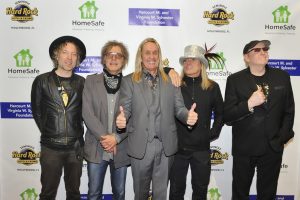 Though life on the road has taken him around the world multiple times (he's performed nearly 2,000 shows with Iron Maiden), McBrain's connection to the community, and especially to HomeSafe, is undeniable. He and wife Rebecca, who McBrain met at the Button South in Fort Lauderdale back in 1984, have lived in the same Boca Raton house for 32 years—though they've added spaces like an extra garage and a game room to the now-five-bedroom estate.
Through the decades, McBrain has become as synonymous in South Florida with acts of generosity (Wounded Warriors is another charity close to his heart) as he is for his tom fills on classic Maiden albums like The Number of the Beast. It's a pay-it-forward philosophy he learned from his parents—among other things.
"I've always been the type of person that when I see someone on the street having a hard time, I try to help them out. It was ingrained in me from my mom and dad to be charitable to people. My father always said to me, 'Be kind to people on the way up, because you never know when you may meet them again on the way down.' My father taught me so many things when I was a teenager, when I could start understanding them more.
"There were a couple of things I didn't understand," the jocular Brit then adds, taking the story in a completely different direction. "Like when he'd give me a smack on the back of the head because I was playing drums on the dinner table, and my mom wanted me to stop. Just a little slap on the noggin. And he'd go, 'Son, do me a favor. Do what your mother asks. Anything for a quiet, peaceful life.'
"I never really understood what he meant by keeping Mom happy. But as I've grown older and had children of my own (two sons), I realize that what my mom was really telling my dad at the dinner table was, 'You're not getting any nookie for a week if you don't take care of your son right now,' " McBrain says with an uproarious laugh. "So, Dad was looking out for himself because he wasn't getting any!"
McBrain is a bit more serious when discussing his preparation for the upcoming Iron Maiden tour. He's been playing three or four days a week in his home studio to maintain his feel, but it's nowhere near the same as playing with his five bandmates.
"There's an intensity that must be matched when you're playing live," he says. "You can't be a parody of yourself. You can't go out there and think you're doing well—and you're not. So, that's why I have a bit of trepidation.
"Our show typically runs just short of two hours. Over the course of that time, you have to pace yourself—and to do that, you have to be with the band. You have to practice where you can really lay down the groove, and where you need to open it up. With the faster songs, stamina is everything. … Sometimes, [Harris and McBrain] drive [the band] a bit too fast—we go into overdrive. But that's the nature of Maiden; you never know what you're going to get in a live show. Except that it's going to be dynamic.
"It's going to be challenging. But, also, I can't wait."
The Classic Rock & Roll Party
When: Saturday, March 26
Where: Seminole Hard Rock Hotel & Casino (1 Seminole Way, Hollywood; seminolehardrockhollywood.com)
What: Iron Maiden drummer Nicko McBrain serves as celebrity host for the annual fundraiser to benefit HomeSafe. Expect an open bar, a full-course dinner, a silent auction, and live entertainment from tribute bands Bee Gees Now and Abba Revisited. Steve Bernstein and Abby Bernstein-Henderson are the event chairs.
About HomeSafe: The nonprofit organization dedicated to protecting victims of child abuse and domestic violence provides comprehensive programming that serves upward of 16,000 infants, children, young adults and families throughout South Florida each year. (helphomesafe.org)
Tickets: $500 per person
Contact: Visit helphomesafe.org/theclassic2022 for details and ticket info.