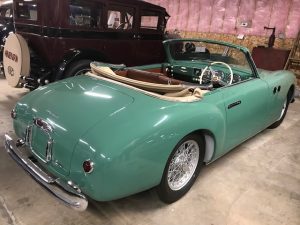 The 15th annual Boca Raton Concours d' Elegance will enable auto enthusiasts to get up close and personal to some of the most vintage vehicles on the market while also raising money for charity. The event, from Feb. 25 to Feb. 27, is presented by Mercedes-Benz and AutoNation to celebrate the Marque of the Year, Pre-War Chrysler & Imperial Coach Built. Rita and Rick Case of The Rick Case Automotive Group founded the event, which features the world's largest Concours owned by a charity will be on display, with proceeds benefiting the Boys & Girls Clubs of Broward County, which serves more than 12,000 at-risk youth. This year's 2022 Co-Chairs are Rita Case and Marc Cannon of AutoNation.
"To date, the event has raised more than $10 million for the charity," Rita Case says.
The weekend starts on Friday, Feb. 25, with a Private VIP Welcome Reception at The Boca Raton. The invitation-only event will be exclusively for Annual Automotive Lifetime Achievement Award Winners, Big Wheel Members, Celebrity Guests and VIP Sponsors. Saturday will feature the formal Grand Gala Seated Dinner, Live Auction and Comedian Stand-up Performance by Howie Mandel at The Boca Raton. Before dinner, guests enjoy a cocktail reception and have the opportunity to bid on unique items at the silent auction. Immediately following the cocktail reception, guests are served a gourmet dinner during which they have the chance to bid on one-of-a-kind trips and exotic vacation packages. 
For ticket information and additional details, visit bocacde.com.