Photos by Eduardo Schneider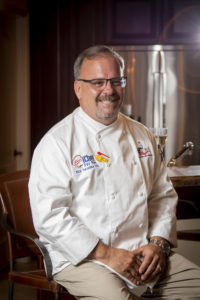 Rick Vashina always answers the telephone by saying, "What's cooking?" Sure, it's a phrase that many say, but for this corporate executive chef, it's who he is. For him, creating a dish comes from the soul. It is an artistic expression.
The Coconut Creek resident says what first drew him to a career in the culinary arts was exactly that.
"I'm very artistic," Vashina says. "I love art, the visual arts, sculpting, music—so it was the artistic part of food production that first hooked me."
Vashina came to South Florida in 2004 as executive chef at Marriott North Fort Lauderdale. He arrived here from working for the Mississippi Band of Choctaw Indians at Pearl River Resort as specialty room chef at the hotel and casino's signature restaurant, Phillip M's. He now has been with Royal Palm Yacht and Country Club in Boca Raton for almost five years.
"I'm a chef, not the chef there," he says. He didn't want the responsibility of running a kitchen again as an executive chef as he had done for decades across the country in hotels, resorts and casinos in Houston; Charleston, South Carolina; Nashville; and Choctaw, Mississippi.
The reason for keeping his full-time job lighter this time around is so that he can focus on his passion: teaching others to cook. "That's where the artistic comes in, too," Vashina says.
In 2011, he began Culinary School to Go, but says the name wasn't the right fit. Because of that, he felt he was passive about his own business, and not fully devoted to it at the time. To give it a kickstart, he changed the name and reinvented the concept to iChef For You, which includes in-home cooking lessons and private chef services.
"I teach people whatever they want to learn," Vashina says about his coaching. It's the in-home aspect of iChef For You that he believes makes it different from taking private classes offered by a supermarket or cooking school. "In your personal environment, you are more receptive. We work together in your kitchen, you use your equipment, and your own pots and pans, your own knives. If your stove is a glasstop, you learn on that, not on a stove that has gas," Vashina says. This way, he says, his students can immediately put what they've learned into practice.
Although he doesn't have a specific agenda, Vashina, who earned the designation of American Culinary Federation certified executive chef, is a stickler for the "fundamentals." For any cook, whether a beginner or advanced, this is a must, he advises.
"Learn and know the basics: the proper way to braise, broil, bake, fry, sear and sauté. Otherwise, you're winging it," he says. "If you don't know these techniques, and proper preparation—the correct way to dice and chop, cut vegetables, trim meat—you are not going to end up with a good dish."
In his own career, the chefs that he's worked with—the ones who took the time to mentor him—were those who made the difference.
"There are a lot of chefs who are in it for the money and fame, and then there are others who are true leaders and are willing to give of their time and share what they know to make others better," he says. "And, when you teach others and offer what you know, you become better yourself."
Through iChef For You, Vashina teaches custom, in-home cooking classes with no size limit for one set fee with a two-hour minimum. Private chef services include shopping and preparing a customized menu. Find out more at ichefforyou.com.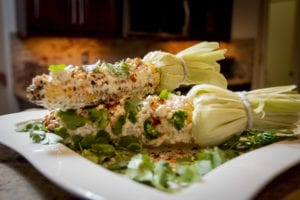 A Treat for Dad
Chef Rick Vashina shares an easy recipe that a family can make together for Father's Day.
Grilled Skirt Steak with Elotes
Serves four
Skirt Steak
Ingredients
2 pounds skirt steak, trimmed and cut into
     manageable portions
½ cup garlic, roughly chopped
2 limes, juice only (grate skin before juicing to
     use for corn)
½ cup cilantro stems (reserve leaves for corn)
½ cup canola or vegetable oil
Directions
Combine ingredients and mix well in resealable bag. Turn every 30 minutes. Allow to marinade, then refrigerate at least three hours. Discard cilantro stems, leave the garlic. Season liberally with kosher salt and freshly cracked black pepper. Heat grill to 400 degrees. Sear well on both sides until desired temperature. Cook to medium.
Elotes (Mexican street corn)
Ingredients
Four ears of sweet corn on the cob
1 cup mayonnaise
2 tablespoons lime juice and peel, grated
2 cups cotija crumbled cheese
2 tablespoons seasoning mix (mix together smoked
     paprika and chili, garlic and onion powders)
½ cup cilantro leaves, roughly chopped
Directions
Pull back corn husks and individually tie back in a bundle or remove completely, leaving part of stalk as a handle. Grill corn well on all sides. Mix mayonnaise, lime juice and grated peel. Brush heavily with mayonnaise/lime mixture when corn is done. Roll in cotija cheese, coating heavily (cheese will not melt). Sprinkle seasoning mix and top with cilantro leaves.