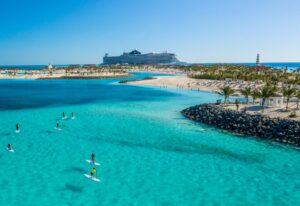 The waters around the South Florida cruise industry had been eerily calm for more than a full year, thanks to the COVID-19 pandemic. It wasn't until this past June that a U.S.-docked cruise ship once again set sail from Fort Lauderdale. Passengers lined the exterior balconies of Celebrity Edge and waved goodbye as the ship drifted toward the horizon.
Despite traveling with only 1,200 passengers on board—approximately 1,800 fewer than the vessel's capacity of nearly 3,000—the Celebrity Cruises voyage marked a much-anticipated reboot after, perhaps, the most challenging period in the industry's history.
"For the past 15 months, our conversations with friends and loved ones about seeing the world have been accompanied by the phrase 'someday,' " noted Lisa Lutoff-Perlo, president and CEO of Celebrity Cruises (a subsidiary of Royal Caribbean), in a statement about the Edge's June excursion. "I'm beyond proud and excited to say that day has arrived."
Though the Celebrity Edge voyage signaled the resumption of large passenger ship sailing in the United States, MSC Cruises was the first major cruise line to return to the high sea in the COVID-19 era—MSC Grandiosa resumed Mediterranean cruising in August 2020.
"Very early on, we began working on how we could restart cruising in a safe and responsible way while also maintaining the richness of the cruise experience," says Rubén Rodríguez, USA president of MSC Cruises. "It was important for us to look forward. We worked on developing a health and safety protocol that effectively set a standard for the industry and allowed us to become the first major cruise line back at sea."
That approach has allowed MSC Cruises to sail continuously for the past year, with more than half of its fleet back at sea, safely hosting thousands of passengers worldwide. Among its ships operating in Florida waters, MSC Meraviglia has been sailing from Miami since early August 2021; meanwhile, MSC Divina has a new homeport in Port Canaveral (Brevard County) as of mid-September.
"We have sailed in Europe for more than a year through all different evolutions of the pandemic," Rodríguez says. "Our experience shows that our [health and safety] protocol effectively mitigates risk [and allows us to] provide a safe and enjoyable cruise experience … through the ongoing evolution of the pandemic.
"The protocol was designed to be adaptable to the situation ashore," he adds, "so when it is needed, we can strengthen our health and safety measures or relax them when it is possible to do so."
Safety at Sea
After forming a panel of medical and public health experts, many of MSC Cruises' protocols have set the standard for the cruise industry at large, including universal testing at embarkation, full vaccination and regular testing of crew, mask-wearing, enhanced sanitization and fresh air circulation in staterooms and public areas, among others. MSC also created a contingency response plan in the event of a COVID-19 case on board.
"An important decision we made for resuming cruises from the U.S., based on the data and knowledge we'd gathered over many months of sailing in Europe, was to maintain our practice of universal testing of all guests prior to embarkation, including fully vaccinated guests," Rodríguez says. "We will continue to monitor the situation as it evolves and take decisions that prioritize the health and safety of our guests, crew and the communities we visit."
Carnival Cruises, which returned to service in early July, has taken a similar approach. "The past months have been a learning process," says Vance Gulliksen, Carnival Cruises' senior news desk manager. "We have developed comprehensive procedures and protocols to operate safely, and the feedback from our guests has been nothing short of sensational. We fully expect this positive response to continue as ships gradually resume service."
There are currently seven Carnival Cruises vessels in service, with that number expected to jump to 15 by October—more than half of its fleet, Gulliksen says.
"[Since returning], we've safely carried tens of thousands of guests who have enjoyed the vacation they have been so patiently waiting for," he adds. "Our hopes and goals have always been the same—provide our guests with opportunities to relax and reconnect with their friends, families and loved ones."