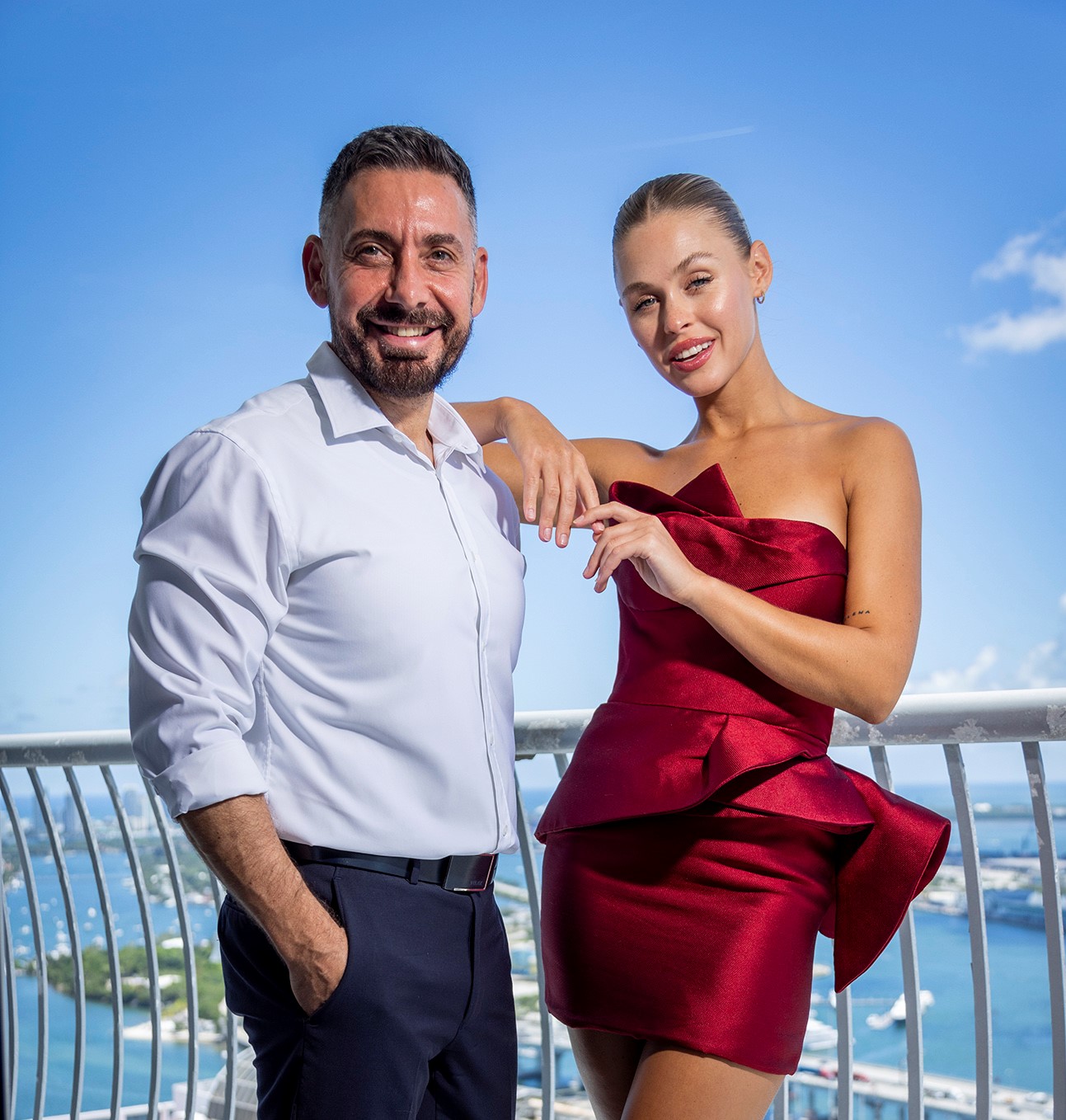 Cover Story: Gustavo Cadile, Part 1
The couture icon looks back on his childhood in Argentina and points to a moment that set his design dreams in motion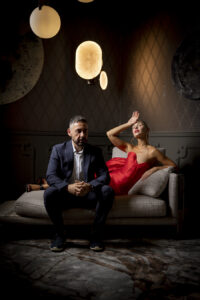 Sure, in another context the idea of Gustavo Cadile draped all over your favorite female celebrities in photo after photo might raise an eyebrow. But this is exactly why A-list actresses, award-winning singers, television hosts and multimedia moguls have sought him out for the past decade-plus.
Because, in a flash, a red-carpet stroll can become an indelible snapshot when the famed couturier is involved.
Just ask Kim Kardashian, who wore a floor-length crimson gown designed by Cadile to the Latin American version of the Video Music Awards in 2008. Or Gloria Estefan, whose crimson gown with transparent sleeves and scalloped borders that Cadile fashioned for the 2014 Grammys remains one of her shining red-carpet moments. Or Top Chef host Padma Lakshmi, who turned heads in 2019 at the Manhattan premiere of Captain Marvel in a sleeveless fuchsia Cadile jumpsuit.
Yet for all the pomp and circumstance that's surrounded the recent chapters in his rise from busboy to couture visionary, it's the idea of a simpler life that's lured the native of Argentina away from his Big Apple base of the past 25 years and back to the place where the vision for his career came into sharp focus.
"Everything that I've wanted to do in the business, I did," he says. "I did the department stores, all the celebrities. But I'm not Gucci. I'm a small brand. Making six [fashion] collections a year—the four seasons, plus two collections for bridal—is so demanding.
"Something opened my eyes. Before, I was doing everything through the stores [that sold his brand]. But during the [COVID-19] pandemic, my clients in New York didn't want to travel to the Garment District. I told them I was working from home and invited them over. I laughed with them, I made cookies for them. These are the things I love, the one-on-one connection. I started enjoying the process again.
"Because of that, I saw a new way to do business—the possibility of opening a showroom in Miami and returning to the city that's given me so much. It's been like a dream to come back here and settle down."
From his residential perch on the 50th floor of a condominium overlooking Biscayne Bay, Cadile certainly seems to be living that dream. But the spoils of his success have been hard-won. Few people have made their own breaks with as much caution-to-the-wind tenacity as the 53-year-old.
Of course, what would a story about a fashion designer be without a thread running through it. In Cadile's case, it begins where it always does.
With a sketch.
Point of No Return
The vivid recollections that Cadile shares about growing up in Argentina all speak to the prize on which he fixed his eye at a young age.
He was born about three hours outside of Buenos Aires in Junín, a city renowned as the childhood home of Eva Perón—the actress, activist, politician and former first lady of Argentina who was immortalized in the Andrew Lloyd Webber musical "Evita." Cadile recalls, at age 5, being inspired by photos of Perón wearing lavish gold dresses and ball gowns.
By then, he already was familiar with the sewing machine on the patio, where his mother and grandmother were always altering their dresses, making them shorter or more playful. His mother, who worked at the local high school, had a sense of style consistent with her Italian roots. She was friends with the wife of a prominent family in Junín; on her frequent trips to Europe, the woman would bring Cadile's mom the latest fashions, including her favorite designer, Pierre Cardin. "I remember, in the 1970s, my mom was with the paisley design, wrap dresses, safari clothing—very stylish," Cadile says.
But it was his grandmother who first handed Cadile paper and pencil and asked him to sketch women in beautiful flamenco dresses. To this day, Cadile hand-sketches ideas for his collections; indeed, upon entering his Miami condo, there was a poster board leaning against a wall outside the kitchen with sketches and swatches of fabric attached to concepts for his latest collection.
As a child, however, Cadile's fascination with fashion left his father scratching his head—especially when he was too young to include facial details in his drawings.
"My dad [who worked for the city of Junín] would come home from work, and he'd see these sketches of women with round faces and no nose," Cadile says. "I remember him once telling my grandmother, 'Stop making my son sketch women without noses!'
"He thought it was strange, at the time, that his son was interested in fashion."
Years later, after Cadile opened his showroom in New York City and before his parents died, he'd vacation in Argentina and visit family. Inevitably, his mother and father would have a stack of the celebrity magazines in which their son's fashion appeared spread out on the table for all to see.
"They were very proud," Cadile says.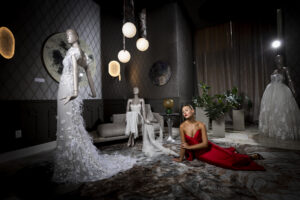 Still, it took time for both parents to warm to the idea of their son pursuing the designer dream that had solidified in his teens. At the very least, they felt he should have a safety net; both parents implored their son to study architecture.
"My idea was to make my family happy—but it wasn't going to be architecture because I'm terrible at mathematics and with numbers," Cadile says. "Instead, I studied graphic design at a private university in Buenos Aires. I was 17.
"At the end of the first semester, after final exams, my father received a call from one of the professors. He said, 'Listen, don't pay any more money for your son to come here. … The only thing that he does is sketch women in dresses.' "
Photography by Eduardo Schneider
Interior images shot on location at Visionnaire Miami (2063 Biscayne Blvd.; vissionaire-home.com)
Model: Carla Romanini