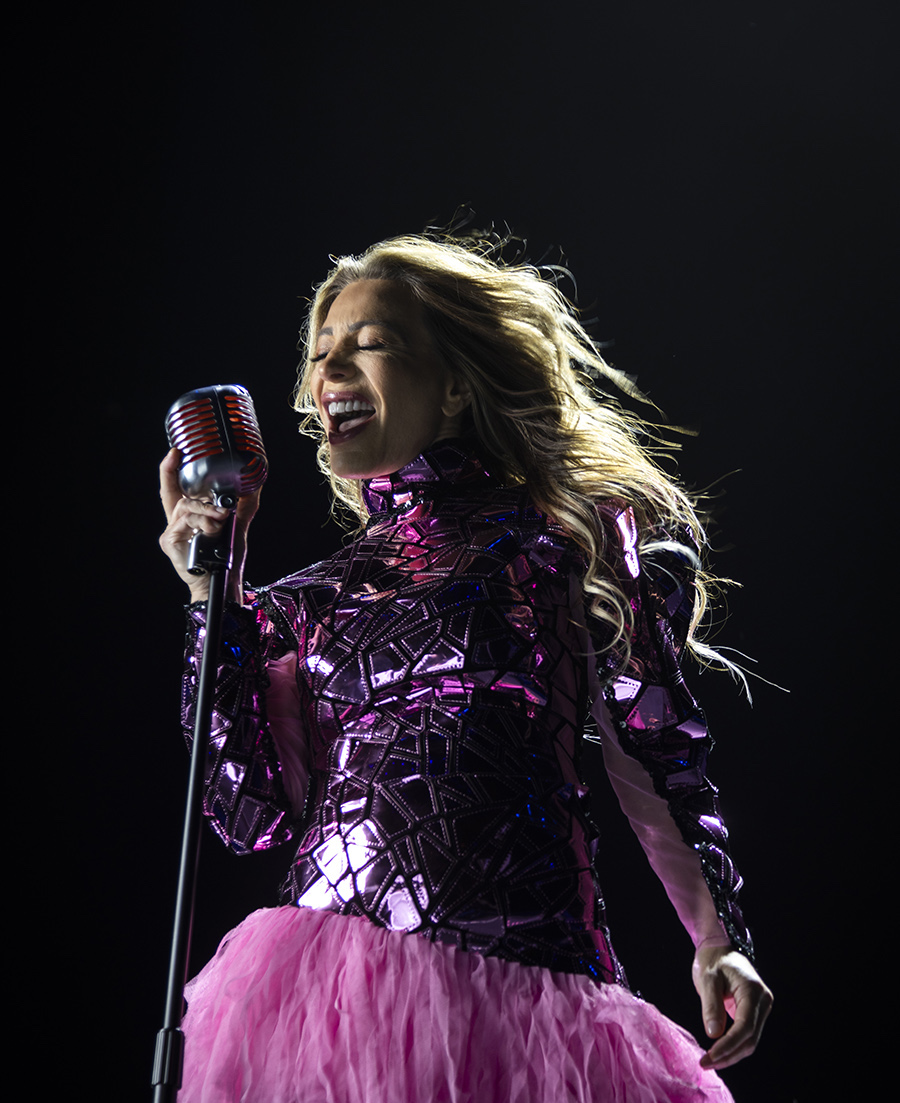 Cover Story: Taylor Dayne, Part II
In the second part of our November cover feature, the pop icon looks back on a rollercoaster journey filled with triumphs and challenges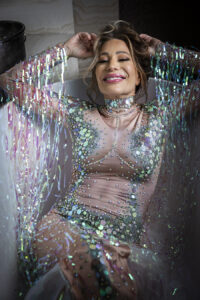 Staying Power: Taylor estimates that she's doing more than 70 shows a year, reaching new fans (and new generations of fans) with each show.
"You don't start your career and think, 'What am I going to be saying in 35 years?' You can't even get past five years in this industry.
"I've crossed paths with so many people who are just as tenacious and hungry and who work just as much as I do. Belinda Carlisle. Paula Abdul. Debbie Gibson. They're all out there. And we're not girls anymore. We're women. We're parents.
"It's an amazing thing to be able to take the stage now and still have this connection with the crowd. That's why you see me working so hard. Never have I been more connected to my audience."
Life Lessons: In Tell It To My Heart, Taylor speaks openly about a host of childhood and adult struggles—agoraphobia, panic attacks, self-esteem, purging, relationship issues.
"The anxiety portion of my life, especially, seemed to strike a chord with young girls and teens. The insecurities they live with. The fears. They're not insurmountable, but it's one step at a time," Taylor says. "You need to get real tools to combat them—meditation, the right food, physical workouts. All these things help.
"I went through this with my own kids [Note: Taylor, a single mom since her children were born, had Astaria and Levi via a surrogate]. We had charted out their first year of college—and it all came crashing down because of COVID-19. How many kids had no high school graduation, no prom?
"It was the first apocalypse in their world, and it required serious adjustment.
"Life is a go-at-your-own-pace party, but at the same time you have to do the work. I remember what I was like at 19 and 20. I had a goal. I was fortunate to have this gift, and I worked on it. And that kept me off the streets because it gave me purpose. That's 99 percent of the game."
What's in a Name: Asked if anyone in her life calls her Leslie, Taylor chuckles.
"Not really. Even my father calls himself 'Daddy Dayne.' "
Speaking of Which: Taylor's father plays an important role in her early story. Though she ended up "falling in love" with both her parents over time, the armor that she wears to this day was forged, in part, from the darkness he could bring to the house. "We were always tiptoeing around my father's moods," she writes in the book. The anger often was followed by tears and a plea for forgiveness.
"There's that time where you're just stuck in it," Taylor says. "You feel like you're held captive because you're a child. I could see what was happening with my father, and there was a part of me who was more like the parent.
"But what happened was that I took a lot in—and kept it inside. That's why I was sick with bladder and kidney issues as a kid. I took all the rage in my household and held it. Hence, blood in my urine. The rage has to go somewhere, it doesn't just dissipate. Not when you're that young and you hold yourself somehow responsible."
Relationships: "As far as men, that kind of upbringing has an impact. I wasn't as trusting. If it didn't work out, I had no problems being on my own.
"I'm at a place in my life where it would be great to feel that I can honor and accept that puzzle piece, be with a partner—and enjoy and love the benefits as well as the journey. Every heart wants to connect.
"I do have wonderful relationships and friends, and I'm grateful for that. And, yes, I've had substantial long-term [romantic] relationships. But there is that intimacy part where, obviously, I was triggered. I said, 'Let me go to work instead, let me achieve the fame, let me have children on my own—let me do it all, alone. And that's a lot."
Power Plays: Though she doesn't mention it in her book, Taylor acknowledges that she had her share of #MeToo moments early in her career.
"More than you'll ever know. Beyond that, there was bullying. I felt bullied into doing things. 'Look like this, and this is what you'll get.' Or, 'If you don't act like this artist, then you're not going to get this.'
"I think people looked at me and thought I was a dynamic artist. That I had power. At the end of the day, the power lies in those few people who make decisions. The people in a corporate room. … There are a lot of landmines. As a woman, I had more than most for sure. And it wasn't just sexual harassment. It was being told you need to look like this to get your message across. It was being told you are pretty, you're not pretty, you look like a whore.
"Everybody has an opinion, and the ones who sign the checks get more opinions. Landmines. All the time."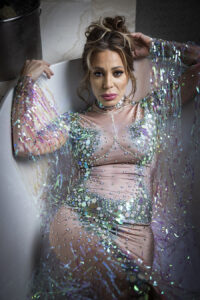 Breaking Bad: Taylor describes in her book being backstage at an arena in Barcelona, Spain, about to walk up a 30-foot-long ramp at a 40-degree angle and play to 60,000 fans as the opening act for Michael Jackson on his 1988 "Bad" tour.
"[I'd never] heard anything else like it," she writes about the roar of the crowd. "The sound of 10,000 hungry lions waiting for a meal."
Fortunately, Taylor was no stranger to pop music lovers in Spain. "Tell It To My Heart" had blown up in Europe six months before it did in the United States. The song topped the charts in Austria, Denmark, Netherlands, Switzerland and West Germany. It went on to sell more than 1 million copies in the U.S. (certified gold).
"I remember Michael's manager [the late Frank DiLeo, who later managed Taylor] tell me one time during the tour, 'Michael says you're exhausting his audience.' I said, 'Is that a good thing or a bad thing,' and I laughed. Really? I'm exhausting an audience that camped outside for seven days to see Michael Jackson?
"I didn't have many encounters with Michael. He was too busy meeting kings and queens."
The Healing Road: "I'm not fear-driven anymore when it comes to my career; there's so much more confidence there. But I do love to acknowledge that I've learned what it means when I'm on stage.
"That healing feeling, which comes from the audience to me … the reciprocity of it is enormous. Before, it wasn't. I didn't have the ability to reciprocate or receive. I was giving and giving and giving until I was depleted. Now, I can honestly say that I can take something from the interaction with the audience. I can allow it in.
"And it's amazing."
Tell It To My Heart: Taylor is asked if the song that launched her career, which she plays in concert as an encore, has different meaning now than it did in 1987.
"I'm not connected to where I was in the studio when we recorded it. That's not what happens when I sing it. Every night it changes because your audience changes. It's this wave where everyone is so in the moment and so happy. It's a song that brings everybody together.
"If anything, you get to watch people relive moments of their life. To me, it's their story now, not mine."
2022 Winterfest Parade
Festivities surrounding the 51st edition of the Seminole Hard Rock Winterfest Boat Parade—themed "Neon Nightlife Under the Sea"—kicked off in October with a launch party at Fort Lauderdale Marriott Harbor Beach Resort & Spa. But the parties and events are just getting started. Visit winterfestparade.com for complete details and ticket information.
Nov. 20: Esplanade Park in Fort Lauderdale is the backdrop for a free Family Fun Day, presented by Publix and hosted by Joe DiMaggio Children's Hospital. Bring the kids and enjoy face painting, food and beverages, live entertainment and, of course, photo ops with Santa.
Dec. 3: The annual Black Tie Ball, presented by Broward Health in association with Republic National Distributing Co., promises an evening of world-class entertainment and excitement at Seminole Hard Rock Hotel & Casino. In addition to music from the 12-piece band Private Stock, guests will be treated to performances from the North American tour of "Tina," the Tina Turner musical nominated for 12 Tony Awards.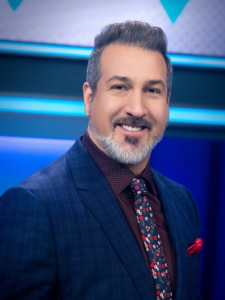 Dec. 9: This year's grand marshal (Taylor Dayne) and co-grand marshals—Chris Kirkpatrick and Joey Fatone (left) from the iconic pop band NSYNC—will be honored at this reception at Seminole Hard Rock Hotel & Casino. The event, presented by the University of Miami Sylvester Comprehensive Cancer Center, also recognizes the boat parade junior captain, child ambassador and celebrity guests.
Dec. 10: The "Neon Nightlife Under the Sea" theme comes to life during the Seminole Hard Rock Winterfest Boat Parade as decorated vessels travel along a 12-mile route that begins on the New River and leads all the way to Pompano Beach. Expect floating stages of entertainment, beauty queens, this year's grand marshals, music—and showstopping boats and yachts adorned with glittering lights.
There's an invitation-only VIP Viewing Area, presented by Holy Cross Health and Nova Southeastern University, at Tunnel Top Park. And a Parade Viewing Area, sponsored by Baptist Health and presented by the Florida Panthers, at Las Olas Intracoastal Promenade Park ($25 adults/$20 children). The parade arrives at 7 p.m., followed by a concert until 10:30 p.m. Can't make the parade? The event will be available for viewing online, courtesy of WSVN-TV (Channel 7), which is streaming the parade.
Photography by Eduardo Schneider. Shot on location at Seminole Hard Rock Hotel & Casino in Hollywood