Photography by Eduardo Schneider
When Danielle Dattile left South Florida for New York City at age 21, she had visions of a life similar to Sarah Jessica Parker's character in "Sex in the City." Sixteen years later, as CEO of Onze Importers in Fort Lauderdale, Dattile is living a life that Paul Giamatti's character in "Sideways" could only dream about.
Had the 36-year-old entrepreneur actually seen the 2004 film often referred to as one of the great wine movies of all time, this would be an even stronger analogy. But if "Sideways" hasn't been on Dattile's radar, it's only because she's had her eye on a bigger picture—one that seems to expand with each passing month.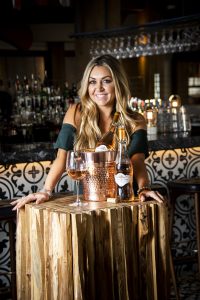 Since launching her own wine importing company last year, Dattile and her business partner and chief financial officer, Peter Weitz, have put Onze on the industry map with a portfolio of exceptional offerings that includes a brand that Dattile owns—Maison Belle Claire, a sophisticated, dry rosé from Provence, France.
Just how did a one-time real estate professional end up with a burgeoning wine empire? Here are some things we learned about Dattile's journey during a lunch interview at Caffe Europa on Las Olas Boulevard.
1) Early wine roots: "Ever since I was little, my family was into wine," Dattile says. "I remember being 12 and drinking red wine and Coke with dinner. It's an Italian thing, kind of like a spritzer. … My step-father introduced me to Italian wines. He'd open these $60 bottles of Amarone (a high-end grape from Piedmont in Italy) and let me try them. … When I went away to school in Tallahassee for a bit, my step-dad put cases of Amarone and high-end Cabernets in my car. Everyone else was drinking vodka, and here I was drinking fine red wines."
2) New York state of mind: Following in her family's professional footsteps, the graduate of Jupiter High School started selling real estate in South Florida at age 19. She moved to New York a few years later, where she continued to pursue real estate. Looking for something different after the market crashed in the late 2000s, she landed a job in wine and spirits sales with Empire Merchants, a career change that ultimately would bring her back to South Florida as an account development specialist with Premier Beverage.
3) The spirits moved her: "[So much of what] I'm doing now—involving the relationship part of sales and follow-up—I learned from my real estate days," she says. "But I felt like the wine and spirits path was perfect for me; I'm such a foodie and such a wine [lover]."
4) The light bulb moment: Starting her own wine importing company was never far from Dattile's thoughts during her tenure with Republic National, where she served as account manager for Broward County and the Keys. In January 2018, opportunity knocked when Dattile met with the retiring owner of Romano Brands of New York. "I was like, 'Ding, ding, ding!' We're buying this," she says. Onze Importers officially launched last summer.
5) Her portfolio: In addition to Maison Belle Claire, the Onze product portfolio includes a high-end rosé (Maison Belle Claire Grande Reserve), a light rosé with 30 percent fewer calories (Luminere by Maison Belle Claire), four Bordeaux wines, and Onze by Maison Belle Claire offerings in Sauvignon Blanc, Pinot Noir and sparkling wine.
6) What's in a number: Why Onze? The word, in French, means 11—a symbolic number to Dattile, and not just because her birthday falls on that day. "That number has followed me throughout my life," she says. "In numerology, it's also the master number, the most intuitive of all numbers."
7) Its reputation precedes it: Part of the prestige surrounding the Maison Belle Claire Rosé—whose 2017 vintage was a blend of Grenache (55 percent), Syrah (25 percent) and Cinsaut (20 percent); the 2018 blend will add a fourth grape, Vermentino, for added floral notes—involves its esteemed viticulturalist, James de Roany. Included in de Roany's 30-plus years of industry experience is eight years as the lead blender for Moët Hennessey Louis Vuitton's flagship Champagne—Dom Pérignon. "No rosé in the market can say that they have this [level of] viticulturalist making the most amazing blend in rosé," Dattile says. "I'm passionate about everything that's behind this wine."
8) South Florida footprint: Along with a Northeast presence thanks to a distributor in Connecticut, Onze is making its mark in South Florida. Restaurants throughout Fort Lauderdale are featuring Maison Belle Claire. Among them: Runway 84, Rooftop @1WLO, Township, Boatyard, Tacocraft, ROK:BRGR, Henry's Sandwich Shop and Pier 66. In addition, Dattile has an off-premise partnership with Ocean Wine & Spirits, which has stores on Fort Lauderdale Beach Boulevard and East Las Olas Boulevard, as well as in Wilton Manors.
9) Versatility is a virtue: "Rosé is really a red wine; people are confused about that," Dattile says. "It's a light red wine, and it drinks like a red or a white. So, you can drink it with anything—seafood, pasta, pizza, steak."
10) What the future holds: At press time, Dattile was in negotiations with national distributors. "I feel like I'm doing what I was meant to do," she says.