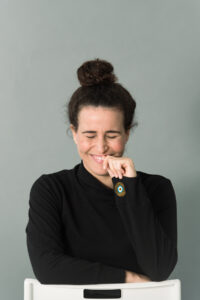 Since launching her comfort-driven line of, primarily, short-sleeved tops, and long-sleeved, mock-neck T-shirts back in 2017, Donna Garzon has been a woman of her word. The Aventura-based designer has stayed true to her sustainable beliefs, creating garments with fabrics and fibers like natural rayon from bamboo, organic cottons and ultrasoft Tencel (made from the wood pulp of eucalyptus trees). She's been consistent in creating simple, casual pieces that promote positive feelings.
And, perhaps most impressive, she's pulled no punches with followers of her brand, Seventytwo. Garzon has been brutally candid about her early teenage struggles with anorexia and her later battles with anxiety, depression, and body image—and how all of it plays into her designs.
Her emphasis on uncensored feelings continues in Seventytwo's third collection, called Awake, which speaks to mental health and silencing the negative voices. Born amid issues she confronted during the coronavirus pandemic, the pieces (in only black or white tones), express how the native of Venezuela "turned madness into my muse."
Check out The Essentials section of the July issue to read more about Garzon's backstory and her brand (seventytwobrand.com).
Can you put into words how fashion can accentuate the insecurities and struggles of someone with body image issues?
I know these body positivity movements have been trending in the past few years. When I started working on the Awake collection, it was mostly to focus on body neutrality. Your body doesn't have to be anyone's conversation. I shouldn't be talking about your body. Do you notice how some people can't even say, "Hi, how are you?" They'll say, "Hi, you're so skinny!"
For me, that was the inspiration. I haven't encountered a brand that makes me feel comfortable in my skin—and in my soul. I wanted people to have that soothing sensation, not only in the clothing they wear but also when they read something about our brand. Comfort is not only about the outside, but it's about the inside as well. People can identify with that.
If you go to any store, you can see the same garment in 14 different sizes. Even though I love that, you have to be conscious that every body type is different. You can't just copy and paste a pattern. With Seventytwo, I like to work with the curves of a woman. So, a size small from Seventytwo can fit a person with a big chest or a bigger tummy. It's not just about the size but also about the construction of the garment. And I think that's missing a lot in the fashion industry.
How did your experiences during the pandemic influence the direction of Awake?
COVID, for me, was like the name of the collection. It was an awakening. I had to go through COVID alone in my house; my family is all back in Venezuela. And it was the first time in my life that I learned how to be with myself. And how to face all these demons, these anxieties, all the insecurities that were coming back.
One day, it just clicked. If I could gain some freedom by being in lockdown, then I could go through anything. That's how Awake was born. When I started designing, I began to connect with my low feelings. I was trying to find a way to make them beautiful, and that's how the garments started to come together.
Each top in this collection is inspired by a specific struggle. The Core top, with a ruch down the center, represents that feeling of anxiety in the chest. The Forza top, with a criss-cross design that looks like a straitjacket, is about the limitations we put on ourselves when we're [not true to our innate spirit]. I'm trying to bring these shadows into the light. The dynamic that I had with those memories was very negative. It was important to me to make them positive.
I'm [hopeful] that people will feel curiosity about the shapes of the collection. Maybe, that curiosity is enough for them to read about Awake and everything that is behind it.
I just want people to feel safe, like a hug.