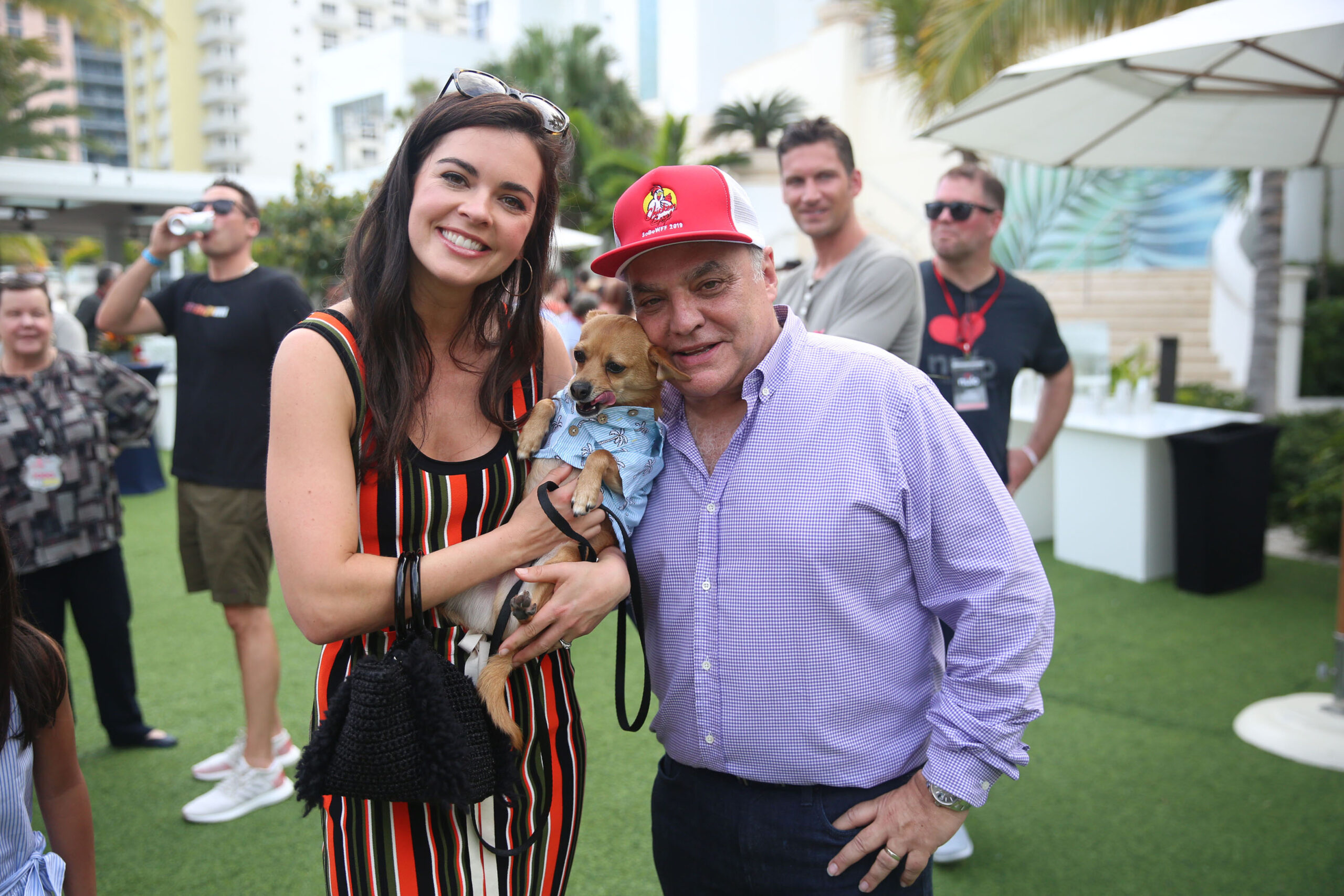 Father of the Festival
Twenty years after delivering the South Beach Wine and Food Festival, Lee Schrager reflects on his culinary creation
The mastermind behind the South Beach Wine and Food Festival lives by a simple motto. "It's not where you start," says Lee Brian Schrager. "It's where you finish."
The saying rings especially true for him amid the twists and turns of a global pandemic—and its impact on the multiday event that typically draws celebrities, culinary stars and attendees from coast to coast. Despite the uncertainty surrounding the past 15 months, Schrager and his team have worked behind the scenes to stage an experience that can adhere to health guidelines and still celebrate a benchmark year for the festival—its 20th anniversary.
Originally set for the last weekend of February, the four-day event (instead of five days) is now slated for this week (May 20-23).
"Postponing the festival by [several] months enables us to better execute the safest and best possible experience," Schrager explains. "We're also able to maximize the impact we have for our charitable partner, the Chaplin School of Hospitality & Tourism Management at FIU, and the local community."
Since the festival's launch with Schrager at the helm two decades ago, it has raised more than $30 million for Florida International University's Chaplin School, a significant feat for someone who went into it without a plan.
"When we started to develop the festival idea, we just jumped into it," he says. "There was never a five- or 10-year plan. It's just something that happened—and continues to happen every year."
Schrager likens it to seeing a child reach adulthood. "In a way, it's hard to see us turn 20," he says. "It's like a kid turning 20, watching that kid grow and make some mistakes, fix those mistakes, and continue on. Now, the festival has taken on a life of its own, like a child respected and appreciated by everyone around them."
When Schrager was young, he worked at a Winn-Dixie in Sunrise, sweeping floors and scraping gum off the floor. Born in Long Island, he developed an interest in food and hospitality, which led him to attend the Culinary Institute of America in Hyde Park, New York. Later, he accepted a job delivering midnight room-service meals at the Bahia Mar Hotel in Fort Lauderdale.
Around his 40th birthday, Schrager craved a professional change. By that point, he had worked his way up to vice president of food and beverage at InterContinental Hotels Group, a conglomerate of nearly 6,000 hotels in over 100 countries. Little did he realize his career was just getting started.
He cold-wrote a letter to Wayne Chaplin, who ran Southern Wine & Spirits (now Southern Glazer), one of the biggest liquor distribution companies in the country, pitching himself to run the company's media and community relations. Schrager was hired in the early 2000s; today, he serves as the senior vice president of communications and corporate social responsibility at Southern Glazer's Wine & Spirits.
Schrager lives in Coral Gables with his partner, Ricardo Restrepo, a pediatric radiologist, and their two dogs, Charlie and Stanley (nicknamed the Browns). Their home—a French country-inspired chateau built in 1924—became a hotspot during the height of COVID-19, serving as the site of Schrager's charitable bake sales; he launched them last spring and summer as a way to raise money for restaurants when indoor dining went dark.
"My heart breaks for every restaurant and every bar in this country," Schrager says. "That's why finding a way to host SOBEWFF in 2021 was so important to us. It's such a tough industry to make money on a good day. It became close to impossible [during the pandemic restrictions]."
Shining a light on the industry also is one of the reasons why Schrager launched the festival. When he was first hired at Southern, the company hosted an annual food and wine fundraising event at FIU—the one-day Florida Extravaganza—which raised about $30,000 and drew about 1,000 people. He knew it could be done better. The question was, how?
"When I came to Southern, there was no thought of creating the festival," he explains. "But just about a year into my job, I had this idea to move their event to a tent on South Beach, and that's when everything changed."
In its first year, 2002, his revamped three-day festival drew roughly seven times the number of people that attended the prior year's event. Schrager's sprawling, star-powered event was off and running. The event later encompassed five days, expanded into Fort Lauderdale and Palm Beach—and, by 2019, draw a combined 65,000 attendees (at more than 100 events combined).
In foodie circles, the event has become known for its healthy mix of walkaround tasting events from morning till night, intimate dinners with celebrity chefs, cooking classes and other educational seminars, food-driven activities (think yoga and brunch) and more recently, afterparties with music festival-like entertainment under the stars.
"My goal is to support an industry that's been broken across the world, helping other events launch across the country too," Schrager says. "[We also want to] make sure we can deliver a festival that's safe and secure for everyone attending, including our sponsors, talent, and consumers.
"No matter how it happens, the festival will look different because of [COVID], but our message will be the same—eat, drink and educate. The industry is looking to us to see how this can be done. If we do it correctly, it's going to be a game-changer for the hospitality world."