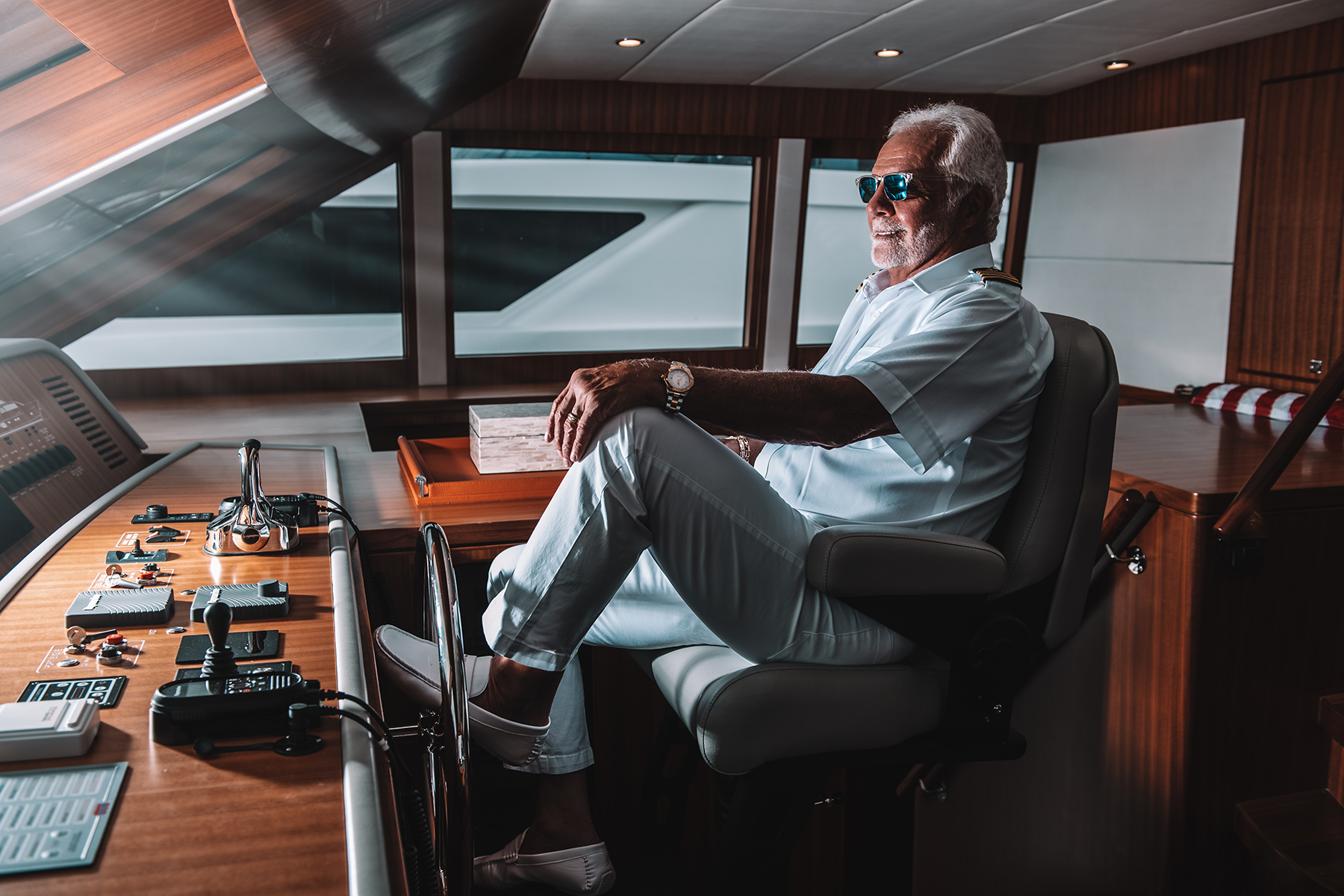 How Captain Lee Handles Celebrity, Part 2
As Below Deck embarks on a new season, Lee Rosbach looks back on the unexpected wave of celebrity that's made him a national sensation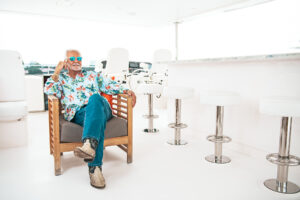 Sweet and Simple
Despite his renown, the Below Deck star lives rather simply with wife Mary Anne in a three-bedroom home on a street where houses are tucked close together in Fort Lauderdale's Tarpon River neighborhood. Mary Anne (who was introduced to Below Deck fans when she appeared in Season 5) says they lived a few doors down for more than 15 years, before moving to a rented house a few miles away in affluent Rio Vista.
Rosbach says it wasn't for them. "We dipped our toe in the Rio Vista pool, but it was way too frigid," he says.
In 2017, they went back to the old neighborhood and bought a place just a few doors down from their original house. It's comfortable and quaint. The front door leads into the dining room, where tables are crowded with family photographs. The kitchen is on the right. A large stuffed animal sits in the corner on a chair wearing a captain's hat.
There's no boat docked in the back. In fact, the house isn't even on the water. "What do I need [a boat] for?" Rosbach says. "I have access to enough boats that I can use." There is a built-in pool area with a barbecue; the couple love spending time in their outdoor space when Rosbach isn't away.
If there's a luxury indulgence in their world, it would appear to be the silver Bentley in the driveway. Rosbach bought it for his wife. But truth be told, Mary Anne enjoys her trusty older-model Lexus SUV, which she just drove to Publix. She's excited about the buy-one, get-one-free deals she's snagged, including Rosbach's favorite Pure Protein shake.
There's another Lexus in the driveway—a fiery red sportscar, an LC 500. "I love driving it. It's fast and it's sporty, and it puts a smile on my face every time I get into it."
Dealing with Fame
The same can't be said about his reaction to the nickname he earned when Bravo's promotional team cut a spot hyping Season 3 with Rosbach in the spotlight. A Barry White-esque soundtrack plays as video of the captain comes into frame. The words?
"Ooh, baby. He's the stud of the sea. He's Capt. Lee. When you crew for him, you're working hard as can be … fool around, and you'll scrub the decks 'til 3. He's rough, he's tough, he's alpha to the tee … Capt. Lee."
Rosbach says he'll never listen to Barry White the same way again.
"I had no idea they were going to do this. A special team came down and did some camera shots," he says. "The next thing you know I'm looking at this teaser, and they are talking about the 'stud of the sea.' I said to them, 'Oh, someone is going to pay for this.' "
It wasn't the only trapping of television fame for which Rosbach wasn't prepared. "No one gives you a playbook to be a celebrity all of a sudden," he says.
The night before, while out to dinner at "a hole in the wall" restaurant near Las Olas Boulevard, he could feel someone's eyes on him.
"I caught 'em staring," he says. "Finally, they came up and wanted to know if they could get a picture. I said, sure. Look, if I'm out and about, that's fair game. My philosophy is that if you can put a smile on someone's face, and it takes 10 or 15 seconds of your time, why wouldn't you do that?"
While he's willing to pause for a picture, he draws the line at people following him home. To which Mary Anne quips with a grin, "It doesn't help that he has 'Capt. Lee' as his license plate."
Rosbach says he hasn't thought about the shelf life for Below Deck. The show is now his full-time job. "When they film, it's six weeks of nonstop," he says. "A short day is 14 to 16 hours."
He does, however, have a handle on when he'll hang up his whites.
"I make more money than your average captain. I'd be lying if I said it hasn't been good for us. When they want me to stop being me, then I will probably stop doing the show because it won't be fun anymore.
"Life's too short to put up with crap from anyone."
Short Takes with Capt. Lee
Season 9 of Below Deck: The Emmy-nominated series returns on Monday, Oct. 25. The waters of St. Kitts will serve as the backdrop for a season aboard the superyacht My Seanna with show veterans Eddie Lucas (in his new role as first officer) and chef Rachel Hargrove—as well as a crew of new "yachties."
Favorite port of call: The islands of Tahiti were home for the sixth season in 2018. "It's like stepping back in time," Rosbach says. "You feel like you'll see a T-rex crawl out from behind a mountain. It's so green and pristine. A lot of the time, we'd be the only boat anchored."
Worst day on the boat: On Season 6, deckhand Ashton Pienaar went overboard when he stepped on the line to tow the tender; it wrapped around his ankle and dragged him off the yacht and into the water. "It was so close and so scary. We were within 30 seconds of him dying."
His daily routine: "I get up in the morning, have a light breakfast, then I go to the gym every day. I do all my own social media. I don't want anyone else to touch it. How do they know what I'm thinking? I spend about 2½ hours a day on it."
A project near and dear: Raising money to launch his floating rehabilitation center—in honor of son Josh. The almost 400-foot-long barge is a former floating hotel and is currently in Tampa. "The floating rehab would be something away from everything and everyone. We'll offer vocational training, such as marine engineering, culinary, computer and IT skills, dive skills, even cosmetology. What we want to do is not only get [addicts off drugs] but give them a reason to stay clean."
Photography by James Woodley
Shot on location in Fort Lauderdale aboard the 105-foot Irresistible, courtesy of Hargrave Custom Yachts (hargravecustomyachts.com)