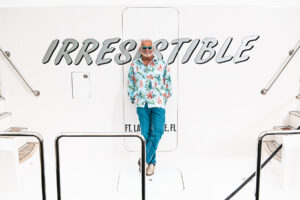 You wouldn't know it from watching the breakout star of Bravo television's reality series Below Deck helm luxurious superyachts in exotic locations while cameras are rolling for what's now the cable network's most-watched show.
The only cast member to appear on every season of the series since it premiered (July 1, 2013) seems born to play this real-life role. His confident, no-nonsense approach and never-ending stream of "Lee-isms"—such as, "You're as useless as a one-legged man in an ass-kicking contest"—have made him a reality superstar at an age (he'll be 72 on Nov. 15) when many of his South Florida contemporaries have called it a career.
But Harold Lee Rosbach—aka Captain Lee—understands better than anyone that he's an unlikely and accidental celebrity.
"I'm just a captain who does his job. I just happen to be filmed doing it," says Rosbach, who returns for Season 9, which debuts on Oct. 25. "I don't run my boat any differently than I did 30 years ago."
That he even became a captain is the well-documented stuff of legend. The former welder and bartender was in dire financial straits, trying to support his family with wife Mary Anne, and working in Turks and Caicos, when he answered an ad for a deckhand job. As the story goes, he didn't have the stomach for that initial gig. But Rosbach will tell you that he was perpetually seasick for much of his first year at sea. Still, by age 35, he'd earned his captain's license.
It's a responsibility that he doesn't take lightly.
"The biggest misconception is that people think Below Deck is scripted, and I don't even know how you'd go about that," Rosbach says. "You're not dealing with actors or actresses, we're dealing with everyday people who can't even remember most of the time what they had for lunch yesterday."
As if to put an exclamation point on the subject, Rosbach says he would refuse to be part of the show if it were scripted. The work of a captain is too serious, too steeped in responsibility, to leave in the hands of a writing staff. "Screw up, and guess who's going to jail? Yours truly. Ask the captain of the Valdez," Rosbach says, explaining that it was the third officer who ran the oil tanker Exxon Valdez aground in Alaska's Prince William Sound in 1989 in one of the worst oil spills in U.S. history. However, it was Capt. Joseph Hazelwood who ended up being held accountable.
That's why Rosbach is firm and stern when talking about the people aboard his ship. "When you get four stripes on your shoulder, and you get your own boat, you can run it any way you would like," he says. "But for right here and for right now, we're doing it my way. And it's that way with the producers. They may want one thing—and if it is safe, we'll do it. If it's not, we won't."
After more than 120 episodes—with such titles as "The One Where the Charter Guests Almost Die," "Hot Mess Express," and "There's No Crying in Yachting"—fans of the series have seen Captain Lee's patience tested more than once by clients and crew members. In many ways, Rosbach's businesslike demeanor—amid the occasional madness—is the perfect counterbalance.
All of which only makes the show's origin story even more ironic. Because Bravo never intended for Captain Lee to become the face of Below Deck.
The Legend Is Born
Rosbach was working as captain of the charter yacht Cuor di Leone (which was renamed Honor for the first season of Below Deck) when his boss called him about a possible multiweek charter from Fort Lauderdale to St. Maarten.
"He said, 'It's a TV show that wants to use the boat [with their own captain and crew]; they said they don't even need you. But they are going to pay you,' " says Rosbach, recalling the conversation. "He told me I just had to go down to St. Maarten and check on the boat every two or three days.
"Drink piña coladas, go see the boat a couple of days, and get paid double? I'm in."
Below Deck producer and show creator Mark Cronin told the U.K. publication Metro that the show had cast Aleks Taldykin as the captain. "We get the old guy off, and we'll put the young guy in—and we're in business,' " Cronin said.
When the production team got to St. Maarten, it found out Taldykin's captain's license wasn't sufficient. "Lee let us know that just because you have a captain's license doesn't make you qualified to take a 150-foot yacht off the dock, anchor it and bring it back. You need real experience," Cronin explained.
The producers wanted to keep Taldykin in front of the camera as the captain, but behind the scenes have Rosbach run the yacht and be in charge of its crew.
"I knew that wouldn't work," Rosbach says. "You can only have one captain."
Taldykin became the first officer during Season 1, and Rosbach was asked to step in. The producers grew to love his sharpshooting style—and viewers quickly took to it, as well.
"I think people like other people that are genuine. I am not going to try to be somebody else because you think this is the way I should be perceived," the captain says, adding a profane postscript. "I'm not going to say [something] because it will sound good. That isn't me."
Reality Check
Rosbach and Mary Anne, his wife of 46 years, each had two children from their respective first marriages. Their blended family of four children became five when they had son Josh together.
The coin on a gold chain that Rosbach wears around his neck speaks to the news that he shared on Instagram two Julys ago—that Josh had died of an accidental drug overdose at age 42.
"It's from the Spanish galleon called the Atocha, which sank off of Key West in the 16th century; Mary Anne had it made for me 25 years ago. When our son passed away, I was trying to figure out something to do."
So, Rosbach had the dolphins that surround the piece filled with his son's ashes. Mary Anne tells him to lift his shirt and show his tattoo. The likeness is from a photo of Josh that's on a table in the dining room of their house. Mary Anne picks up the photograph and puts it next to the tattoo that he has now exposed.
"[Josh] is over my heart," he says.
Photography by James Woodley
Shot on location in Fort Lauderdale aboard the 105-foot Irresistible, courtesy of Hargrave Custom Yachts (hargravecustomyachts.com)