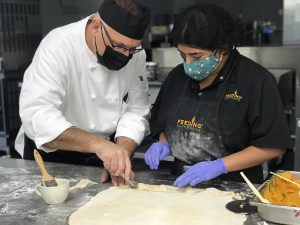 Feeding South Florida, a domestic hunger-relief organization serving South Florida, will commemorate Hunger Action Month in September with a nationwide initiative created by Feeding America. The organization will host various activities to solicit food and monetary donations to end hunger in South Florida while encouraging the community to "go orange." Delta Air Lines will match financial contributions in September for up to $25,000. This year's theme is "Food Shouldn't Be an Impossible Choice."
With record-high inflation, rising fuel prices and COVID still impacting the chain supply, Feeding South Florida is experiencing an unprecedented increase in providing nutritious food to its clients.
"The community's support comes at a crucial time when the demand for food has increased significantly due to inflation at its highest in 13 years and rising food costs," Paco Vélez says, president and CEO of Feeding South Florida. "Hunger Action Month is a great opportunity for the community to be a part of a month-long initiative that has a real and lasting impact on our mission of ending hunger in South Florida. We are proud to serve the South Florida community for over 40 years and will continue to do whatever it takes to provide access to nutritious food, tools and education for economic growth throughout Palm Beach, Broward, Miami-Dade and Monroe Counties."
On Saturday, Sept. 24, Feeding South Florida will host its Annual Outrun Hunger 5K in Palm Beach County. The event will bring hundreds of runners, families, and community leaders together to raise funds and awareness to end hunger in South Florida. Participants can join the event as an individual or as a team.
Feeding South Florida will unveil the winning artwork from its third annual "Feed Your Creativity" Art Competition to commemorate Hunger Action Month. Artwork by Caeden Khouri, a sixth grader at Coral Springs Charter School, will be displayed as a truck wrap on one of its 36-foot tractor-trailer that travels throughout Palm Beach, Broward, Miami-Dade and Monroe Counties.
For more information, visit https://feedingsouthflorida.org/.