Nitin "Nico" Solanki was researching businesses one day and came across Nekter Juice Bar. It was listed as one of Inc. magazine's 10 fastest-growing franchise businesses of 2016. The West Palm Beach resident says it was then that he got serious about owning a franchise, and Nekter was it.
He opened his first in May 2018 in Aventura, and the next one followed four months later at Promenade at Coconut Creek. He plans to expand into Delray Beach.
"I wanted a business that I could feel passionate about," Solanki says. "Everything we have here is natural, fresh and made to order. And there are no mystery ingredients in anything we serve."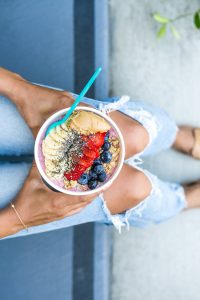 The Nekter Juice Bar brand was founded in 2010 by Steve and Alexis Shulze, a couple from Newport Beach, California, who had the idea of creating a coffee-bar type concept with juices. They opened their first location in Costa Mesa, California, inside an old coffee shop. Steve Schulze says the goal of Nekter is to reinvent the juice space the way Starbucks reinvented coffee.
Nekter says its commitment is "total ingredient transparency," which means no unnecessary sugars, nothing processed and no artificial flavors in anything on its menu. "Everything we make and serve is all-natural. So, what you see is what you get," Solanki says.
With his latest opening, Solanki wants to put Nekter on the map in Broward and Palm Beach counties. "I like the idea of providing a healthy option," he says. "There are so many choices of places to eat, but the ingredients aren't always good for you. People are looking for healthy alternatives, but they want it to taste great, too. We have it all."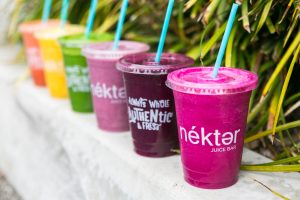 Here are some of Coconut Creek Lifestyle's picks.
Most colorful: Pink Flamingo Superfood Smoothie
Made with dragon fruit, strawberry, pineapple, agave nectar and coconut water, Solanki says this is a children's favorite because of its bright color. Dragon fruit's real name is pitaya and is indigenous to Central America. The powerful antioxidant lycopene is what gives the dragon fruit, and the Pink Flamingo, its super color.
Sweet treat: Skoop
For those who have a sweet tooth for ice cream but can't have gluten or dairy, Nekter's Skoop is the perfect alternative. Free of refined sugar, the frozen dessert is made with coconut milk or Nekter's house-made cashew milk. One limited-edition flavor at the Coconut Creek shop is the rich and creamy Peanut Butter-Fudge Brownie, made with pure cocoa, honey, cashew milk, coconut sugar and a pinch of sea salt. "Standards are vanilla and chocolate, but there are new flavors being added all the time," says Solanki.
Super topping: Açaí Banana Berry Handcrafted Bowl
There are four handcrafted, made-to-order açaí bowls on Nekter's menu, but a favorite is the Açaí Banana Berry. The idea of açaí bowls became a hit with surfers in Brazil, where the berry is plentiful, and caught on with California surfers as a great breakfast alternative to heavy oatmeal. Nekter's bowl has açaí, bananas, strawberries and blueberries. What makes this one unique is the deliciously crunchy hempseed granola, one of the toppings.
"Customers ask if they can buy the granola, but we don't sell it. … Yet," Solanki says.
Nekter Juice Bar
Location: Promenade at Coconut Creek, 4449 Lyons Road, Suite 101B
Info: nekterjuicebar.com