By Lisa Overing and the Lifestyle staff
Over the past six decades, the Fort Lauderdale International Boat Show has had more than its share of ripple effects on the marine industry—and for all the best reasons.
As a pure economic driver, the Boat Show's impact in the Sunshine State exceeds that of the NFL's premier event. Before Super Bowl LIV at Hard Rock Stadium last February, most estimates placed the game's weeklong economic impact on the region at more than $500 million. According to a study by Thomas J. Murray and Associates, the 2019 Boat Show generated $1.3 billion in economic output across the state—an increase of $443 million compared to a study of FLIBS in 2015 by the same company. Total sales over the five days, meanwhile, reached $715.4 million (nearly $145 million a day).
Beyond the dollars involved, FLIBS continues to serve as one of the cornerstones of South Florida business; the marine industry employs 111,000 people in Broward County alone. It's part of our region's identity.
All of which added to the intrigue and back-room discussions heading into the 61st edition of FLIBS, which never had cancelled an event since launching its first show with only 13 boats. Now, with an anticipated 1,300 boats and 900 exhibitors awaiting word—and a pandemic still hanging in the air—what would the decision be on the world's largest in-water boat show? Should the yachting industry halt all public gatherings and boat shows until 2021?
In late July, the Marine Industries Association of South Florida (MIASF) issued a "save the date" release for the 2020 show, which is set for Oct. 28 to Nov. 1. In early September, government officials in Fort Lauderdale and Broward County gave the event their stamp of approval.
Noting that the show is about "doing business safely and not politically," Phil Purcell, CEO and president of MIASF, pointed to FLIBS as an economic engine to help our part of the world return to normal. (Note: MIASF owns FLIBS, which is produced by Informa Markets.)
"We need to be a business and solutions culture, not a cancelling culture," Purcell says. "The entire boat show is outside. Our community wants this. The hotels and restaurants here will be glad to have the boat show take place. We have to celebrate and promote what we own, safely, as per CDC guidelines."
While concerns about the pandemic likely will keep some people from attending, the news that the event is going forward has buoyed spirits of those directly connected and on the periphery of the event, including the hotels, restaurants and vertical markets hopeful for the trickle-down economic effect that comes with tens of thousands of marine exhibitors and nautical enthusiasts descending on Fort Lauderdale.
[blockquote text="We need to be a business and solutions culture, not a cancelling culture. — Phil Purcell, CEO/president, Marine Industries Association of South Florida" show_quote_icon="yes"]
Safety First
All of that said, the well-being of participants and attendees remains first and foremost this year. MIASF is moving forward with high standards in hygiene and cleanliness, incorporating Informa's "AllSecure" health safety standards and government regulations with cleaning protocols for every inch of the entire show, following the Global Biorisk Advisory Council protocol.
The cleansing ritual incorporates overnight disinfection, electrostatic sprayers with EPA biodegradable disinfectants, and continuous sanitation before, during and after each day's events—especially for high-touch areas such as door handles, restrooms, and food and beverage areas.
"The health and safety of our staff, exhibitors, visitors and community remains our number one priority," says Andrew Doole, president of Informa Markets' U.S. boat shows. "We also recognize the importance of our boat shows to the local and state economy, and the marine industry at large. Since the inception of the pandemic, we have been focused on a plan that prioritizes safety and an exceptional visitor experience, so that every person who attends our events can do so safely and with confidence."
Expect more show entrances (16) and exits to decongest high-traffic areas. A social distancing culture will be reinforced with no-contact registration and online ticketing. Face masks are mandated with health screening temperature checks and thermal scanning. Seating in cafes, VIP lounges, concession areas and cocktail barges will be in accordance with social distancing guidelines.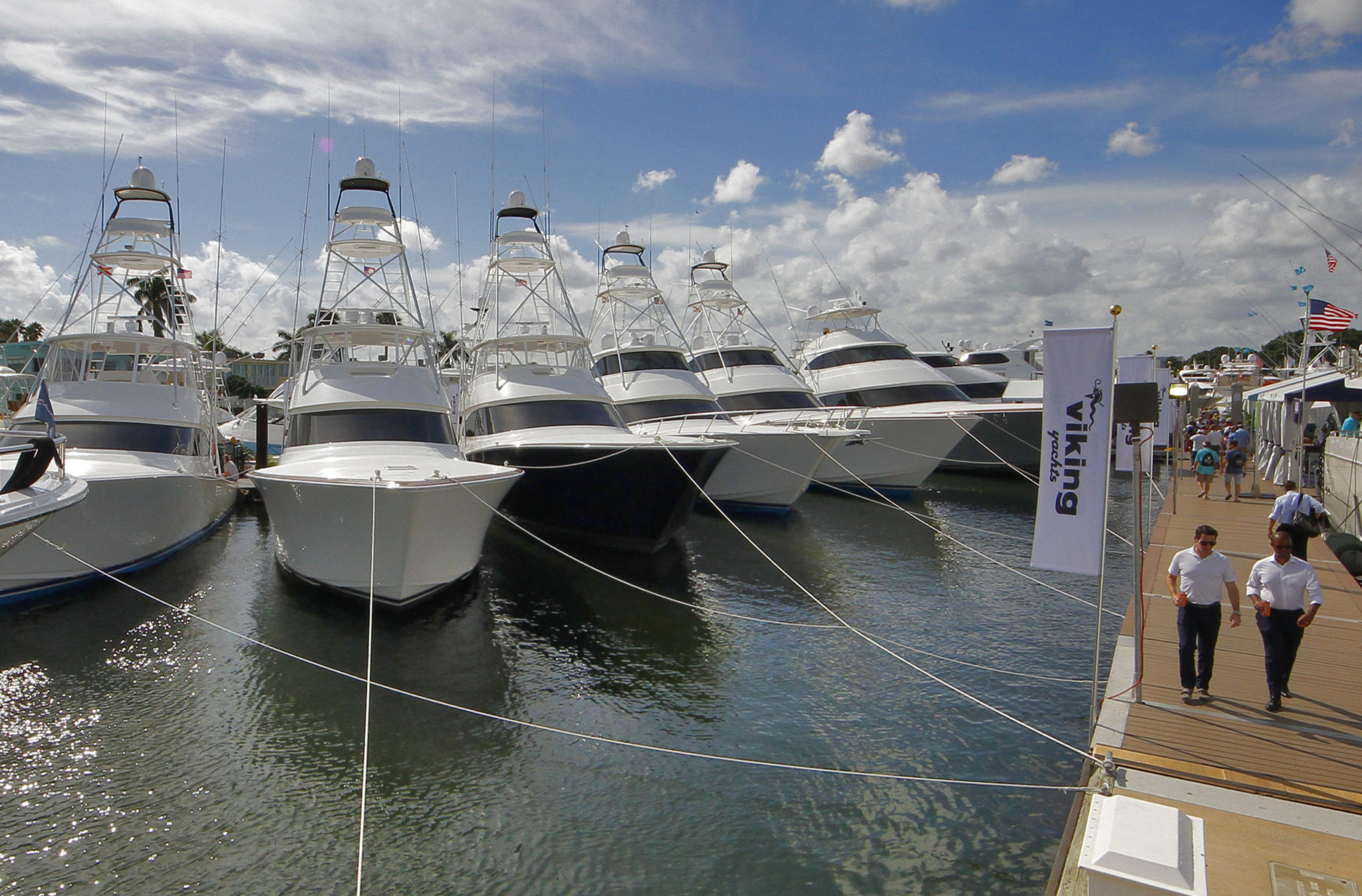 The show traditionally generates reams of paper annually, publishing scores of magazines and brochures with eye candy of the world's latest and greatest boats. This year, however, FLIBS will not pass out exhibitor and marketing materials.
Then there's the virtual footprint. Show exhibitors are enhancing their digital marketing presence, with more apps, livestreams and virtual walkthroughs than ever for digital attendees. Still, a virtual walkthrough does not replace stepping onboard a superyacht for a first-person inspection with a yacht broker and marine surveyor—especially when dealing with price tags that can run anywhere from $8 million to $80 million. For that reason, exhibitors continue to anticipate plenty of foot traffic.
On television, FLIBS 2020 will be the first boat show broadcast to 90 million households by a major network, NBC Sports. Enjoying the show safely from home is not only important for the convenience and protection for those afraid to attend in-person, but also for an international yachting delegation facing travel restrictions.
Bottom Line
As those associated with the event will attest, FLIBS is unlike any other boat or marine trade show. Many attendees are high-net-wealth individuals. Others are recreational boating enthusiasts. Nearly all are passionate about being on the water—and enjoying the kinds of over-the-top vessels, accessories and toys on display.
"As the world's largest in-water boat show, FLIBS is a major economic driver, benefitting the marine industry, the city of Fort Lauderdale, and the state of Florida," says Purcell, adding that, in addition to the 111,000 marine industry jobs in Broward, the impact increases by $3 billion including Palm Beach and Miami-Dade counties, with another 31,000 jobs for yacht captains and crew, shipyard workers, yacht brokers, marinas, and professional industry services including attorneys, insurance and communications.
Purcell stated Informa's standards and guidelines, coupled with the show's nearly 90 acres of outdoor space, will allow every guest and exhibitor attending over the five days of the show to feel confident and safe.
"The marine industry and this boat show is an essential business in our community," says Purcell, adding, "when I hear the hoteliers and restaurateurs say, 'Thank you! The show was great for our business,' we will have achieved success."
Pictured above: Azimut Yachts' Magellano 25 Metri, the latest chapter in the company's ode to luxury boating, will be at this year's Fort Lauderdale International Boat Show.[image_with_text image="29026″]
Boat Show Highlights
The 61st annual Fort Lauderdale International Boat Show promises state-of-the-art superyachts, personal submarines, motorized surfboards—and an array of additional watercrafts for every budget. Here's a hint at what's on tap between Oct. 28 and Nov. 1.
The Layout
This year's show features some 3 million square feet of exhibition space, encompassing more than 90 acres. The interconnected waterfront locations (accessible by 16 show entrances) include Bahia Mar Yachting Center, Hall of Fame Marina, Pier 66 Marina, Las Olas Marina, SuperYacht Village at Pier 66 South and Fort Lauderdale Hilton Marina.
By the Numbers
Expect to see nearly 900 exhibitors, and more than 1,300 boats (performance powerboats, sailboats, sportfishing boats, trawlers, and superyachts as long as 400 feet)—with a combined value of approximately $4 billion.
The Toys
As always, FLIBS turns the spotlight on a host of accessories, gear and cutting-edge marine equipment: Think submersibles, underwater scooters, flying jet packs, kayaks, rigid inflatable boats, motorized surfboards, amphibious boats and ATVs, dive products, oars, paddles, WaveRunners, electronics, jewelry, art and more.
Wheels of Fortune
Affluent consumers and superyacht charter clients associate the world's snazziest cars with the millionaire lifestyle. Expect a fantasy fest of luxury automotive brands, including Rolls-Royce, Aston Martin, Bentley, Lamborghini, Ferrari and more; it's the perfect luxe lifestyle complement when docked in port.
What's New
Azimut's new 25-meter Magellano is an amazingly quiet pocket yacht built on a fuel-efficient, dual-mode hull, achieving a top speed of 25 knots. Enjoy luxury, long-range cruising in 82 feet of carbon fiber innovation loaded with high-tech touches, an active air-sanitizing system based on a NASA patent, and a hotel mode option for silent, zero-emissions power at anchor.
The Antares 36 is a family cruiser with twin outboard engines for comfort and pleasure at sea. A seamless, flowing level deck between the cockpit and the wheelhouse keeps everyone connected from the helm to the salon.
Solace 41 is the manufacturer's largest and newest center console with a twin-step hull,

 

delivering high speed and efficient cruising powered by triple or quad outboard engines.
Escape to sea on the luxurious Princess 78. This yacht boasts a flexible deck layout with a walkthrough foredeck featuring U-shaped seating and a sunbathing area. Natural light flows through extended window lines and unique full-height windows.
Ocean Alexander debuts three new models; the smallest megayacht is 100 feet. An expansive use of glass and lowered bulwarks immerse the interior with natural light inside, so the passenger can almost touch the sea and sky at will.
With a sleek, streamlined design incorporating 360-degree panoramic glass, the new Prestige 42 was reimagined with a Flybridge version, bringing this builder's options for styling and preference to a new pinnacle complementing the popular, chic 420S sport coupe. Whether open or enclosed, modular living space suits this luxury sport cruiser that now offers a flybridge model with either a bimini or hardtop, offering more space and immersing the passenger with sunshine and sea.
The Prestige 420 series debuts the new Cummins Inboard Joystick System, DockCommand, providing boaters with complete maneuverability to enjoy confident, stress-free docking in a single or twin-engine boat with proportional joystick control.
[/image_with_text]