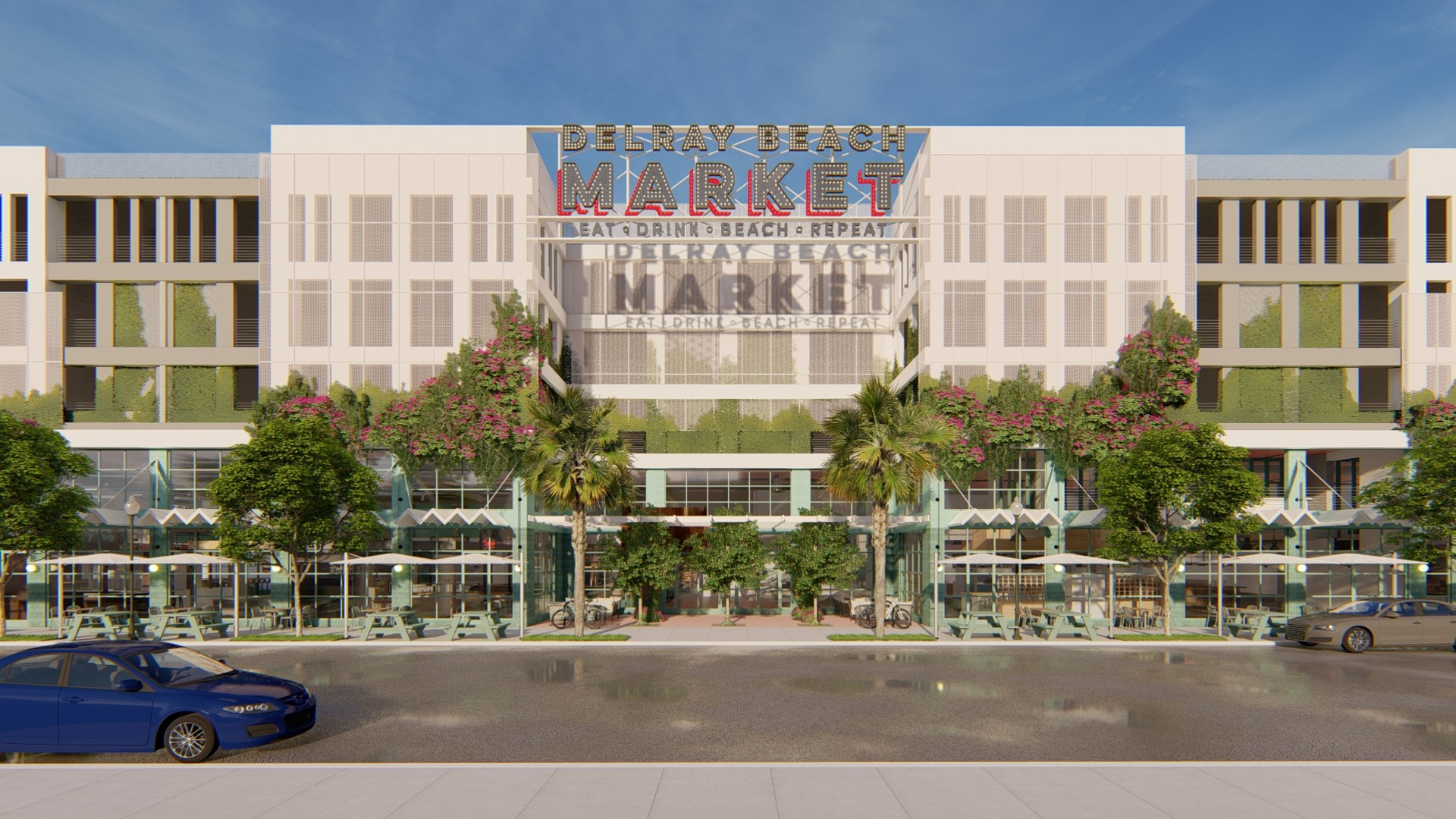 Hall for One
The rise of all-encompassing food and entertainment halls—like mammoth Delray Beach Market—is redefining the culinary landscape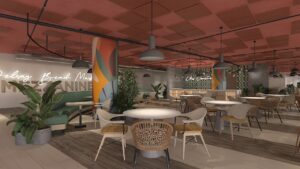 Not even a global pandemic could stop the inception of Delray Beach Market.
Standing four stories tall, the 150,000-square-foot food hall, which cost more than $60 million to build, is poised to make waves in South Florida when it debuts this spring. Featuring more than 25 local and regional eateries with rotating art and culture activations, it will shatter records as the first food hall in Delray Beach, the largest food hall in Florida, and one of the biggest food halls ever created in America.
"We will be putting Florida's food culture on the map," says Jordana Jarjura, president and general counsel of Menin Development, creators of Delray Beach Market. "We've worked hard to analyze and forecast what Delray Beach locals were missing and what our friends from around Florida and the country would love. [Then we] placed it all within this single destination."
Though Delray Beach Market will become the largest food hall, it isn't the first to break ground in South Florida. 1-800-Lucky in Miami's Wynwood Arts District, which opened in late 2017, was the first of its kind to debut in the tri-county area, bringing various pan-Asian concepts under one roof and centered around a communal bar and entertainment space.
An onslaught of similar food halls appeared in the three years since, including Time Out Market Miami, Lincoln Eatery in Miami Beach, Sistrunk Marketplace and Brewery in Fort Lauderdale, the Wharf in downtown Miami and Fort Lauderdale, and Grandview Public Market in West Palm Beach, among others. With each food hall that opens, local communities are introduced to chefs and restaurants who might not have had an opportunity to otherwise open a physical space.
"What's really special is that [food halls including the Lincoln Eatery] give local, first-time business owners a platform," says Alan Roth, operations manager at The Lincoln Eatery. "Most of the restaurant owners are mom-and-pop shops looking to achieve their dreams of opening a restaurant. Each tenant has a story to tell."
Despite the COVID-19 pandemic, food halls are in it for the long haul, adapting to ever-changing restrictions as the hospitality industry navigates the "new normal."
"It took us about four years to get Time Out Market Miami up and running [it debuted in May 2019]," explains CEO Didier Souillat. "When COVID-19 hit, our market chefs weren't responsible [the way that owners of stand-alone restaurants are]. That's the simplicity of the food hall model—all chefs have to do is invest in the training. If they're successful, we're successful, but it eliminates a lot of the risk on them. Thanks to our understanding landlord, we will be able to reopen very, very soon."
The proliferation of food halls in recent years, Souillat adds, is a clear indication that customers want more than just a meal. "It's not just about the food. It's the experience of food with a cultural element … an all-in-one experience with the chefs at the center."
The philosophy of experience-driven dining rings true for most food halls, says Jarjura from Menin Development
"[This is a] new local epicenter for Delray," she says of Delray Beach Market, "a place to experience a wide array of culturally diverse food options, congregate with family and friends, and immerse yourself into the surrounding art. The goal is that every time you visit the market, there will be something else for you to see or try—a community epicenter of art, entertainment, and food."
The goal for Delray Beach Market is to serve as a physical homage to the Delray Beach experience, where creative food incubators will focus on local cuisine paired with other perks like a robust beverage program, curated art and food exhibitions, and entertainment programming—think live music, cooking classes, and celebrity activations.
The Market features large murals and sculptures amid 60,000-square-feet of dining space, along with indoor and outdoor seating areas, dedicated takeout and pick-up spots, and numerous bars, including one centered around craft beer and another featuring craft cocktails. Food highlights include: Sorella's, an artisanal pasta house led by chef Jimmy Everett; Bona Bona, an "Instagram-able" ice cream shop; Tekka Bar, specializing in safe and sushi; and Tiffin Box, an Indian concept.
"We're also partnering with local schools to provide internship opportunities, as well as hosting complimentary charity and community events," Jarjura says. "This is far more than a food hall. The Delray Beach Market will be a center of opportunity and community for Delray Beach."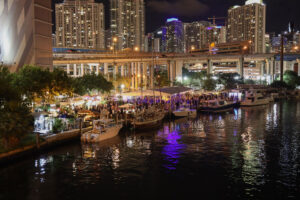 As South Florida continues to deal with the ramifications of COVID-19, Delray Beach Market, as well as all of the other area food halls, have had to make significant adjustments.
"When COVID-19 hit, we took time to reevaluate some of the interior market opportunities to ensure success and instill an added sense of safety," Jarjura says. "We made the decision to eliminate seven vendor stations to pave [the] way for spacing between tenants and interior dining. We also increased our outdoor dining and seating areas."
Other COVID-19 design measures include touchless bathroom fixtures, collapsible "nanowalls" for open-air spaces, and an enhanced air filter AC system.
In Miami Beach, Souillat is ready to "leave behind the fear factor that has been with us for the past year."
"It's time to bring back the fun factor," he says. "Food halls are generally very big spaces with high ceilings, so I think between that and bringing back a reduced number of concepts to start, we can recreate the community feel without the risks of, say, a smaller restaurant."
As Delray Beach Market readies to join Time Out Market Miami and South Florida's other food halls, Jarjura looks forward to welcoming the millions who visit Delray Beach and surrounding areas every year as well as providing opportunities for locals.
"During a time where much of our economy was devastated due to COVID-19, we were able to employ hundreds of individuals for the construction and for the anticipated opening," she says.
"We will also be creating over 200 permanent jobs while providing the opportunity to mom-and-pop restaurants that would otherwise not be able to have their own destination or afford traditional Atlantic Avenue rent.
"Some of our chefs come from food trucks or special events or restaurants whose businesses were devastated by the [pandemic] closures and capacity regulations," she adds. "We are proud that Delray Beach Market gives them the opportunity for a second chance."