When you're done setting aside your secret stash bag of M&Ms, Twizzlers, Kit Kats and Starbursts this weekend, don't forget to toast your Halloween haul with a couple of holiday-appropriate adult beverages.
The makers of Toast Vodka—Miami-based Toast Distillers, launched by Dieuveny "DJ" Jean Louis—have you covered with a simple concoction called Treat Yourself (pictured above). For more on Toast, or to purchase a bottle through its e-commerce site, click here.
Ingredients
1 ounce lemon juice
1 ounce strawberry nerd syrup
2 ounces Toast Vodka
Preparation
Shake and strain ingredients into rocks glass. Garnish with smashed grape nerds, a lemon wheel and gummies.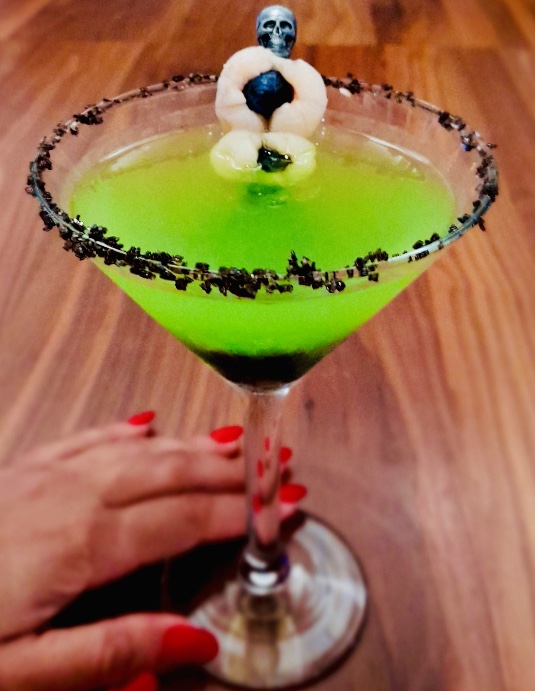 Not to be outdone, Loews Miami Beach is shaking things up at its Bar Collins restaurant and lounge (1601 Collins Ave.) with a monstrous spin on the martini called, naturally, The Frankentini. The ghoulish experiment will continue through Sunday—neck bolts are optional.
Ingredients
2 ounces Tito's Vodka
3/4 ounce Apple Puckers
1 ounce Midori
1/2 ounce Fresh lime juice
Black tapioca pearls
Black sugar for rim
2 lychee
2 blueberries
Preparation
Wet the rim of martini glass and coat with black sugar. Place spoonful of tapioca pearls at bottom of glass. Combine vodka, Puckers, Midori and lime juice in shaker. Pour over pearls. Place one blueberry inside each lychee for eyeball effect; skewer the eyeballs and use as garnish.