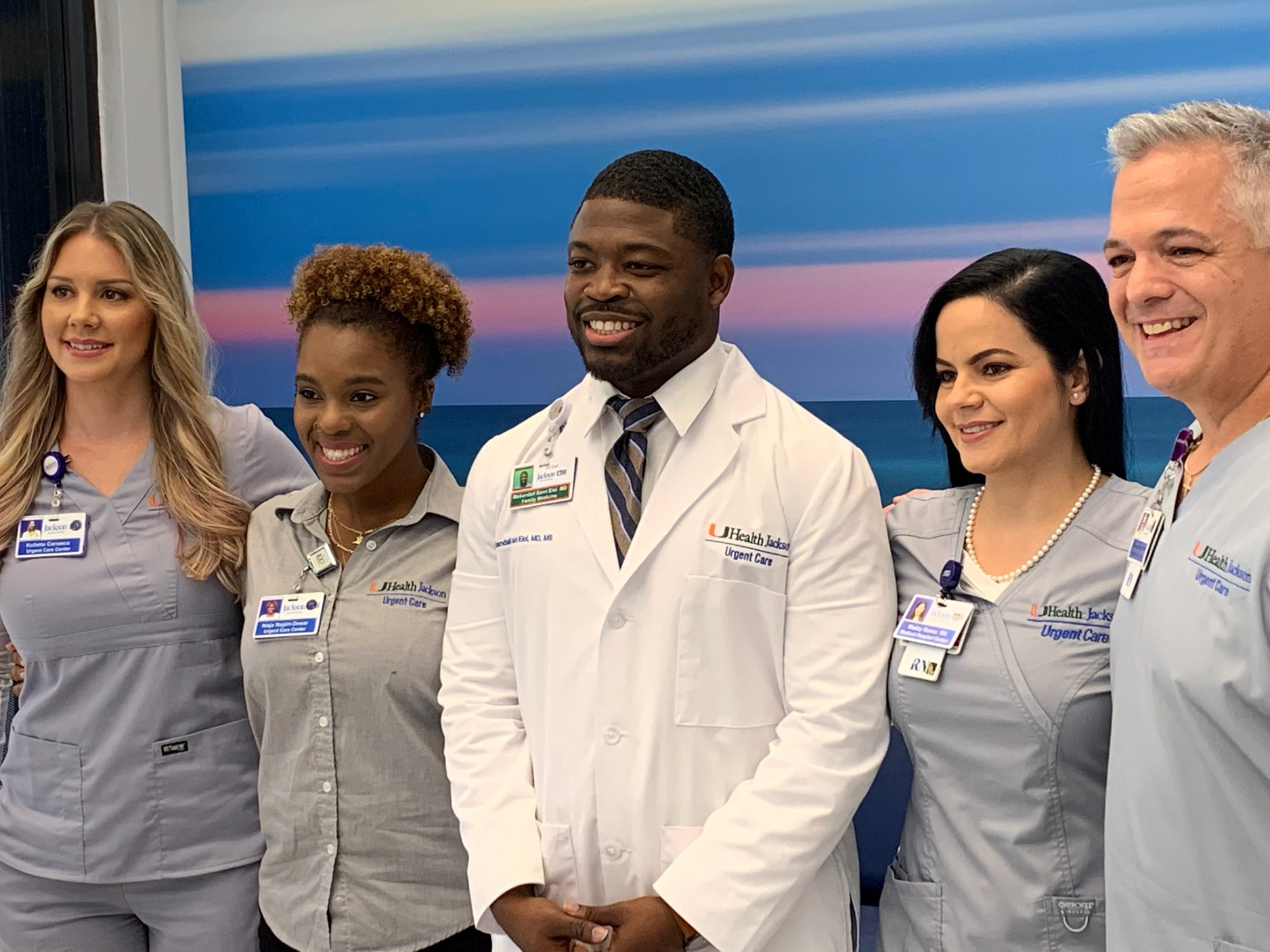 Heroes of the Pandemic: Makandall Saint Eloi
Lifestyle shares stories from the front lines of COVID-19—including medical professionals like Makandall Saint Eloi of University of Miami/Jackson Memorial Hospital Urgent Care
Makandall Saint Eloi
Associate medical director, University of Miami/Jackson Memorial Hospital Urgent Care
Background: Saint Eloi, 31, is a young leader (pictured center, above) in the medical field working diligently on the front line of the current pandemic. Before COVID-19, the Miami-based doctor served as chief resident of his medical class at the University of Miami and later joined the staff at Jackson Memorial Hospital, working in the ER and Urgent Care locations. "Throughout all of medical school, I always found value in bonding and forming relationships with patients," he says. "I knew I needed to do something where I could talk, advise and show empathy. Family medicine was it for me. It allows me to be a therapist, a friend, a doctor. I can be someone for every individual patient. That is especially important right now with coronavirus."
Pandemic stories: Saint Eloi remembers expressing initial concern about COVID-19 to his mother and brother in late 2019. By mid-February, he realized the pandemic would be the worst medical disaster of his career.
"It's kind of ironic because when I was little, I always told my mother that I wanted to be the doctor who found a cure for HIV, AIDS, or another type of virus," he says. "That's what motivated me to study medicine in the first place. But I never actually thought I would be working during a pandemic like this."
Saint Eloi's first coronavirus patient at Urgent Care was a woman in her late 50s, who presented with fatigue, shortness of breath, coughing and a lack of appetite. He immediately put an oxygen monitor on her finger and ordered a chest X-ray. Her results left him in complete shock.
"The chest X-ray was probably worst I've seen in four years," he says. "We ordered an ambulance right away and called her family. She was ultimately placed on a ventilator for weeks."
Though the patient was sent home about a month later, she has a long road of recovery ahead of her, Saint Eloi says. "Everyone keeps talking about recovery, but recovery is very subjective," he says. "It doesn't mean you're back to your baseline. All it says is you're stable enough to go home. This patient in particular was discharged on oxygen and blood thinners. These factors have changed her quality of life, at least for the foreseeable future."
In addition to treating patients at Urgent Care since the spread of COVID-19, Saint Eloi has been an advocate for appropriate testing and evaluated patients daily who received a positive diagnosis. He has organized several free medical checkups for underserved communities in South Florida, remaining tireless in providing community initiatives both at Jackson Health System and in his home country of Haiti.
"Even in this short period of time, people I've worked with, family members, and friends have been affected by the virus," he says. "It has become very personal. Though COVID-19 may not seem serious to everyone, there's always someone outside—a grandparent, a mother, an infant—who may be detrimentally affected by this. Every life is important, and this goes far beyond more than just one person."