Photos by Eduardo Schneider
When Betania Bastos gets an idea, she becomes restless. As a baker, she can't relax until she goes to the kitchen and brings an idea to life.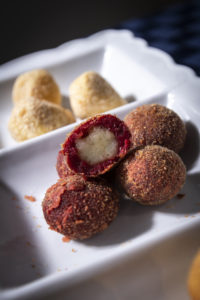 It's that same drive that has helped the Brazilian native in her baked-from-home food business. While living in Venezuela, Bastos worked in the food service industry. When she and her family left the country for the United States, Bastos occasionally made desserts for friends, especially bolo de rolo, a rolled guava cake from the Brazilian state of Pernambuco. People started to ask her if she made other desserts as well. Encouraged by her sister, Valeria, she quit her job to dedicate herself to her business.
That was five years ago. Today, her home-baking is now her own brand, Cake N Roll—the name is inspired by the bolo de rolo. She makes a variety of desserts for clients and events. Among her creations are Nutella, chocolate and dulce de leche versions of the bolo de rolo as well as different types of cakes and mini cakes for events, rocambole of different flavors (a Brazilian roll cake) and pistachio, chocolate, coconut and pineapple flavors of brigadeiros, Brazilian fudge balls made with condensed milk and cocoa powder.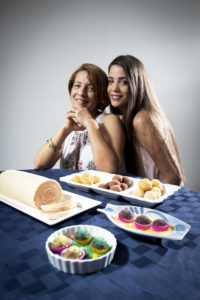 Helping with production is her husband, Airton, as well her daughter, Samantha, who was born in Venezuela. (She jokes that her mother is the heart while she's the brains of the operation.) Samantha marvels at her mother's work ethic and says she makes desserts for "love of art."
"The first ingredient is love—doing what you love as if you're doing it for yourself," says Bastos, who conducted the interview in Spanish.
Many of Bastos' customers find out about Cake N Roll through word of mouth and social media. In fact, a few customers have called from out of state. While many are Brazilian, Samantha notes that the treats are popular among Americans and other nationalities as they love how different they are from typical cakes. The positive feedback and customer requests have helped to spur creativity with suggestions, adding to recipe ideas.
One of Cake N Roll's newest offerings is bolinhas de queijo (Brazilian cheese balls) made with vegetables. Spinach, carrots and beets add pops of color to the cheese balls, creating a healthy and colorful snack—one that recently fascinated children at a party for which Bastos made them. There also are versions made with ham and cheese.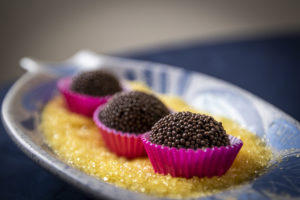 Up next are plans to find a warehouse to produce more of her desserts without compromising quality (she's already bought some equipment to help with production), and to create a website. Bastos also hopes to expand the recipe list by obtaining permits that allow sales of a wider variety of ingredients, and she'd like to be able to sell gluten-free versions of her projects.
"She's happy when someone calls her [for an order] because it means she's doing her job well," says Samantha, who also conducted the interview in Spanish. "It fills her like you wouldn't believe."