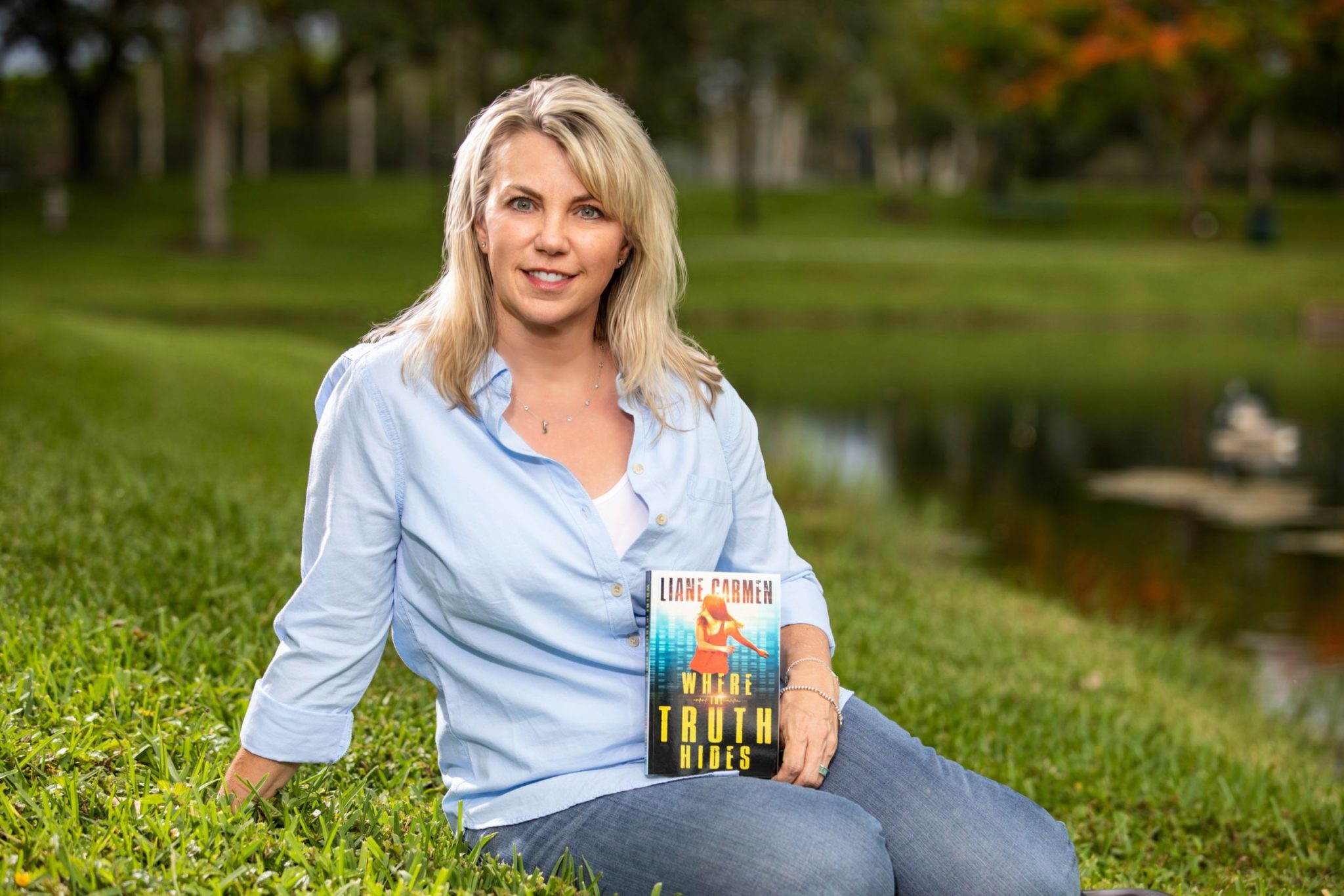 The Mystery Writer Next Door
Combining two passions, Coconut Creek author Liane Carmen writes a suspenseful page-turner that's perfect summer reading
Coconut Creek resident Liane Carmen had two reasons for completing her first novel. First, like thousands of other people writing a book was on her bucket list. Then there was a personal experience. When she became entrenched in a quest to track down an adopted family members' biological mother, she found another obsession: the secrets that DNA can reveal.
Her first book, Where the Truth Hides, is a suspense novel about two 30-something best friends. Becky Morgan is desperately trying to have a baby with her husband, Bryan, and is in the midst of another round of fertility treatments. Her best friend Jules Dalton, always knew she was adopted but now turns to DNA to find her biological parents. The way their journeys intersect because of DNA is only the tip of the iceberg of what happens in Florida called Creekside, a nod to Coconut Creek.
Lifestyle spoke to Carmen—a single mom of a teenaged son, an animal lover who fosters kittens, and a marketing manager with Coca Cola who has worked for the company for almost 25 years, and self-proclaimed DNA sleuth—about her book.
So many people want to write a book, but you made it happen. How did it come together?
In normal times, before the pandemic, I would have three or four hours on the highway driving for work trips, so I have written entire plot lines, chapters in my head. Plus, I came from a family of avid readers—my father read, my mother, my brother was a reader—so I always wanted to write the kind of book I would like to read. When I really got serious, I went to a writer's retreat in Sedona, Arizona, on how to write your book in a weekend. I left that weekend and I had the shell of a book.
Did you end up writing your book in a weekend?
No. This book came to life on nights, weekends, vacation time from my job.
Were there were real-life experiences that you knew you wanted to weave into the plot.
That's what started it. My ex-husband was adopted and all he ever wanted was to know where he came from. When we were married, I tried so much to help him. That was before DNA. He put ads on the internet. He tried to call the lawyer who handled his adoption. We did receive some information from the state of New York where he was born: "Your mother was from Brooklyn. Your mother was 24. Your mother was Jewish." When he passed away in 2013, DNA was becoming mainstream. We have a very small family and I dreamed through DNA that there would be this whole family that would welcome my son. We found a first cousin, twice removed.
How did you get interested in DNA?
I found both sides of my son's birth family starting with 23andMe and Ancestry and I've gone on to help numerous other friends/acquaintances solve their own adoption mysteries. I had a friend who tried to figure it out for two years and I found her birth mother in two hours. … It is challenging. It's putting together all the pieces of a puzzle, doing tons of research (using census records, birth records, obituaries, newspaper articles, even stalking social media accounts), and hoping for good matches. Some are easier than others.
They say you should write what you know. Are your characters based on people that you know?
Jules is based on a friend of mine. The red and black cowboy boots, the big smile, can't find a man to save her life—that's her. The only thing that isn't true to her life is she's not adopted. A good part of Becky is me. Sherlock, her cat, is the name of my orange tabby. My 12-year-old-golden lab, Riley, died while I was finishing the book, so there's a restaurant where Jules meets a blind date named Riley's. And Becky's address is personal. [Editor's note: Carmen has lived in Coral Pointe at Winston Park since 1997.]
About that, Coconut Creek readers will love that Becky lives on Winston Park Lane in Creekside.
My editor took that out and I insisted it be put back in.
What's your ultimate goal with writing? And will there be more books?
I want to build a secondary career that's long lasting. I have tons of ideas in my head to put out there. In the next book [set to release in early 2021], Jules and Becky start a company called DNA Detectives.
For more about Carmen and her book, visit lianecarmen.com.
Author photo by Bill Ziady