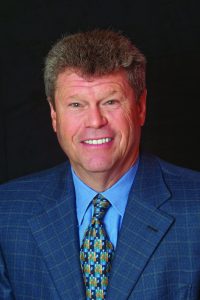 Just west of Wynwood, near Miami International Airport, one of Florida's tallest murals stretches more than 13 stories high. Artist Rey Jaffet spent nearly four months hand-painting the piece—splashed in vibrant red, purple and yellow hues and titled "We Are One"—onto the eastern façade of Pinnacle Heights, an affordable housing community created by Pinnacle Housing Group.
"We're almost positive it's the largest mural in the state," says Louis Wolfson III, one of the founders of Pinnacle Housing Group (pictured). "It's quite a tribute, especially at this time in history. We're trying to bring folks together and understand different cultures."
Born into one of Miami's most historic and philanthropic families, Wolfson has spent his life giving back to the community that shaped him. He's celebrating more than 20 years at the helm of one of the city's top affordable housing development companies, which creates residential projects with public art components. Pinnacle has developed more than 8,000 units across Miami since 1997, with Wolfson bringing in local artists to seal each project with a unique piece.
Now, Wolfson wants to further develop Overtown—where Pinnacle and local artists have already completed seven buildings—with his Art in Public Places program. He plans to transform the community into Miami's next hub for creatives, artists and entrepreneurs while maintaining its culture and history. Pinnacle also will play an important role in the development of the Underline, a 10-mile linear park that will run under Miami's Metrorail with public art and other features.
The Coral Gables resident spoke to Pinecrest Lifestyle about these projects and more.
How did your family upbringing lead you to where you are today?
"My family was always concerned with making Miami a better and more productive town. My grandfather, Mitchell Wolfson, was actually one of the original founders of Miami Dade College. He always used to say, 'The boys and girls of Miami-Dade County need an education in order to compete for a job and climb their way up the workforce ladder.' To date, we have more than 2 million graduates—80 percent of which still live and work in Miami."
How did your family's mission for education transform into your work with affordable housing?
"I was introduced to James Rouse, who founded Bayside Marketplace in downtown Miami, and he really got me thinking about affordable housing. Education is critical, but so is housing, and spending 50 to 70 percent of one's earnings on a dilapidated and overpriced place to live is unacceptable. After starting Pinnacle, I've seen what a difference education and housing can make to a family. You can't have one without the other."
How did you get the idea to implement art in housing projects, such as the "We Are One" mural at Pinnacle Heights?
"Affordable housing has always had its problems. Nobody wants it in their neighborhood. To combat the 'not in my backyard' philosophy, we started to incorporate art within all of our communities. We've spent more than $3 million of our own profits to place art all around Miami. Once we started painting murals and installing sculptures, everyone wanted it in their area. We may be building affordable housing communities, but we're also elevating the communities we enter."
How have the housing projects shaped the communities where they're built?
"After we started incorporating public art into our housing projects, we started to become more involved with the communities at large. We've worked with children in Overtown, Liberty City and Opa-locka to create art projects and enhance neighborhoods. We've also paired them with police departments to paint murals of children and officers who have fallen victim to gun violence."
Where did the idea to paint the tallest mural in Miami come from?
"My grandmother was an artist, and she used the money she made to start a scholarship fund at MDC. Rey Jaffet was awarded one of those scholarships, so that's how we originally met. We never thought it would turn out as large as it did, but it kept growing and growing. It's such a beautiful piece to have up in a time like today."
What other projects do you have in the works?
"Our work with the Underline is probably the most exciting. There are 400 columns that hold up the Miami Metrorail. We've painted six of them so far with six local artists. The idea is to use emerging artists to paint each column, which enhances the area and gives the artists a place to showcase their work. When people see the quality of work going up around the city, they want it in their own community. It takes a village to do what we do. If anyone else wants to get involved, I'll gladly give them all the knowledge I've acquired to do this. There are so many places that could use beautiful street art. With everything we do, the goal is to leave a place better than how we found it."