Photos by Patrick Dolande Photography
Before debuting M House last summer, executive chef Abraham Silva knew opening the restaurant was a risk.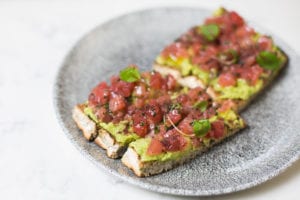 "We know the food industry is a high-risk business in general," he says. "With so many great restaurants in the area, we knew from the start that we needed to differentiate ourselves with big, out-of-the-box ideas."
One year later, M House defied the odds and became a staple in downtown Coral Gables, enticing diners to its warm, emerald green dining room with dishes such as fried artichokes and grilled Mediterranean octopus.
"We've learned so much about the Coral Gables dining scene," Silva says. "That's helped us evolve the menu to cater to families, foodies and business executives in the neighborhood."
Since opening M House, Silva, who spent time leading the kitchen at Seaspice on the Miami River, continues to tweak the menu. With a focus on the cuisines of Italy, Spain, Portugal and Greece, dishes are straightforward, simple and packed with flavor. Silva's most recent menu refresher came this spring, with additions such as tuna steak with pesto farro and pear ravioli with rich gorgonzola sauce and shaved truffle.
"What better time to add new dishes to our menu than spring, the time of year that signifies renewal?" Silva says. "We're keeping the most popular selections from our opening menu, and adding new flavors based on seasonal ingredients, as well as some lighter bites for those seeking a more casual dining experience."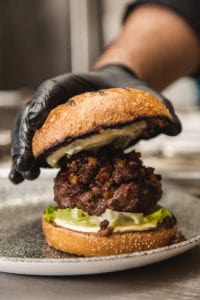 Some of the most popular items, Silva says, are the wagyu toast garnished with pickled fennel and aioli, the coastal risotto with Key West pink shrimp, Maine scallops and lobster, the Mediterranean octopus with smoked potato purée and roasted tomato salmoriglio, and—the chef's favorite—a surprise dish of sorts that includes charred broccolini, tomato confit and black garlic salsa.
"[Opening M House has been] far better than what we had imagined," Silva says. "We are continuing to build a strong team and foundation for the restaurant, and each week, we are getting increasingly busier. The best part is we have the ability to develop relationships with our guests. There's nothing like seeing them return."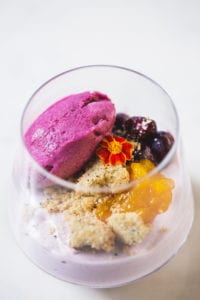 M House has also built a reputation from its unique desserts, designed by Silva as well. Among them, the Chocolate Tree (pictured above) is served as a beautifully crafted sponge cake infused with Grand Marnier and Valrhona chocolate. Other options include the Passion Blue (pictured right), a light blueberry mousse with passion fruit gelée, sorbet, blueberry compote and fennel cookie crumble, and Silva's rendition on a classic tarte Tatin with grilled pineapple and Greek yogurt ice cream.
The restaurant recently launched an executive lunch option as well, which includes three courses for $27. Offered Monday through Friday, entrée highlights include tagliolini puttanesca, grilled picanha and Faroe Islands salmon, along with a choice of an appetizer and dessert.
In addition to Silva, the restaurant is led by Miami-based Metropolis Group, a partnership among Francisco Arocha, Pedro Villar and Carlos Mendez. M House is the group's first U.S. restaurant, though Arocha and Villar are also behind Brickell's Aloft and Hotel Indigo. Silva remains tight-lipped on the group's upcoming plans but says there's always a possibility for more.
"We are always collaborating as a team to expand our brand," he says. "We'll continue to entertain new ideas every day."
M House
Location: 2524 S. Le Jeune Road, Coral Gables
Social: @mhousemiami on Instagram
Info: mhouserestaurant.com