Toku, a popular restaurant known for its modern Asian cuisine in Long Island by Poll Restaurants, recently opened its second location at Aventura Mall. The restaurant was first launched by brothers Gillis and George Poll in 2007 at Americana Manhasset, considered one of Long Island's top shopping destinations. After successfully establishing themselves in the steakhouse, seafood, and Italian cuisines, the Poll brothers ventured into Asian fare, resulting in Toku's instant success. Its contemporary pan-Asian dishes, extensive cocktail menu and inviting ambiance have made it a favorite among locals and tourists.
"South Florida is a unique culinary destination, with restaurants that bring together the best in flavors from a variety of cultures," Gillis and George Poll say. "Toku's immersive ambiance and straightforward menu are designed for any occasion, making Aventura Mall a natural choice for our second location. We are delighted to introduce our artfully-crafted dining experience to residents, visitors and mall goers alike."
Toku has become a Long Island staple due to its chic and fashionable ambiance. The new Aventura location spans over 14,000 square feet and features design elements from the New York location with added South Florida touches. Designed by Rockwell Group with input from the Poll brothers, Toku's interior design is inspired by a 19th-century Japanese home, blending modern elements and sleek lighting to create a cozy and immersive atmosphere.
Upon entering the venue, patrons can enjoy the 53-seat bar area, featuring an illuminated bar surface, dark wood accents and a large mural by local artist Krave showcasing a Chinese dragon. As they enter the main dining room, which accommodates 166 guests, they are greeted by a giant stone Buddha overlooking the space. Plush banquettes provide luxurious seating, and diners can enjoy views of the open kitchen and sushi bar while they dine. Those who prefer to dine al fresco can head to Toku's expansive 190-seat covered outdoor patio. In the private dining room, guests are welcomed by art from Fin Dac, whose striking work can be found throughout Miami's Wynwood neighborhood.
The cuisine at Toku combines various ingredients and cooking techniques from different parts of the world, with a strong focus on Japanese and Chinese influences, complemented by hints of Thai and Vietnamese flavors. The menu is quite extensive and boasts a range of classic Asian dishes, with an emphasis on high-quality meat and seafood selections. Toku also offers dishes designed for sharing, catering to a wide range of palates. Some standout dishes include Miso Black Cod, Roasted Lobster, Sesame-crusted tuna, Wagyu Steak Frites, and Peking Duck. Additionally, there are many rice and noodle dishes and a wide variety of finely crafted sushi and maki options.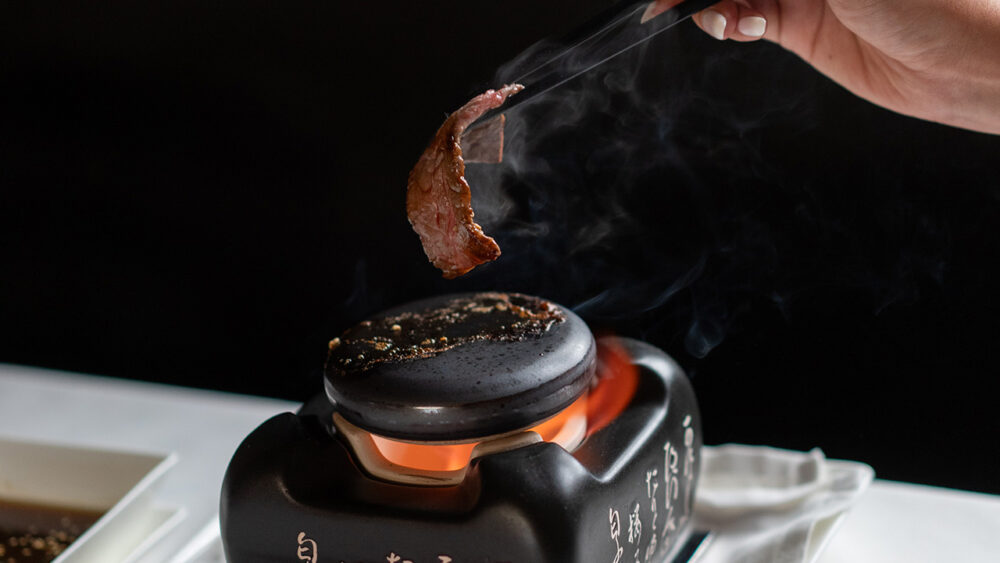 The ambiance at Toku's bar is sophisticated and cozy, making it the perfect spot to indulge in its impressive selection of drinks. Patrons can savor libations from their extensive menu, which includes cocktails, sakes, Japanese whiskies, wines, and beers. Toku's specialty cocktails are a must-try, including the Chili Passion Martini, Fig Martini, Mandarin Mojito, and the Toku-Gria, a unique take on traditional sangria with sake, plum wine, ginger, and fresh fruit.
Offering lunch and dinner, Toku will be open from 11:30 a.m. to 11 p.m. Monday through Thursday, 11:30 a.m. to 12 a.m. Friday and Saturday, and 11:30 a.m. to 10 p.m. on Sunday. The restaurant is in the Aventura Mall at 19575 Biscayne Blvd., Suite 1109.
For more information, visit Tokumodernasian.com.
(Photo Credit: Toku)