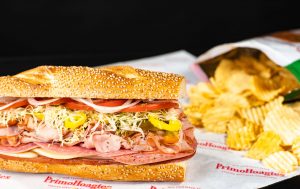 PrimoHoagies, known for its gourmet hoagies with high-quality meats and cheeses, will open its first Fort Lauderdale location (1499 SE 17th St.) today with a perk for the first patrons. After the ribbon-cutting ceremony, the company plans to provide free Primo Size Hoagies to the first 100 customers, while rewards customers will enjoy Primo Size Hoagies for $6.99. Interested customers can Text "Primo" to (484) 270-4000 to join the rewards program and start saving with special offers.
"Last year was huge for us in terms of growth and having a location now open in Fort Lauderdale feels like a natural step for us," Nicholas Papanier Jr. says, CEO of PrimoHoagies Franchising Inc. "We are committed to providing every level of support to our franchise partners. Our primary goals are to provide outstanding, authentic food and an amazing customer experience for everyone."
PrimoHoagies originally opened in South Philadelphia in 1992. It layers gourmet meats and cheeses with a secret blend of spices and locally sourced, fresh vegetables onto award-winning, seeded rolls baked fresh throughout the day. The casual restaurant's menu features a wide variety of cold and hot hoagies, cheesesteaks, wraps, vegetarian options, sides, chips, drinks, cookies, desserts, etc.
"I had no idea what a hoagie was when I first started," Eddie Miranda says, manager of the Fort Lauderdale location. "Delicious, top-quality hoagies and traditional sandwiches like the ones offered at PrimoHoagies are hard to come by in this area. The food really speaks for itself. I think it's something the community is going to love and I'm excited to be part of the PrimoHoagies family."                           
The 1,500-square-foot retail store will be open from 10 a.m. to 8 p.m. daily and is expected to employ 15 people. It will offer takeout, delivery, a patio for outdoor seating and catering, including its popular hoagie trays for special events.