Photos by John Hartzell
In the Alves' garage in Coconut Creek sits a 19-year-old YamahaPW50 dirt bike. To Ramyller Alves, the 50cc motorcycle has special significance. You could say, it was the start of his career as a professional supercross and motocross racer.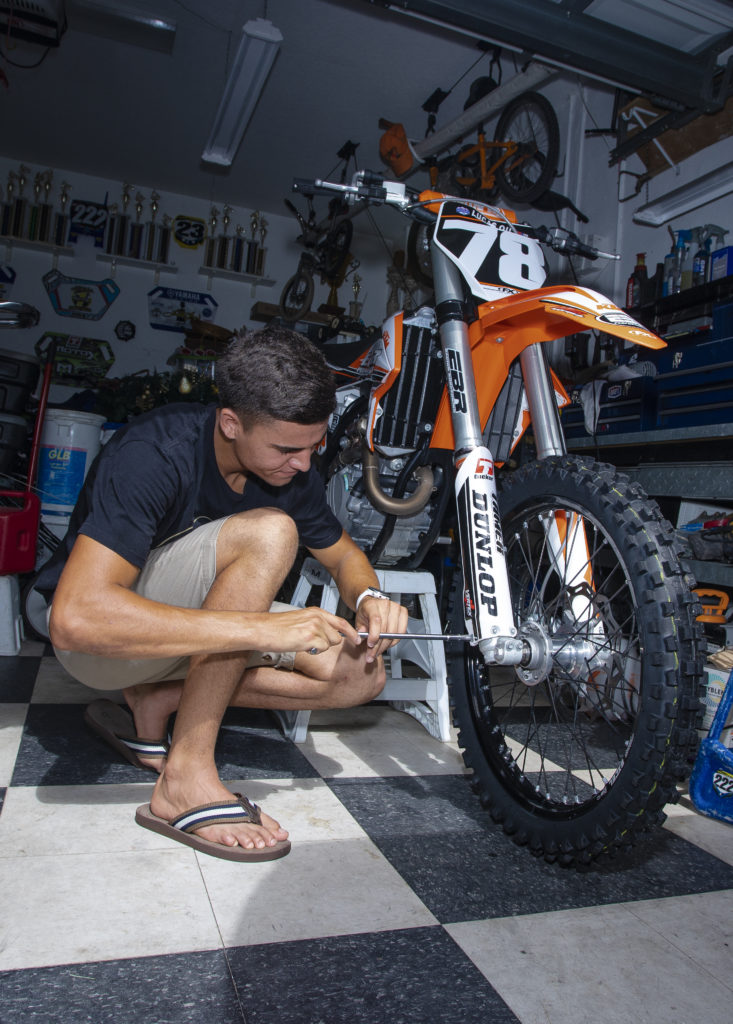 "When I was 2 years old, I got that dirt bike for my birthday, and I started riding," he says. "From there, I was hooked."
The 21-year-old is now a bona fide professional motorcycle athlete, moving from amateur status to pro in 2018.
Alves says his career path was carved out for him at birth. "Motorcycle racing is in my blood." His father, Mauricio raced motocross in Brazil. Born in Governador Valaderes, Mauricio competed throughout the country. "I was the champion for my state, Minas Gerais," Mauricio says proudly.
He had no doubt when his oldest son was born that he would follow in his footsteps. "He was walking when he was about eight months," Mauricio says. Ramyller, a name he says his mother "made up"—they call him Ramy for short—rode a bicycle with no training wheels when he was a little over a year old.
Mauricio coached young Ramy on motorbike racing skills and took him to small competitions in Florida, but it was a trip to the American Motorcycle Association National Motocross Championship in Texas that was the proving ground.
"He was 7 years old," Mauricio says. "No one even knew him, and he got third place. That was the proof he needed. He walked out of there feeling 6 feet tall. After that, he was off and running."
Starting his career path out so young had its set of challenges. "My last year going to actual school was when I was in seventh grade," Ramy recalls. In Coconut Creek, he attended Winston Park Elementary School, then Lyons Creek Middle School. After that, he was home-schooled. "I really liked school, and I had a lot of friends. I kept up, and I was an honor student, but I was missing too many days traveling to the amateur nationals."
Ramy spends his days now on a motorbike, on a plane or working out. "I would say I am away racing about 25 to 30 weekends a year," he says. During the week he trains. "I live in Coconut Creek, but I train out of Tampa. There are more track facilities there and a good group of riders."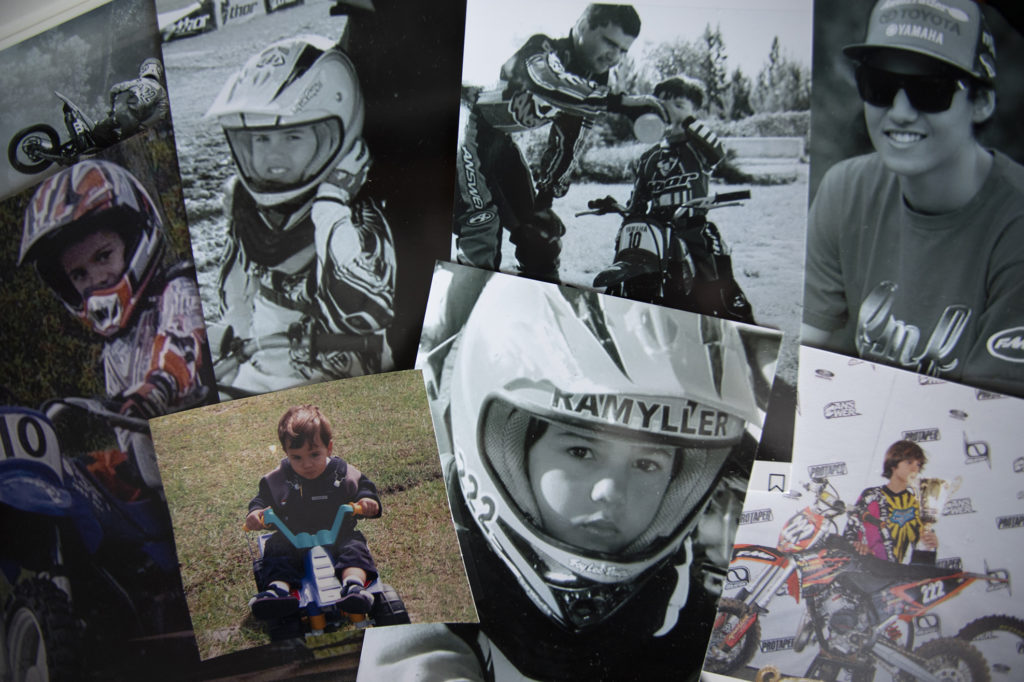 As Ramy explains it, supercross competitions are scheduled from January to May. The Monster Energy Supercross indoor dirt bike racing championship is a series of races in different cities, from Anaheim to Detroit, to Las Vegas, in big stadiums and arenas, on man-made courses created out of 500 truckloads of dirt. In the 250 class, in which Ramy's team competes as part of the eastern region, they race in nine rounds over the course of the four-month season. Riders face obstacles, including triple jumps that can send them soaring 70 feet or more in the air. Spectators fill the seats; NBC Sports televises the live events.
Ramy is part of the three-man EBR Performance Altus Motorsports Yamaha Team. The team describes his standout talents as "mad riding skills, grace and style."
"Being pro, you race supercross with the best of the best," Ramy says. In his rookie season in 2018, he discovered how different the competition was from the amateurs. "It's the level of intensity. I wasn't expecting such a change, but I learned a lot and I'm still learning."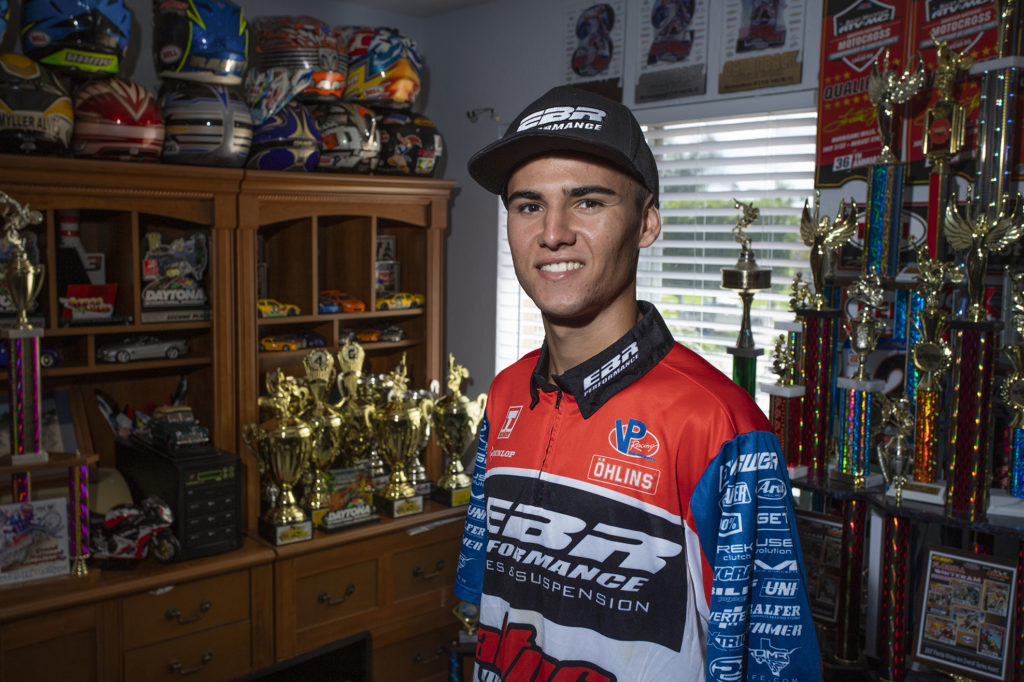 Another difference is that amateur riders compete only in motocross, or MX, on off-road courses in natural terrain. The pros have supercross and a 12-race motocross season.
Although he competes mostly in the United States, in 2017 he raced for Team Brazil in the Motocross of Nations in Italy. (He can race for Team Brazil because he holds dual citizenship.) "It happens once a year, and it's where all the countries compete. It's like the Olympics of motocross, very prestigious." 
Ramy's rookie year had a learning curve but brought with it memorable moments, like his achievement at the Daytona Supercross at the Daytona International Speedway, where he finished ninth.
"That surprised a lot of people, a rookie finishing in the Top 10 there," he says. "As an amateur, I won some big nationals, but this was special." It was extra special because the win was in Florida, he adds.
His job does come with inherent dangers, but Ramy says it isn't something he focuses on. "I have had a lot of injuries—collarbone, wrist." He pulls up his shirt sleeve to reveal a long scar on his arm. The most serious accident he had in 2016 almost had him rethinking whether he'd get back on a bike again.
"I was still an amateur and it was supposed to be my year. I was supposed to dominate," he says. But one day while working with his trainer at Miami MX in Hialeah, he had an accident that might have sidelined him forever. He broke his femur (thigh bone), humerus (upper arm bone), fractured his hip and pelvis, broke numerous ribs, and had a concussion. He was airlifted out of Miami MX with no memory of what happened.
"I woke up in the hospital the next day, Jan. 16, and it was my 16th birthday."
Doctors said it was going to be difficult for him to get back to racing; he was laid up for six months.
"I would be on the couch thinking, 'Do I really want to do this still?' I was in a dark spot, but I got through it and started riding again and had some great moments after that," he says. "That's what keeps you going. You live for those moments."
There may have been a flicker of a notion to quit, but when it really came down to it, Ramy believed racing is in his blood. "I have to prove to myself what I am capable of doing, and that's what I am working toward," he says. "I just want to be the best that I can be. I do it for myself."
Now in the midst of motocross season and looking ahead to his next supercross, Ramy says he's determined and ready. He believes that he and his teammates have a good chance to win big in 2020, and an even better chance in 2021.
"My goal is to eventually win a championship in both supercross or motocross. That's what I'm working for," he says. "Realistically, I'm not there just yet, and I still have a lot of work to put in. It takes time.
"You never know what can happen in this sport. That's why I give 110 percent every day."