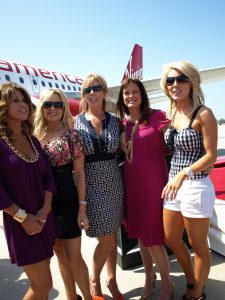 Long before she gained reality renown under a different last name in Southern California, Victoria Steinmetz spent her formative years in Illinois handling the books for her father's construction businesses. The self-described "math freak" took care of invoicing and receivables, manually inputting accounting figures for William Steinmetz's multiple ventures, including Steinmetz Interiors in Elk Grove Village, about 20 miles northwest of Chicago.
But when asked what she really wanted to be growing up, the woman now known as the "OG of the OC" doesn't hesitate.
"All I wanted was to be like my mother—a housewife," she says. "Isn't that crazy? I look through my diaries from middle school, and that's what I wrote about. My mom had five kids [two adopted], she worked in the home, she had dinner ready every night. She was an incredible mom. And that's who I aspired to be.
"Be careful what you wish for, right?"
Today, when people hear the name Vicki Gunvalson, housewife is exactly what comes to mind. A Real one. And an original.
For the initial 14 seasons of The Real Housewives of Orange County—the first franchise in a concept (televised on Bravo in the United States) that has landed in more than a dozen countries around the globe—Gunvalson was the only mainstay on a show that rotated in more than 20 other cast members during her lengthy run.
Starting in 2006, viewers came to know Gunvalson through her children (Michael and Briana), her second marriage and subsequent divorce (to Donn Gunvalson), her emotional outbursts, her meme-worthy expressions, her memorable quotes (she compared her failing marriage to Donn to a gas tank, which she famously labeled an "empty love tank")—and countless interactions with fellow cast members that are forever etched in Real Housewives lore.
But sometimes lost amid the reality TV drama is the fact that Gunvalson has run her own successful business—Coto Insurance & Financial Services—for three decades. An admitted conservative investor, she's been mostly prudent when it comes to her finances and investments.
"I never get hit from a major market correction, I don't spend more than I make, and I don't do credit cards," says Gunvalson, who turned 60 in March. "Cash is king. So, I'm debt-free other than a small mortgage on my main house [in Coto de Caza, a private community in Orange County, California]. The other houses I own [both in Puerta Vallarta, Mexico] are all paid with cash."
It's the connection to financial wellness—which happens to be the title of a money matters site she hosts (FinancialWellnessWithVicki.com)—that piqued the interest of a South Florida business now working with Gunvalson.
This spring, she formalized a partnership with Debt.com, the Plantation-based company that specializes in debt-relief solutions. In her role as an ambassador for its various services, Gunvalson filmed educational videos around insurance and smart-money advice, as well as broadcast commercials for Debt.com that will air nationally this fall.
But as Gunvalson is the first to admit, it's not always easy to practice what you preach. Especially when the heart is exposed.
The Real Deal
To be clear, Gunvalson did not seek out the reality spotlight. Her son did.
Michael was home for the weekend from Colorado University in the mid-2000s when he came across a story in the local paper about a show tentatively titled "Behind the Gates," which sought to explore the privileged lives that families in the area were leading. He wrote a two-page letter, campaigning for his mother to be on the series. Not because of her glamorous lifestyle—but rather because she managed to run a successful business, show up at every soccer game and cheerleading competition, and have dinner on the table for the family. She did it all.
Scott Dunlop, the writer/producer who came up with the Real Housewives concept, took notice. He met with Gunvalson and her then-husband.
"I remember Donn saying to me after the meeting, 'We're not doing a reality show; couples who do that get divorced,' " Gunvalson says with a laugh.
When the show premiered in March 2006 as The Real Housewives of Orange County, Gunvalson was part of a cast that included four other women, among them, Jeana Keough, who remains the cast member with whom she's closest. (She's socially good with other RH alums, she says, but they don't call each other and get together.)
The immediate success of the show, and the celebrity that accompanied it, took Gunvalson by complete surprise. "I had no idea that people would be so invested in my life and my love stories and my mom dying [in 2015] and my kids moving away," she says. "They worry about what's happening to you [in the moment]—and they care about what your future holds.
"In the beginning, when people approached me in public, it was interesting but awkward. Today, women will walk up and hug me. They'll say, 'You inspired me to open my own business. Or, 'You inspired me to get a divorce.'
"When I hear that, I feel like I did my job by showing my authentic self."
At least the parts of herself that made it to a RH episode.
Reality show contracts typically state that, in the editing room, producers can spin footage any way they desire—even if it purposely portrays a participant in a less-than-flattering light. Though she owns everything she's done and said on camera, it's the moments beyond her control that, at times, have pushed Gunvalson to the brink.
"Of course, I've felt unfairly portrayed. Many times," she says. "The truth, I always believe, will come out. It usually does. But they can twist anything—anything—to be a wow moment. That's what delivers ratings.
"But even if you're careful about what you film or say, you never know what other cast members are saying about you. Not until you see it. … A lot of cast members lied about me over the years. And that's not cool. That wasn't what I signed up for.
"That's when I get mad and scream."
Portrait images by Eduardo Schneider