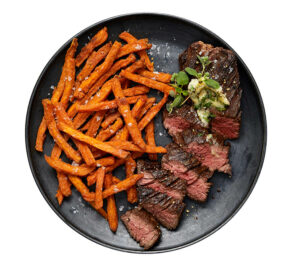 With its eight brick-and-mortar stores doing brisk business in cities including Coral Springs, Fort Lauderdale, Doral and Pinecrest, Wild Fork already was having a tri-county moment, thanks to its flavor-rich meats, seafood, poultry, lamb, specialty offerings, ready-to-eat meals and much more. But in a twist of pandemic fate, COVID-19 brought the masses to the South Florida-based company, thanks to its e-commerce platform. As a result, that side of the business has exploded—and Wild Fork has become a go-to resource, from coast to coast, for stay-at-home cooks and grill masters.
In her role as executive chef/director of culinary, Jacqueline Kleis is the filter through which everything related to food at Wild Fork runs. The well-respected kitchen expert, who ran a gourmet catering business in Puerto Rico for more than 20 years, creates all of Wild Fork's proprietary recipes, down to the sauces, soups and seasonings (visit wildforkfoods.com to see all of its offerings). She's also involved in food-related content for the website and culinary training for all new employees.
Lifestyle spoke to Kleis about Wild Fork's appeal and some of her favorite products.
The Wild Fork difference: "We flash-freeze all our products to a very low degree, which preserves the nutrients and keeps the product really fresh. That cuts out a lot of the deterioration that happens through the supply chain. We also try to bring the restaurant experience into your home. We have high-quality ingredients at great prices. We have a lot of steakhouse cuts—tomahawks, rib-eye caps—that you don't see at your supermarket [as well as hard-to-source products like bone marrow, alligator and rabbit]. Our variety covers simple to gourmet."
Developing recipes and dishes: "Much of it involves customer research, understanding regions and how people eat. I certainly look at innovations; I'm part of a group of chefs who are always looking at trends and new ideas. Comfort foods and timeless classics are, of course, important. And then there's our emphasis on global cuisine—Mediterranean, Moroccan, Thai, sub-tropical Latin, as well as American regional barbecue. We hit barbecue flavors from the Carolinas, from Memphis and from Texas; they're all different. Yes, it's a challenge, but it's a great one for us."
What's popular: "The dry-rubbed chimichurri outside skirt steak is one of our most successful items. If you're from South Florida, you know that outside skirt has become very popular in restaurants and on the grill; 20 years ago, you didn't see this cut. Chimichurri is one of the classics of global cuisine in South America. So, I matched those two and created a dry rub."
"We just launched a series of seasoned chicken wings. We dry rub them with seasonings that, I believe, our mainstream people like. We have an innovative smoked Buffalo spice. We have a garlic and herb, which is very neutral and very popular. And a mesquite.
"Another popular item is the preseasoned turmeric, lemon and thyme chicken breast. Turmeric is highly popular in health and wellness circles because of its anti-inflammatory benefits. … Seasoning is one of the hardest things for people who cook at home. We've done the work for them. We have a classic Chicago-style prime rib with black-pepper based seasoning that's perfect for the holidays; you basically defrost it, put it in the oven, and prepare your side."