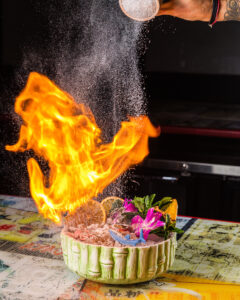 1. Bigger & Better: Since its launch in 2011, Kapow has treated foodies to innovative Southeast Asian cuisine that established the concept as destination dining in and around Boca Raton. The problem became accommodating an ever-growing fan base inside its intimate room at Mizner Park. Consider that problem solved. In September, Kapow relocated to a 5,175-square-foot space (still at Mizner Park) that doubled its seating capacity (including a cover patio area) and added an omakase bar—as well as three private karaoke rooms.
2. Brand Awareness: Co-founder Vaughan Dugan describes the evolution of Kapow in experiential terms. The aesthetic allure starts with a waving Japanese lucky cat by Unique Rabbit that welcomes diners; interior artwork by Craig McInnis and a 95-foot mural by Fort Lauderdale artist Rosanna Kalis adds to the ambience. "By enlisting the talent of top creatives, we are merging art, technology and sustainability in a way that helps us lay the foundation for the future of Kapow," Dugan says.
3. Do the Evolution: To Dugan's latter point, look no further than the use of low-water woks and an eco-friendly Peking duck roaster oven (part of an energy-saving initiative that is reducing costs by more than 20 percent). However, those aren't the only innovations happening in the kitchen, which has incorporated fresh ingredients and different Asian flavors into an updated menu.
4. What's New: Fear not, fans of Kapow. The Hoisin barbecue baby backs, Vietnamese chicken wings and salmon tartare tacos aren't going anywhere. But the new dishes are worth exploring—check out the red oil dumplings (with pork, shrimp, spicy red oil sauce and cilantro), grilled oysters (with kimchi butter), Korean wagyu beef tartare, king prawn bahn mi (with prawn pate and tangy mixed pickles), and Cantonese ginger scallion lobster. The eight-seat Omakase Bar puts dining in the chef's hands; the menu of dishes not found on the regular menu incorporates Kapow's fresh fish (locally sourced and catches from around the world) and composed plates.
5. Spirits & Treats: Kapow has raised the dessert bar with the hiring of Lee Mazor as corporate pastry chef. The owner of LoveLee Bakeshop, who worked at Hakkasan at the Fontainebleau, has added such decadent offerings as Matcha Vietnamese coffee cake, black sesame crémeux (served with cashew sponge cake and salted caramel ice cream) and purple sweet potato cake dressed with coconut mile, taro mousse and rose petal meringue kisses called Ube Gateau. Along with craft beers, international wines and premium sakes, Kapow's killer cocktail menu includes originals like the Land & Sea (with Peak whisky, Redemption high rye, kelp elderberry cordial, mushroom cypress stock and Choya yuzu). In the showstopping category, the Kazan Volcano Bowl (pictured), serving two to four people, makes a flaming statement with spirits including Appleton 8-year-old rum, Plantation O.F.T.D. rum and Iichiko Shochu, to go with hibiscus, lime and banana bitters.
Contact: 402 Plaza Real, Boca Raton; 561.567.8828; kapownoodlebar.co