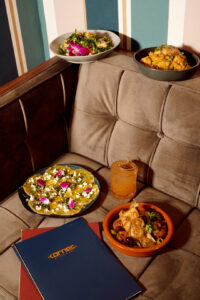 1) Family Affair: A shared love of food led husband-and-wife team Cesar Olivo and Adriana Perez Benatar to become restaurateurs. It's more than food, though, says Perez Benatar; it's about gathering friends and family to enjoy treasured recipes and delight in different flavors from around the world. "We would do these food reunions at home with friends, and they enjoyed what we did," she says of the impetus behind a restaurant journey that includes Perez Benatar's brother, Samuel, who's been with the couple since their first venture in Venezuela. The trio debuted a South Florida concept in 2019—Reunion Ktchn Bar in Aventura. After the overwhelmingly positive response to Reunion's global cuisine, they replaced their fast-casual restaurant, Salsa Fiesta, which had taken over the former Johnny Rocket's location on the corner of Main Street, to a more upscale offering. Korner 67 opened in February 2022.
2) Dogs and Salsa: The foray into food began with a gourmet hot dog restaurant, which grew into a franchise empire of 18 in their native Venezuela. Perez Benatar says the idea came from personal experience while in Caracas; they realized that the only place to get a late-night bite was at a hot dog stand. "The quality wasn't very good," she recalls. "Cesar started making hot dogs and putting fancy toppings on them, and friends loved it." They left Venezuela for the United States in 2008 to escape the socioeconomic and political crisis of President Hugo Chávez, Perez Benatar says, after it became too difficult to do business in the country. They opened Salsa Fiesta, a Mexican restaurant, in Miami's midtown in 2009.
3) Let's Share: At Korner 67, diners arrive in groups. "Everybody shares a little bit of everything," says Perez Benatar. With almost 50 items on the menu, it's the way to take the culinary tour that covers nearly every corner of the world. Tapas, the mainstay of the menu, are indicated with an S, M or L, which gives a good idea of the portion size. Perez Benatar says every recipe is from the family cookbook—hers, Cesar's and Samuel's. Chef Adriana Cisneros, also a native Venezuelan, works with them to make sure the food is authentic. A few favorites: Truffle-Shitake Croquettes with aioli, a tasty take on the Cuban croqueta ($15); and the Japanese-inspired Crispy Rice, which features ocean trout, avocado, sashimi and tartar ($19), in the small and medium categories. For large dishes, either of the risottos (seafood or mushroom, $27 and $23), or the Peruvian-inspired Nikkei Lomo Saltado ($26) are crowd pleasers.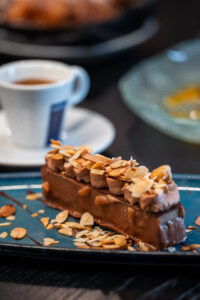 4) Splurge-worthy: The unique Cinco Jotas ($44) is a must. Sliced Iberico ham is a delicacy that comes from special black pigs that are only fed acorns on the plains of the Iberian peninsula, giving the meat a tender, melt-in-your mouth texture. Also raising the gourmet bar is the Caviar Flight ($225), which features white, black and gold caviar, some of the most luxurious in the world sourced from the Caspian and Black seas.
5) In the Spirit: The cocktail selection is as plentiful as the food menu. One of the specialties of the house is Guav-a-Lady ($16), pretty in pink and served in a vintage martini goblet (called a coupe cocktail glass). Though also made with vodka, guava cordial, mint and lemon, it's the elderflower liqueur that stands out. Regulars to Korner 67 say the Banana Gorilla ($16), created with top-shelf bourbon and Banane du Brésil liqueur, which gets its flavor from Brazilian bananas soaked in cognac, is one not to miss.