As told to Kevin Kaminski
Editor's note: Specific physicians and hospitals are not mentioned as part of this first-person story. The surgical descriptions involved and views about medical treatment are all based on Lowe's personal experiences and opinions. This is an abbreviated version of the story that appears in the August issue of Lifestyle.
My whole life, I've been a heavy sleeper. When I was working and going to school, I was sleeping late on weekends. At the time, I was living in Sunrise with my parents. I went to my primary care physician for a basic checkup. He wasn't a specialist, just a general practitioner. I told him I was tired all the time and sleeping a lot, and I explained my schedule.
For whatever reason, this doctor ordered a CAT scan of my head. "I just want to make sure there's nothing going on," he said.
After the CAT scan result came back, he told me to go to the emergency room.
"There's something I saw on the scan that I want you to have a neurologist look at. It's not my field of expertise, but I think it's something you need to have checked."
I didn't know it then, but this HMO doctor had just saved my life.
I went to an ER in Fort Lauderdale. The physician there said, "I can't believe your doctor saw this on a CAT scan, but do I see something that I'd like to look at closer. We're going to order an MRI."
The more detailed image revealed a tumor on my pituitary gland. [Note: The pituitary produces essential hormones and controls the function of most hormone-secreting glands, and thus is often called the "master gland."]
Suddenly, the problem wasn't just the tumor. It also was my age. I was 19 at the time. The doctor explained that most people with these tumors get them when they're in their 40s and 50s. Trying to remove this tumor at my age was considered highly risky. The tumor was touching one of my optic nerves, and it also was near the carotid artery. The risks included going blind—and dying. You wouldn't believe all the waivers I eventually had to sign.
The tumor was 2.3 centimeters by 1.9 centimeters. For most people, it would reveal itself through double vision or headaches. I didn't have those symptoms.
Fortunately, one of the best surgeons in the world for this kind of procedure was a brain and tumor neurosurgery specialist in South Florida. When I finally met with him [after overcoming issues with Lowe's HMO insurance], he explained that I would, indeed, be one of his youngest patients ever for this type of surgery.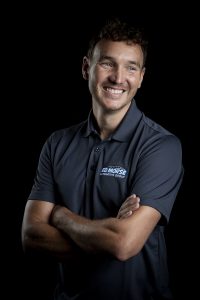 The procedure involved making an incision under my lip, going through my sinus cavity, grinding away the bone at the base of the skull, and extracting as much of the tumor as possible.
At this point, we didn't know yet if the tumor was benign or malignant.
The surgery, I was told, went according to plan. The neurosurgeon was able to get 90% of the tumor, he said. But it had dug its way into the carotid artery and was quite fibrous. The good news was that it was benign. The bad news was that the cells were rapidly multiplying.
I was in the hospital recovering from the initial surgery for about a week. But I was out of work for nearly six months. There's spinal fluid surrounding the brain—and they had drilled this hole to get to the tumor. So, I couldn't do anything that involved straining.
In 2005, I started working at Ed Morse Automotive Group. I couldn't go back to my surgeon initially because my condition was considered preexisting, so my insurance wouldn't cover it at first [later, a law passed that changed that]. When I finally saw him, he was upset that I had missed a six-month MRI appointment, but I saw my original bill. That surgery cost a half-million dollars. I needed to get the insurance figured out.
By the time he finally did an MRI, the news wasn't good. The tumor had reformed.
By now, there was a new procedure. This time, they would go through the nose, giving them better access. There would be two surgeons—an ear, nose and throat specialist would lead the way, and then my neurosurgeon would work on the tumor.
When I woke up after the surgery, there was a string hanging out of my nose, which was incredibly swollen. That's because they had put an enormous amount of packing up my nose. I spent about five days in the hospital. Toward the end of my stay about seven people came into my room at once.
"We're here to remove the packing."
They grabbed onto me and held me down.
"What's happening?" I said.
Then, I see this guy pull out a pair of pliers. He grips the string and starts pulling as hard as he can. The packing was way bigger than my nostril opening. It felt like they were pulling out my brain through my nose—and, actually, the bloody mass they pulled out did look like an organ. That's because they had used mostly fat extracted from my stomach for the packing.
It was the worst pain I've ever felt in my life.
Once again, the neurosurgeon felt they had gotten 90% of the tumor. But the MRI told a different story. It turned out to be more like 20%. My surgeon felt the best course now would be a craniotomy—which would involve removing part of my skull for better access. This was December 2005. He wanted to do the surgery in January 2006.
I was most scared before the craniotomy. But I tried to stay in a good mood. I asked the surgeon if he would take a picture of my brain with my phone while he had it open. I'd never seen my brain—and who gets that opportunity?
"I don't think so," he said.
The craniotomy ended up removing about 30% more of the tumor. The next course of action, later in 2006, involved a gamma knife, which shoots these intense beams of radiation to the tumor to destroy the cells. I remember signing another waiver that said the gamma knife takes a while to work, and it could shrink the tumor—but, also, I could go blind. Or die. This was the first time I heard the phrase living will.
For the next 10-plus years, I did my yearly MRI with the gamma doctor. The tumor was still there. It was growing at a slower rate, but it was still growing. I'd ask the gamma doctor about it, but he was one of those in-and-out-of-the-room kind of guys. As long as there were no symptoms, he said, it was all good.
But then I started getting headaches—and they got progressively worse. Last year, I did another MRI with the gamma doctor. And out of nowhere, he tells me the neurosurgeon wanted to talk to me—and that he was here. I hadn't seen him in years.
We chatted for a bit, and he goes, "How come you haven't seen me?"
I was like, "Well, I think we broke up. I've been seeing the gamma doctor. And he said it was all good because there were no symptoms."
"Unfortunately, we have to do surgery," the neurosurgeon said.
"When?" I asked.
"As soon as I have an opening."
You can only open up someone's head so many times. Before the surgery, I asked the neurosurgeon what was the most times he'd ever done this procedure on someone. He said six. I asked what happens after six. He goes, "You can't do another surgery after that. The scar tissue won't heal."
This time, they went through my nose again with the same EMT and neurosurgeon. This was the first time my wife had gone through this, so she was a little freaked out. An outbreak of COVID-19 occurred just before the surgery, so my wife couldn't even be there.
There were more complications after this one, and I spent time in the ICU. Plus, the diabetes insipidus returned. They moved me to a new room, and I was close to being discharged—but I woke up at one point and started choking. When I sat up, spinal fluid started coming out of my nose.
They ended up flying in someone from out of state to perform this surgery because my neurosurgeon was now out of the country. Everyone in the room looked nervous. I remember someone saying something to the effect of, "We're gonna throw the kitchen sink at him. We're going to do a spinal tap, put more packing up there, and we're gonna glue it all up." And I'm like, "I can hear you! What does that mean? How about a strategic approach to this?"
As a bonus, there were two packings up my nose this time instead of one. Because I had such a traumatic experience removing packing the first time, they thought it would help if I actually removed one of the packings following the surgery. I thought, what the hell. So, I pulled the string. I could hear things ripping inside my head. I finally stopped. I couldn't finish it.
When I finally talked to the neurosurgeon, he told me he'd gotten everything this time—not 90%. We did a six-month checkup in February. It was still clean. We'll continue to do MRIs every six months for now.
I wish I could say that I'm 100% confident. I did feel good after this last surgery. I didn't realize how bad the headaches had gotten because I had them all the time. Suddenly, I wasn't having them. But, this spring, I started getting some minor headaches. I hope it's just the heat. We'll see when I go for my next MRI.
You don't go to the doctor and expect one sentence to change your life. But it can happen at any time, and it can happen to anyone. … At this point, I just want to know if this is something that's going to come back and kill me. I have a family now. I'm big on saving for retirement and being financially secure. But if that plan doesn't matter, I'd like to use this money to live life. In the meantime, whenever my daughter wants to do something, I'm like, "Let's do it." Even if I'm exhausted. No questions asked. … If nothing else, I've been able to gain an important realization through all this. Every day really is a gift.
About Casey Lowe
Since joining Ed Morse Automotive Group in 2005 (he works out of the Ed Morse Sawgrass Auto Mall), Lowe has been lauded time and again for his world-class repair talent.
Lowe was honored as the No. 1 service technician nationally for 2021 as part of General Motors' Mark of Excellence program. The award encompasses everything from product knowledge and technical training to customer satisfaction. He's also won the Ed Morse service Olympics for the past six consecutive years.
His expertise includes transmissions and electric vehicles, but Lowe has developed a fiercely loyal following with Corvette owners—who will drive from out of state so that he can work on their cars.
Lowe credits Teddy Morse, CEO of Ed Morse, along with fixed operations director Mike Byrne and service director Dave Harris, for supporting him and advocating for him throughout his professional career.
Lowe married his wife, Ashley, in 2017. The couple, who live in Davie, have a 3-year-old daughter, Larkyn.