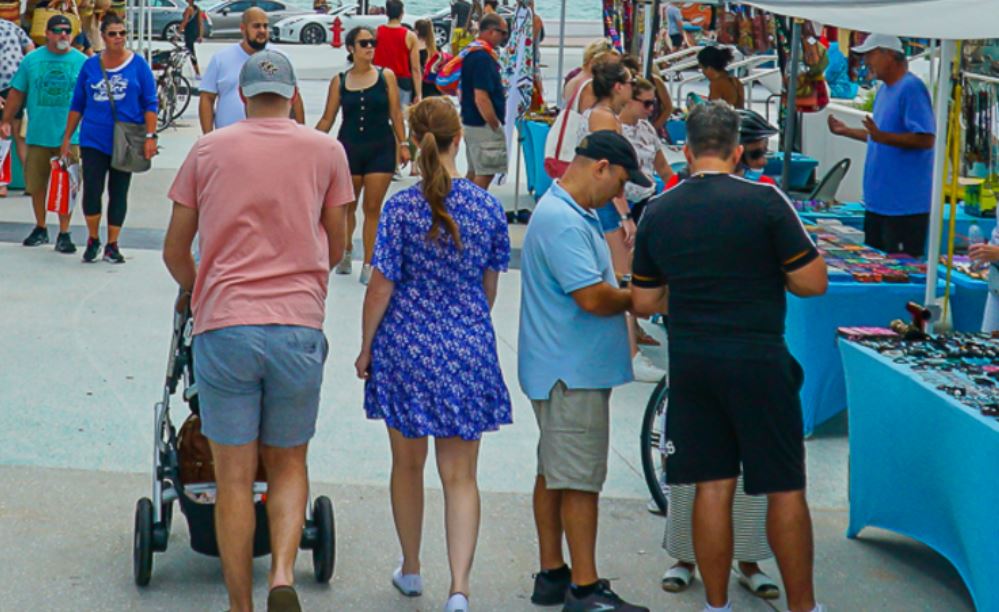 The LOOP in Fort Lauderdale to Host the Inaugural ELEVATE Family Health & Wellness Day on June 12
The free event promotes the importance of Parks and Recreation to help keep communities active, healthy and connected
Las Olas Oceanside Park (LOOP), in partnership with FLIPANY, the City of Fort Lauderdale Parks and Recreation Department and Children's Services Council of Broward County, is hosting the first ELEVATE Family Health & Wellness Day on Sunday, June 12. The event will coincide with the annual National Recreation and Parks Association (NRPA) Family Health & Fitness Day. Activities will focus on five pillars of health: mental, physical, spiritual, financial and sustainability for a healthy planet and will include sample group fitness classes for children, teens and adults, health, wellness and pet care vendors, health screenings, healthy food options, educational demonstrations, age-appropriate games and activities, prizes, giveaways and more.
The schedule of activities includes:
10 a.m. – 4 p.m.: DJ Purple Sun Radio – curator of infectious dance grooves and a feel-good atmosphere

10 a.m. – 2 p.m.: P.E. X-Games for all ages

10:20 – 10:25 a.m.: Soca Bounce Fitness Demonstration – a fun, high energy and low impact interval training workout

10:30 – 11 a.m.: Chair Yoga for active adults with Carolina Figares

11:30 a.m. – 12 p.m.: Consultations with Latanya Hopson, Diversity-Equity-Inclusion Activist, Health Disparity Advocate and Holistic Lifestyle Consultant
Ongoing activities include:
New York Life – #LoveInActionWall – The New York Life #LoveInActionWall will allow attendees to share in words or pictures the times love took action in their lives

WE Florida Financial Credit Union – Children's money management, book reading and games; teens' financial literacy app

LensCrafters – Eye exams, activities for children, contests, and more

Fort Lauderdale Fire Rescue (FLFR) – CPR classes for all ages
OneBlood will be on-site, offering guests an opportunity to make a difference with a blood donation. Healthy food vendors include Fresh Organics & More, ItalKing Coconut Water, My Hot Vegan, and The Juice Somm. Additional confirmed vendors include Broward County Property Appraiser Office, Chill Otter Co., Clinical Care Medical Centers, Cure Natural Skin Care, Excite My Health, Hourglass Healing Arts, House of Thumbs, Humana, Jessie Bear, Kukeebubee, Liberty Dental Plan, Native Ceuticals Fort Lauderdale, Natura Dermatology, Osteostrong, Pet Wants Fort Lauderdale, PetWellClinic Pembroke Pines, PureLaVie Hydration and Wellness, Rainforest Beauty, Readings by Joanne, Stretch X: The Ultimate Stretching Experience, Suja Juice, The Concierge Practice and Venturi X Caliber.
Proceeds from the event will help support active and passive programming related to public health classes and additional services to create a welcoming year-round gathering space. The LOOP now accepts nonprofit agencies, health professionals, service providers and retailers of health, wellness, and holistic products to participate in ELEVATE as vendors or sponsors.
For more information, please contact the City of Fort Lauderdale's Las Olas Oceanside Parks Open Spaces Coordinator, Arianne Glassman, at [email protected] or 954-828-2690. To register as a vendor, please visit https://form.jotform.com/220085516673153.