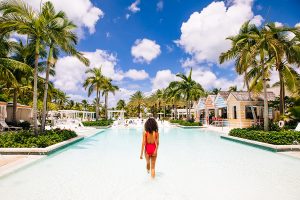 The NBA had just staged its annual All-Star Game in Cleveland, but not all of the sport's greatest players were spending the midseason break in Ohio. In fact, there was enough modern-day and Hall of Fame talent on the floor at the buzziest resort in The Bahamas to field an all-star pick-up team on the property's outdoor basketball court.
However, sports celebrities weren't the only ones reveling in the myriad of over-the-top offerings that February week at Baha Mar—the sprawling luxury destination along the white sands of Cable Beach in Nassau.
There was a group of 20 or more celebrating the birthday of the family's patriarch. There was a bachelorette party soaking up the sun. There was a wedding party preparing for a sunset celebration. There were husbands and wives enjoying a family getaway with the children. There were couples rekindling their romance.
Though the motivations behind traveling to the 1,000-acre development are varied, the lure remains consistently irresistible. It's one of many reasons why Baha Mar has transformed more than just The Bahamas since debuting its initial phase in 2017.
"On a global scale, Baha Mar is one of the most comprehensive luxury destinations in the world," says Graeme Davis, president of Baha Mar. "When you combine all the different experiences—exceptional experiences that can't be created anywhere else in the Caribbean—along with the support from an ownership group that sees the vision and understands that this is a long-term investment for the company? It truly is a dream come true to be able to lead this property."
That's quite a statement coming from someone with a hospitality résumé steeped in so many high-end experiences (Davis' background includes executive positions for Rosewood Hotels & Resorts and Starwood Hotels and Resorts). But it also speaks to the go-big-or-go-home nature of a project that took more than a decade—and some $4.8 billion—to come to fruition.
Today, Baha Mar boasts three global hotel brands under one roof, 2,300 overall rooms, more than 5,000 employees, a 100,000-square-foot casino that's the largest in the Caribbean, 45-plus restaurants/bars, and a luxury beachfront aquatic park with 24 water slides.
But those numbers only begin to tell the tale of a visionary development that Davis says represents 12% of gross domestic product for all of The Bahamas.
In the Beginning
Through the years, the mammoth slice of pristine beachfront property on which Baha Mar is built had been occupied by everything from a horse track to a fire station to the prime minister's office. It took another 12 years after the original vision was announced in 2005 for the unprecedented project to open its doors.
In April 2017, the first of Baha Mar's three global hotel brands—an 1,800-room Grand Hyatt—welcomed its initial guests. Six months later, SLS debuted (299 rooms/suites), followed in June 2018 by Rosewood (237 rooms/suites/villas). In the span of 14 months, Baha Mar had distinguished itself for a "luxury of choice" experience like no other in this part of the world.
"Most high-end luxury resorts are on sleepy beaches, so you have the exclusivity," Davis says. "But there's nothing to do.
"Here, you have an ultra-luxury option with our top-tier Rosewood suites. You can still enjoy the exclusivity, the butler service, the peaceful enclaves with two pool areas exclusive to Rosewood guests—but then, within steps, you're at the casino, you can go to the nightclub, and you can enjoy all the other activities of Baha Mar."
Davis describes the first SLS resort in the Caribbean—with its stylish and spacious rooms (many of which overlook Cable Beach)—as perfect for getaways with friends given its lively vibe that includes the adults-only Privilege party pool. Meanwhile, a stay at the equally chic Grand Hyatt places guests in the middle of the never-ending offerings at Baha Mar.
It's a menu of activities and experiences that, literally, offers something for everyone.
Bells and Whistles
The dozen-plus pools at Baha Mar not only come in all shapes and sizes, but they even have names that reflect their design, placement and intent—like the tri-level Quiet pool in Rosewood's grand courtyard; Out Island, with its in-pool seating and views of the turquoise waters beyond Cable Beach; Fortune, the always hopping central pool deck that includes a swim-up bar; the intimate Reflections pool, which offers a little solitude amid cascading waterfalls and rich foliage; and Dean's Blue Hole, inspired by the world's second-deepest blue hole, a tourist attraction in a bay off The Bahama's Long Island.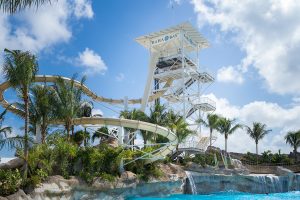 Not every aquatic wonder in The Bahamas is out at sea. Baha Bay, the resort's $200 million luxury waterpark, is attracting its own share of travelers. Cast on 15 acres that overlook Cable Beach, the entertainment destination includes the first ProSlide Dueling Water Coaster and FlyingSaucer 45 in the Caribbean, among its 24 slides. In addition, there's a FlowCurl surf simulator, a 500,000-gallon wave pool, Turtle Beach splash park for the little ones—and a body-slide experience, Devil's Backbone, that begins with an adrenaline-inducing vertical drop through a trap door.
As if all that weren't enough, Baha Bay boasts luxury cabanas, a variety of dining spots (among them, 25N, serving coastal California-inspired cuisine), and the world's first casino gaming pavilion inside a water park.
There are plenty of outdoor experiences on land, as well, especially for those looking to get their games on. In addition to a professionally designed miniature golf course (Mini Blue) and one of the most aesthetically unique championship layouts in the Caribbean—Royal Blue, a Jack Nicklaus signature design golf course (see sidebar on the previous page)—tennis enthusiasts have access to the only grass court in the region, one of nine courts at the Racquet Club (to go with six hard courts and two Har-Tru clay courts). Guests also can play bocce ball and croquet on the resort's new courts.
Art aficionados will appreciate The Current, the resort's gallery, studio space and arts program curated by Bahamian artist John Cox. "We have the only resort in the world with an art department [which has a staff of 12]," Davis says. "Our collection includes more than 2,500 pieces by established and emerging Bahamian artists [it's displayed throughout the resort]. And we engage our guests with initiatives and programs—like acrylic pouring, watercolors or print making—that allow them to work with our artists."
Among the other highlights at Baha Mar:
Spas: The first flagship ESPA spa in the Caribbean encompasses some 30,000 square feet of pure bliss with 24 treatment rooms; some two dozen massages, facials and body treatments; a state-of-the-art fitness studio; a nail studio and more. In addition, Rosewood features its own luxury spa overlooking the gardens, Sense, with a curated selection of therapies meant to stir the senses with Bahamian-inspired ingredients and rituals.
The Sanctuary: As part of its ongoing pledge to protect native Bahamian wildlife and endangered species, Baha Mar is home to sea turtles, Southern stingrays, nurse sharks and 50 additional varieties of reef fish. Guests are invited to participate in daily feedings and marine interactions.
Flamingo Cay: The national bird of The Bahamas takes center stage amid this habitat brimming with long-legged flamingoes. Guests can mingle with the birds during daily parades. In addition, Baha Mar has an on-site aviary with a variety of tropical bird species.
Explorers Club: Children ages 3 to 12 can participate in a variety of activities at this 6,000-square-foot adventure center. Immersive experiences include arts and crafts, multimedia offerings, and a full-scale culinary setting where kids can enjoy cooking and baking challenges.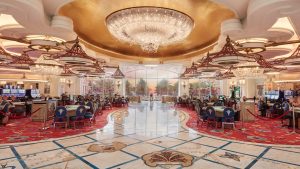 Casino: As evidenced by the custom-designed $250,000 crystal chandelier that hangs in the room, even the casino at Baha Mar extends the luxury thread. The space that weaves throughout the main floor of Grand Hyatt features 18 different table games, more than 1,000 slots and a sports book.
"It's doubtful that you'll see another multibillion-dollar destination resort project of this scale in the Caribbean," Davis says. "With our proximity to the United States [it's less than an hour away by direct flight from South Florida], our half-billion-dollar investment in the local airport, and the dynamics of where we're located? It just works here. It's a perfect fit."