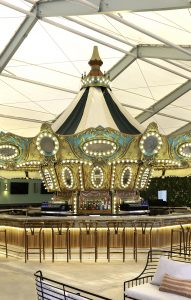 For the better part of six years, the centerpiece of Gulfstream Park's latest entertainment innovation sat in storage. Back in 2016, the idea behind the $650,000 purchase was to provide a unique new attraction at the ever-evolving venue in Hallandale Beach, which also includes the Village at Gulfstream Park.
There was just one challenge. Amid a setting renowned for world-class horse racing, where does one place a full-size spinning carousel—a turn-of-the-century gem that's been meticulously restored with antique-style lighting, classic models and ornaments, and a brand-new finish?
In the end, all it took was a little innovative thinking—and a joint venture between 1/ST Experience, Gulfstream's own entertainment brand, and Miami's Breakwater Hospitality Group, a leader in the trend toward open-air entertainment/dining venues.
The result is the Carousel Club at Gulfstream Park, the latest step in Gulfstream's ongoing efforts to become not only a popular racetrack but a multifaceted South Florida attraction. The sprawling new outdoor venue overlooking the track—featuring the carousel, in all its splendor, as backdrop for a bar like no other in South Florida—opened on April 1.
Jimmy Vargas, CEO of 1/ST Experience, says the collaboration with Breakwater and co-owners Emi Guerra and Alex Mantecon speaks to shared sensibilities. Breakwater's food and beverage stable includes The Wharf Miami and The Wharf Fort Lauderdale—two popular open-air dining/event venues along the water.
"We had some ideas about which we were very excited, and we wanted to work with a company with a similar vision," Vargas says. "We didn't have to look far."
"We try to focus on creating unique experiences," Guerra says. "After speaking with Jimmy Vargas and hearing about their vision for this huge open-air space, we wanted to work with them. Once we saw that old carousel in storage at Gulfstream, we all knew we had the centerpiece for a unique new venue."
It didn't take long for the two companies to figure out exactly what to do with it.
"We've created what we believe is South Florida's coolest bar around the carousel," Vargas says. "[We've also created] the region's newest outdoor dining/entertainment/gathering place. We're always thinking about how we can enhance the Gulfstream experience, not only for racetrackgoers, but also for folks who may never set foot inside the track."
Both executives agree that open-air gathering spots are the wave of the future—particularly in South Florida. The bar area at Carousel Club is covered by a translucent top that invites plenty of natural light, while the furniture is casual chic with a light Florida look.
Vargas says the goal is simple—to maximize the sport of horse racing with high-quality dining, entertainment and retail, a combination that's rarely found in one place. The 14,000 square feet of tented and open spaces at the Carousel Club—including a deck and a huge grassy space for games—also can accommodate special events for up to 1,500 people.
The Gulfstream vision extends to The Village at Gulfstream Park, which now has more than 40 restaurants and bars, a casino, a bowling/sports lounge, and retail outlets that boast men's and women's apparel, swimwear, pottery, shoes, kitchen/cooking products and much more.
"Gulfstream is constantly evolving," Vargas says. "We have a comprehensive master plan for the property. For one thing, racing now caters to a younger demographic. And our younger guests, perhaps in contrast to previous generations, are looking for a night out with more than just racing. They're looking for one-of-a-kind entertainment and dining experiences."
The next generation of racing fans, he notes, also will appreciate pop-up dining options like Lincoln Road's Spris Artisan Pizza, Mad Room Hospitality's Los Altos Taqueria, and Ms. Cheezious, to name a few.
"We're offering a complementary experience to go along with the racing," Guerra says. "We're not only offering great food, but also new food experiences at Gulfstream. We're seeing that some people come for the snacks, and then enjoy dinner at one of the restaurants later on. And Carousel Club stays open until 3 a.m. on Fridays and Saturdays, with special lighting, DJs and live entertainment—so you can enjoy it until the wee hours."
There's also plenty for families at the Carousel Club. During the daytime, kids have access to lawn games like Jenga and horseshoes.
Though the carousel caters to adults, it remains a focal point for everyone who enters the club.
"This old carousel was packaged up, but we could tell there was something special there," Guerra says. "Gulfstream Park has a great engineering and construction team that made it happen."
By Steve Winston-Carousel Club photos by Paul Stoppi