Velvet Taco has opened its first location in Florida, located in Fort Lauderdale's Downtown Riverwalk District. The restaurant brand is known for its innovative and globally inspired tacos, delicious side dishes, house-made red velvet cake and signature margaritas.
"We're thrilled to open our doors, and the overwhelming support from Fort Lauderdale has been nothing short of remarkable," General Manager Devon Glen says. "When you walk into Velvet Taco, you're not just stepping into another restaurant. You're entering a realm where culinary creativity knows no bounds. We've reimagined what a taco can be, curating a menu that's unlike anything you've ever tasted in South Florida. Pair that with our lineup of boozy libations, inventive sides, red velvet cake, and atmosphere – Velvet Taco is a culinary adventure you won't find anywhere else in Fort Lauderdale."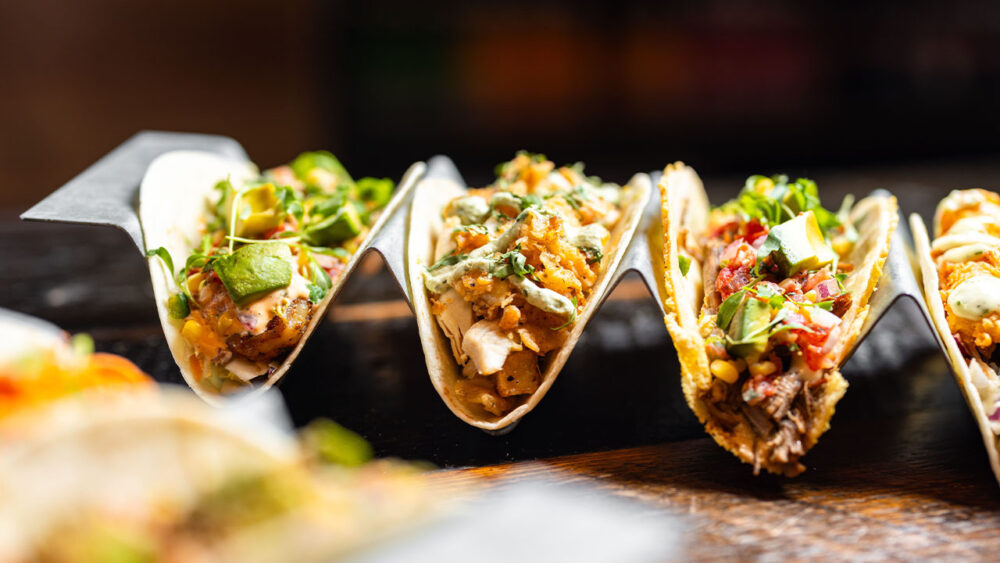 With its vibrant pops of color, natural wood textures, playful interior graphics and fun messages, the Fort Lauderdale location is set to impress its guests. The restaurant promises an authentic and casual environment that offers a glimpse of the Velvet Taco brand experience, complete with a scratch-made, chef-driven menu full of unique recipes. Restaurant and menu highlights include:
All Day Breakfast — The breakfast menu features a selection of appetizing breakfast tacos that come in sweet and savory flavors and are inspired by classic breakfast dishes such as French toast and hashbrowns.
Weekly Taco Feature (Better known as WTF) — Velvet Taco prides itself on introducing a new and innovative taco every week, carefully crafted from seasonal ingredients, location, fun holidays and more. They call it the "world tour for your taste buds," and it keeps things unique and exciting. One such taco that will debut during the week of Halloween is the Basic Witch taco. Available through Oct. 31, this dessert taco is filled with crispy pumpkin pie, flaky pie crust, cajeta, marshmallow fluff, candied pepitas, and a cinnamon jalapeno gummy worm, all served on a tie-dye house-pressed waffle tortilla.
Kids' Menu — Velvet Taco has a variety of dishes designed especially for children, such as chicken, steak and cheese quesadillas and tacos, as well as tenders and tots.
Velvet Taco To-Go & Catering — There are a variety of catering options including Individual Lunchbox entrées with up to two taco selections and a choice of elote, queso, or classic guac with chips, Taco Boxes with 12, 24, and 48 taco options, Party Packs featuring a 24-taco box, two sides, and half a red velvet cake, Boozy Libations with options such as the Kick Ass Margarita, Sangrita, and Sangrita Swirl, and sides of chips, queso, and guac.
The Velvet Room — The Velvet Room, a loyalty program exclusively offered by Velvet Taco, provides enticing benefits for customers who can't get enough of the brand. Members can enjoy special VIP experiences, personalized rewards, and exclusive access to limited-time offerings. For additional information or to sign up, visit velvettaco.com/the-velvet-room.
For those looking to pair their food with refreshing cocktails, Velvet Taco's Boozy Libations are a must-try. Signature drinks include the Kiss Ass Margarita, frozen or on the rocks; the Paloma, made with Lunazul premium Blanco tequila, Jarritos grapefruit soda and a fresh grapefruit wedge; or the Sangrita, a red wine blend with boozy pineapples and apples. For dessert, the brand's namesake, Red Velvet Cake, is made in-house daily.
Velvet Taco is at 305 S. Andrews Ave., Suite 115, in Fort Lauderdale. It will be open Sunday through Wednesday from 11 a.m. to 11 p.m., Thursday from 11 a.m. to midnight, and Friday and Saturday from 11 a.m. to 2 a.m.
Photo Credit: Velvet Taco