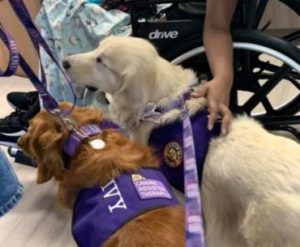 Riverwalk of Fort Lauderdale, Versare LLC and Sawyer & Latimer, P.A will host present Wags, Whiskers & Wine, a family-friendly outdoor charity event for residents and their furry friends. The event will last from 1 p.m. to 8:30 p.m. on Feb. 19 and 20 at Huizenga Park at Riverwalk, 32 E. Las Olas Blvd. in Fort Lauderdale. 
The occasion will feature music and entertainment, authentic Spanish Sangrias, a food court, marketplace, pet promenade, live raffle drawings, and family-friendly activities. Guests can also enjoy tasty treats from award-winning Executive Pastry Chef Max Santiago. They can also stroll through the marketplace featuring local vendors and artists, watch a Police K-9 demonstration, or learn pet CPR techniques.
Proceeds from Wags, Whiskers & Wine will benefit Canine Assisted Therapy (C.A.T.), a Broward County nonprofit human services organization dedicated to improving the health and well-being of those in need through the use of certified pet therapy teams and the power of the human-animal bond. C.A.T.'s therapy dogs help thousands of people annually by providing seniors, Veterans, trauma victims, struggling students, at-risk youth, hospital and hospice patients, and children and adults with special needs with a furry companion to relax with. The Canine Assisted Therapy was used to assist the Parkland community after the mass shooting at Marjory Stoneman Douglas High School in 2018 and aid first responders and families affected by the condo collapse in Surfside. 
Event tickets are $20 per person and include two glasses of Sangria. Children 12 and under are free and must be accompanied by an adult, and leashed dogs accompanied by their owner are welcome. Tickets can be purchased upon entry or at www.sangriaweekend.info.