The Fort Lauderdale International Boat Show often is called South Florida's Super Bowl of boating. Perhaps it has gained this reputation over the years because, show producers say, it makes more of an economic impact than pro football's annual championship game.
Last year, the boat show generated an estimated $531.5 million for the local economy. The last Super Bowl that was in Miami, in 2010, made a $333 million impact, according to the game's organizing committee.
It's so big, even non-enthusiasts get excited about the annual event that, this year, boasts $4 billion worth of life-on-the-water products, from superyachts to nautical-themed artwork.
"The cool thing about going to the boat show is that you get to see everything available in the boating world," says Bob Denison, president and founder of Denison Yachts, whose grandfather and father were giants in the local boat industry. Denison has attended the show since he was a kid. "The hottest thing in the industry in any given year always looks a bit different."
Nearly 1,500 boats will be on display during the show, across more than 3 million square feet of exhibit space, according to the event's producer, Show Management. Brent Keating, vice president of consumer marketing for Show Management, promises an "elevated experience" from previous years.
This year's show is Thursday, Nov. 3, through Monday, Nov. 7, at seven locations on land and sea: Bahia Mar Resort & Yachting Center, Las Olas Marina, Hall of Fame Marina, Greater Fort Lauderdale/Broward County Convention Center, Hilton Fort Lauderdale Marina, The Sails Marina and Hyatt Regency Pier 66 Marina. (Visit flibs.com for tickets and details).
Going to the show? Here are 10 things you need to know.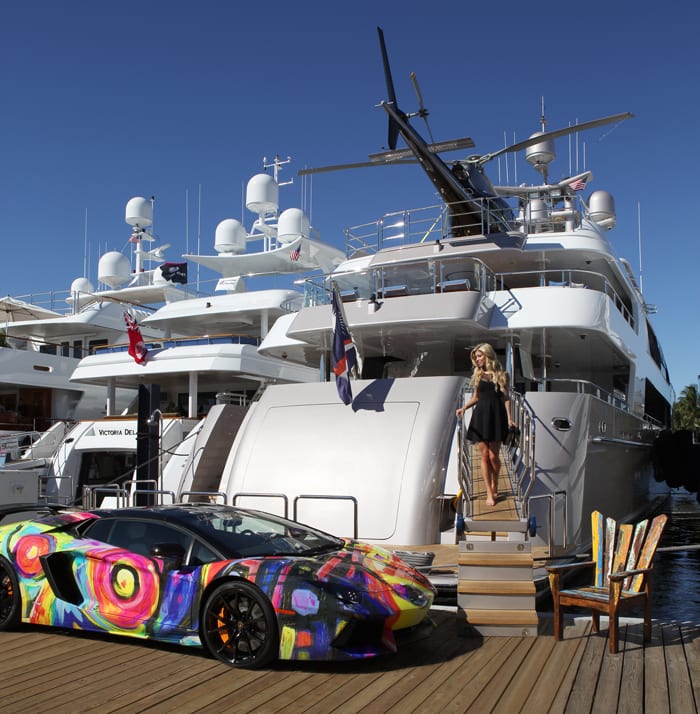 1. MEGAYACHT MADNESS
Whether you have the bucks to drop on a supersized yacht or just like to gush over such spectacles, the debuts here rival any red-carpet premiere in Monaco. This year, don't miss Numarine, which is showing off its 60 Flybridge, and Monte Carlo Yachts, which presents the U.S. debut of its MCY 105. See the owner's suite inside the Numarine Flybridge—huge windows at water level offer an amazing view. On the Monte Carlo, check out the designer interior decor by Hermès and Armani and the custom furniture by Poltrona Frau. Its master suite is a whopping 484 square feet—one of the largest on a boat of its size. Many of the megayachts are at Bahia Mar Yachting Center and Hall of Fame Marina, while used yachts are at Pier 66 Marina. Access to the interiors of superyachts and most megayachts aren't open to the general public, but company representatives usually are eager to show off their prizes.
2. IT'S NOT ALL SHOW
Participation is encouraged. Carefree Boat Club is offering a number of boating courses, including first-mate skills. (Become the best Gilligan a Skipper could have.) Instructors are certified and licensed captains. Before you put on your bucket hat and boat shoes, register at the Powerboat Skills Training Center at Bahia Mar's B dock.
3. RED, WHITE AND BLUE
While dockyards that manufacture some of the best boats are internationally based, the U.S. Superyacht Association is proud of what's put together in the USA. This year, 40 made-in-America boat companies are gathering under one roof at the American Pavilion (formerly the Yacht Builders Tent) at Bahia Mar.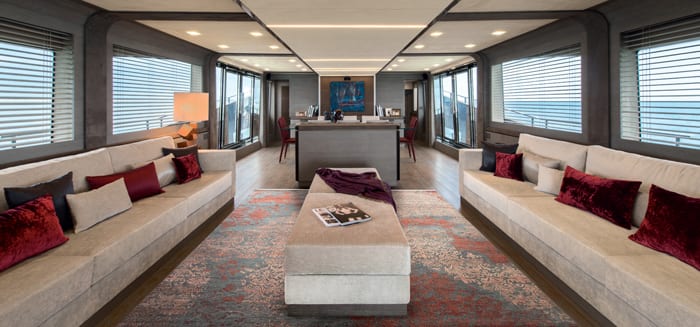 4. GREEN APPROACH
The boating industry is trying to reduce its carbon footprint, so look for lots of new technology that takes an environmental approach to boating. Columbus Yachts' 40M sport hybrid is making its U.S. debut here. The engine is ecofriendly, and the boat's weight has been reduced with special materials. Its woods are certified as sustainable by the Forest Stewardship Council, and the leather comes from the meat industry rather than harvested merely for the seats.
5. FISH TALES
Celebrity speakers Chris Gillette of Animal Planet's "Gator Boys" and Manny Puig, host of Outdoor Channel's "Savage Wild," will be swapping stories with visitors at The Blue Wild Watersports and Marine Expo on Saturday and Sunday during the show. If that isn't enough to hook you, take a class and learn how to catch, cook and clean lionfish. Take that, you pesky invader. Get the Blue Wild schedule at flibs.com in the special events section.
6. BE A VIP
The VIP Experience at the Windward Club includes a private dining area, open bar, food, private indoor bathrooms, and a central location (at the International Swimming Hall of Fame) near superyachts and luxury auto displays. VIP guest passes are limited to only 300 a day. Concierges can arrange yacht tour appointments. The package is available for $140, valid any day from Friday to Sunday. It includes show ticket, Water Taxi fare and Windward Club access.
7. GETTING AROUND
Park the car and use transportation services. Valet parking at Las Olas Marina is $65 a day (purchase online only). Park-n-Ride service at War Memorial Auditorium is $7 and includes bus service to and from the Convention Center and Las Olas Marina. Riverside Hotel garage parking is $5, with bus service to and from Las Olas Marina (or Water Taxi service for $10). Purple Bus service runs to and from War Memorial Auditorium and Las Olas Marina with stops at Riverside Hotel. Green Bus service runs to and from Bahia Mar Yachting Center, The Sails Marina and the Convention Center. Blue Bus service runs to and from Bahia Mar and the Convention Center. Yellow Bus service runs to and from War Memorial Auditorium and the Convention Center.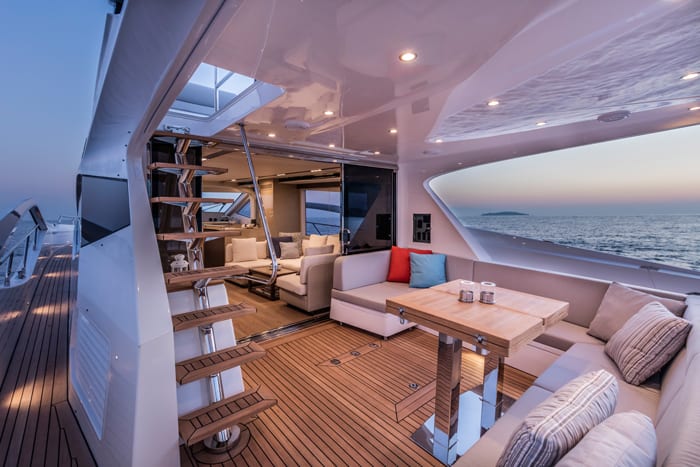 8. STAY CONNECTED
Download the free MyBoatShow application for Apple or Android from the app store for your device. Search for vessels by size, range, manufacturer and type, and scope out their location at the show. Get details on food and drink. Build your own list of boats before deciding on the one that suits your fancy. The boat show also has a presence on social media—Facebook (FortLauderdale BoatShow), Twitter (@BoatShowUpdates), Instagram (@BoatShowPhotos) and YouTube (youtube.com/showmanagement).
9. NEW, IMPROVED FOOD CHOICES
The Convention Center's in-house catering company, Savor, is offering food and beverage pairing menus—as well as a new buffet on the second floor, where diners can overlook the display of boats below. Inside the Windward Club, chefs from Events by Grateful Palate have cooked up a menu that changes daily for breakfast, lunch and dinner. A sneak peek at the menu shows such dishes as amarillo shrimp ceviche, braised short ribs with red wine sauce and s'mores brownies.
10. WATER TOYS
The show is known for its latest and greatest displays of fun water toys, including personal watercraft and submarines. This year's must-have items include waterproof drones that can capture aerial video footage and then return remotely, and a new generation of inflatable, custom-built yacht waterslides. Enjoy the show!