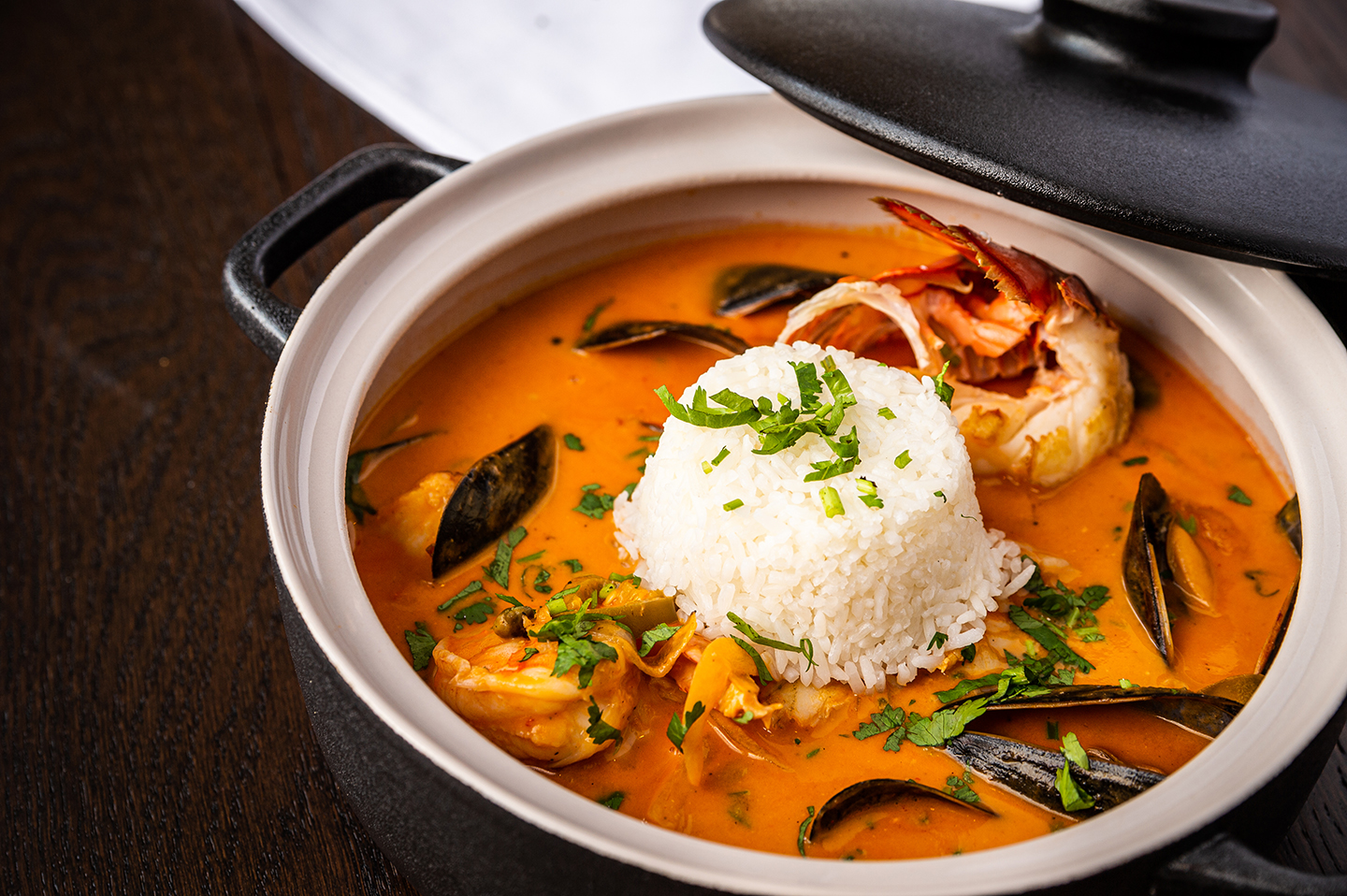 5 Things to Know About: Corvina
The Boca-based seafood spot soars with international influences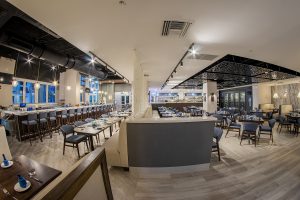 Follow the chef: Not only did Jeff Tunks' kitchen reputation precede him to Boca Raton, but so did more than a few customers familiar with his culinary legacy in the Washington, D.C., area. The award-winning chef behind concepts like PassionFish in Reston, Virginia, is serving customers at his new seafood outpost, Corvina, who've frequented his restaurants in and around the nation's capital for the past 20 years. "I feel relevant in this market; I'm cooking for clients I've known for decades who have second homes in Boca or [who've moved here]," says Tunks, whose career highlights also include the popular (but since-closed) D.C. Coast. "I think my style resonates more than the Instagram-able, smoke-and-mirrors type of cuisine."
Game plan: The chic and airy restaurant, which debuted in early December 2021, is the vision of investors Dean Carras and Patrick Marino (who also have second homes in Boca), along with operating partners David Wizenberg and Tunks. Though the concept is similar to PassionFish, given the sushi and raw bar programs, Corvina leans more into Caribbean, Latin American and South American influences. Look no further than the restaurant's namesake, a white, flaky fish that thrives along the Southern California coast and down through the temperate waters of Central and South America.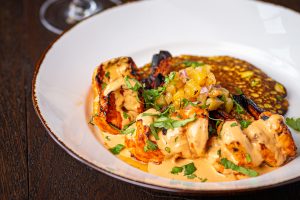 Fish tales: Tunks' deft and creative use of those global influences adds rich flavor bursts to an eclectic seafood menu. Take the corvina, which is breaded with a gluten-free mix of fried plantains, sauteed in a pan, drizzled with island creole curry sauce, and plated with a Caribbean-inspired fufu mash that combines sweet potatoes and sweet plantains. Meanwhile, mammoth grilled prawns—marinated in a blend of olive oil, garlic, onion and chipotle (which explains the "diablo" description on the menu)—are served alongside Venezuelan cachapas, mini pancakes stuffed with fresh cheese that recall arepas.
Showstopper: When he opened restaurants earlier in his career like Asian-inspired Ten Penh on Pennsylvania Avenue, Tunks would travel to countries connected to the cuisine and explore popular dishes and flavor profiles. The authentic Moqueca Baiana on the Corvina menu speaks to one such trip. Tunks honors the African and Portuguese influences in the fish stew, an iconic dish of the Bahia region in northeastern Brazil, through the use of dendê oil, farofa and coconut milk. A rich seafood stock is infused with a classic cook-down of tomatoes, onions, peppers and garlic; and the featured seafood (mussels, prawns, Brazilian lobster tail, and the daily fresh catch) is expertly sauteed. "It's aromatic, it tastes amazing, and it's a wonderful utilization of ingredients we bring in daily," Tunks says of the finished mix, which is served with a mound of rice in a stylish porcelain pot.
More menu: Highlights also abound on the raw bar and sushi side, including a Papa Grande Tower with 12 oysters, 12 shrimp, whole lobster and huge chunks of crab. The Joe Versus the Volcano roll, one of three on the menu, is one of Tunks' favorite items; think tempura-fried shrimp and avocado on the inside, topped with spicy tuna and a drizzle of dynamite sauce, which is torched for added heat. Corvina also serves classic Peruvian ceviche and Honduran-style tuna ceviche. In addition to the seafood stars, chef specialties include five-star reserve cuts of beef—a 7-ounce filet and a 14-ounce New York strip. A separate fresh-catch menu is printed daily, with offerings like Faroe Island salmon, mahi mahi from Costa Rica, and, on a recent visit, swordfish caught that morning off of Lighthouse Point.
Contact: 110 Plaza Real S., Boca Raton; 561.206.0066; corvinabocaraton.com
Food images by Gerard Roncal