National Sandwich Month is being celebrated in August, and there is no better way to mark the occasion than by indulging in some of the most delicious sandwiches that South Florida has to offer. With various options available, ranging from delectable chicken sandwiches to savory prosciutto heroes, plenty of restaurants have something to satisfy every sandwich craving.
1. The Pan American Drive (pictured) from House of Birds and Biscuits at Regatta Grove | 3415 Pan American Drive, Miami
Indulge in the ultimate sandwich experience at House of Birds and Biscuits with the Pan American Drive. Crispy and smokey chicken thighs are fried, covered in a creamy truffle smoked gouda queso, and topped with thinly sliced dill pickles. The jalapeño cheddar drop biscuit's spiciness and the savory, creamy truffle queso create the most mouthwatering and bold chicken sandwich on the bay.
2. The Truffle Explosion from SNDWCH at Shoma Bazaar |9420 NW 41st St., Doral
The Truffle Explosion features savory prosciutto, creamy mozzarella, and fresh arugula, all elevated by a rich truffle aioli and topped off with shaved truffle for extra flavor. The combination of textures and flavors creates a truly luxurious experience for your taste buds. It's a perfect choice for anyone looking for a gourmet sandwich that's both delicious and satisfying.
3. b-LMC-t from YOT Bar & Kitchen | 2015 SW 20th St., Fort Lauderdale
The b-LMC-t sandwich is a classic and satisfying option that features grilled chicken breast, crispy bacon, fresh lettuce, and tomato; all topped off with a creamy mayo on country sourdough bread. It's a hearty, delicious sandwich perfect for lunch or a quick dinner. Combining savory and fresh flavors creates an ideal balance that will leave your taste buds happy.
4. The Shrimp Po Boy at Rivertail | 4 West Las Olas Blvd, Ste. No. 120, Fort Lauderdale
The Shrimp Po Boy is a delicious and flavorful sandwich featuring baby shrimp coated in spicy mayo, topped with crispy shredded lettuce, and a tangy yuzu tarragon vinaigrette. The combination of spicy, crisp, and tangy flavors creates a perfect balance that's both satisfying and refreshing. It's ideal for anyone looking for a seafood twist on a classic sandwich.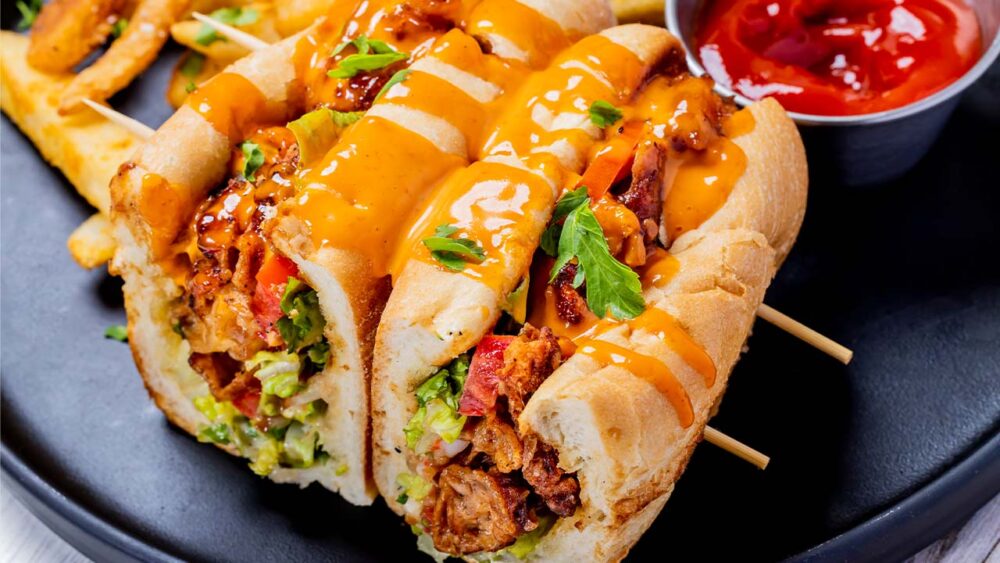 5. The Chicken Katsu Sandwich from Knotty Burgers at The Wharf Fort Lauderdale | 20 W Las Olas Blvd., Fort Lauderdale
The Chicken Katsu Sandwich is a mouthwatering option that features fried chicken katsu topped with sweet, brined cabbage and Asian remoulade, served on a brioche bun. With its mix of sweet and savory, The Chicken Katsu Sandwich is every hoagie lover's dream.
6. Pimento Burger from South Bar & Kitchen | 165 NE 1st Ave, Pompano Beach
The Pimento Burger is a mouthwatering sandwich that features a toasted brioche bun filled with delicious sweet grass pimento cheese, topped with roasted garlic mayo and a pickle for a tangy kick. It's a savory and satisfying meal that will satisfy your sandwich cravings.