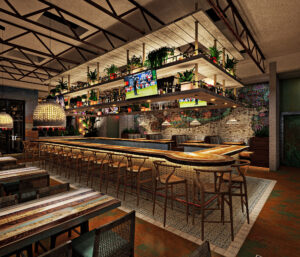 Baresco, a Mexican-inspired taqueria and bar, plans to open in Pompano Beach early next month. It will feature shared plates, tacos and entrees focusing on authentic flavors and fresh, high-quality ingredients.
"Pompano Beach has been extremely welcoming to us, and we have had great success with Beach House Pompano over the years," Andy Fox says, BRG Concepts' Director of Operations, which owns and operates Baresco. "With the opening of the pier, and a concentration of amazing food and entertainment options, we're excited that Baresco will give residents and visitors even more reason to visit and enjoy a great meal."
Along with signature menu items, including homemade guacamole, jumbo crab meat, grilled bread, and fresh tortilla chips, Baresco will feature a robust craft cocktail program curated by Charleston-based expert mixologist Darren Fallon, a longtime team member of the hospitality group's beverage team. Handcrafted cocktails include the Jardin Rojo with Patron Blanco, Hibiscus Syrup, Strawberry-Grapefruit Infused Aperol, and lime, the Besa Mi Peach made with Basil infused Lunazul Reposado, Giffard Peach, Tamarind Syrup, and lemon, and Romero's Bad Habit with Charred Rosemary Infused Reposado Tequila, Pama, grapefruit, ginger, and lime.
The venue's interior was designed as a tropical outpost. The indoor-outdoor concept boasts 6,714 square feet of indoor dining and bar space and 2,640 square feet of outdoor patio seating. Baresco will also feature a dedicated private dining room with full AV capabilities to host meetings and special events.
Baresco is adjacent to Beach House Pompano at 225 North Pompano Beach Blvd., with a tentative Grand Opening planned for late March 2023. For more information, visit eatbaresco.com.