Pictured above: Bo's shrimp and grits
Where: 600 Seabreeze Blvd., Fort Lauderdale Beach
Phone: 954.616.8315
Website: bosbeach.com
Bo Knows Best: On the heels of launching The Balcony, with its New Orleans-inspired fare, the four partners behind PDKN Restaurant Group (including former Miami Dolphins defensive standout Kim Bokamper) once again are setting up shop outside their red zone. Instead of adding to its successful Bokamper's Sports Bar & Grill franchise (there are five in Florida), PDKN has opened a seafood-centric restaurant that overlooks Fort Lauderdale Beach.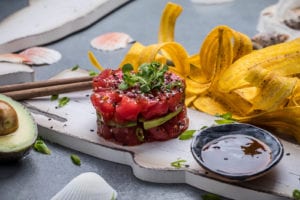 Sights to Behold: The one-time home to Oasis Café has been reimagined as an open, breezy, two-story space with nostalgic undertones (thanks to images on the walls of the area's past that span the 1940s to 1970s, courtesy of History Fort Lauderdale). The winding, room-length bar on the second floor presents a prime perch for beach viewing. As PDKN corporate executive chef Jimmy Dean notes, "What's not to like [about the location]?"
In Good Taste: The same can be said for Dean's menu, an elevated beachfront approach that features raw bar offerings, wood-fired pizzas, burgers, salads, seafood specialties, and more than a few gourmet tweaks. Wood-fired oysters are caramelized with melted cheese and garlic butter sauce then served on a bed of sea salt and spices for aromatic effect. Shrimp and cheddar grits incorporate jumbo U-15 shrimp, along with andouille sausage and a drizzle of Cajun butter.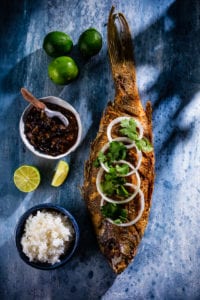 Beyond Our Borders: Global influences can be found in the Polynesian sauce that enhances the ahi tuna poke stack, as well as the Jamaican dry rub that (along with an addictive mango barbecue sauce) brings all-natural baby back ribs to life. As for the yellowtail snapper, Dean credits his wife's Cuban roots for the presentation; it's served whole, lightly floured and fried with onion and lime juice on top.
Early Frontrunners: The grass-fed burgers and fish tacos are among the early menu favorites at Bo's Beach, as are the wood-fired pizzas, which Dean felt would be fun as a complement to the seafood. Two of the pies, however, borrow directly from the ocean—the clam bar (with baby clams, Applewood smoked bacon, mozzarella, aged Romano, and roasted garlic olive oil) and the calypso shrimp (shrimp, artichoke hearts, feta, aged Romano, sundried tomatoes and two olive oils).
Isn't That Special?
In addition to its daily happy hour—$2 off all drinks from 5 to 7 p.m., Monday through Friday—Bo's Beach offers these daily specials:
Monday (all day): $10 buckets of Bud and Bud Light with purchase of a pizza
Tuesday (all day): Half-off bottles
of wine
Wednesday (all day): $1 Budweiser and Bud Light with purchase of a burger
Thursday (9 p.m. to close): $3 drinks (single well liquor) and $3 Coronas